ONE of two bridges linking Anglesey and the north Wales mainland has shut suddenly over "serious" safety risks.
The 200-year-old Menai Bridge – the first in the world of its kind – closed at 14:00 BST on Welsh government orders. It was publicly announced five minutes afterwards.
The work means it may be shut until next year, with vehicles diverted to the nearby Britannia Bridge.
Local businesses warned of "nightmare" traffic problems as a result.
The local Senedd Member said he was "very concerned", and councillors have met Anglesey council's chief executive Dylan Williams to discuss the situation.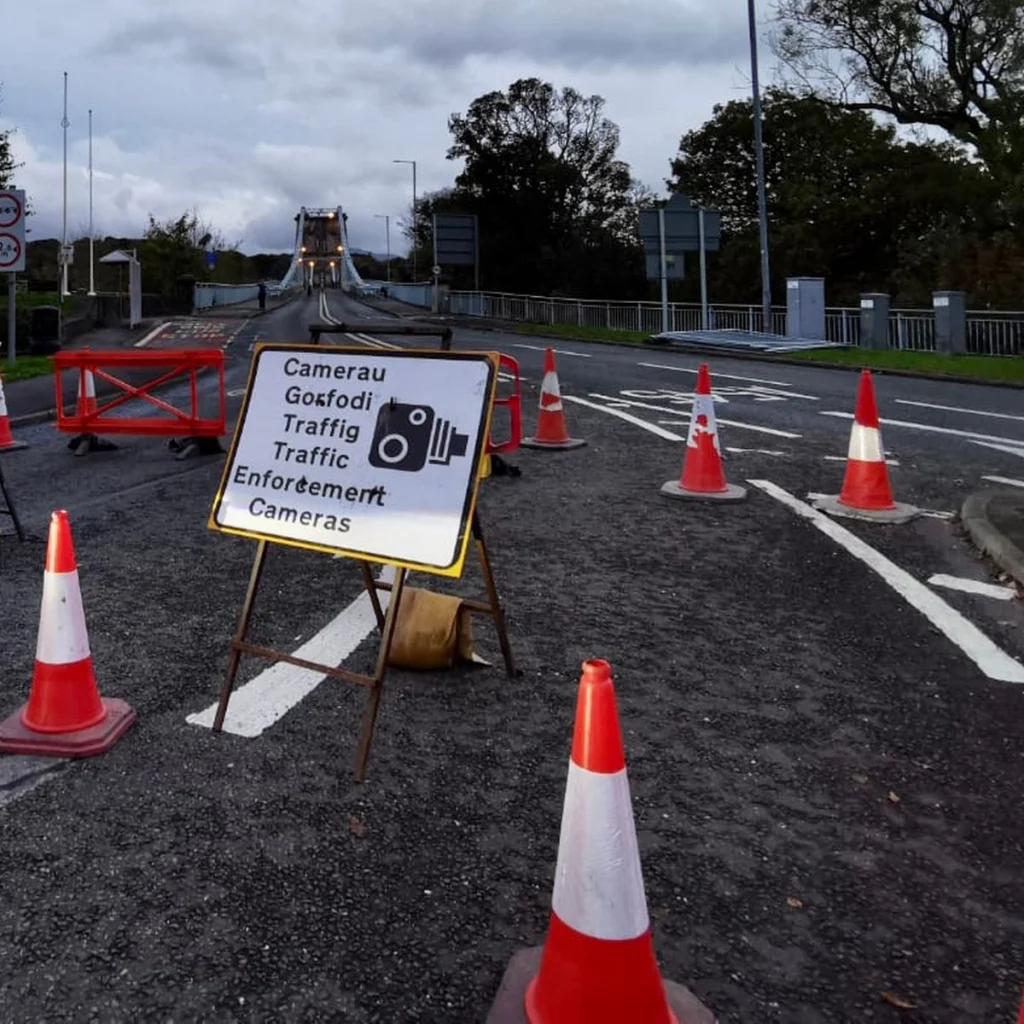 Structural engineers recommended that the bridge be closed to all traffic, including pedestrians and cyclists, to allow essential maintenance work.
However, it has since reopened for walkers on footpaths and cyclists who dismount their bikes, with marshals set to be in place to monitor numbers.
It remains unclear how long the bridge will be closed but, if required, officials said hanger strengthening works could take up to 16 weeks.
Responding to the news that the closure of the Menai Bridge has significantly affected local businesses, Welsh Conservative Shadow Minister for Transport, Natasha Asghar MS said:
"The sudden closure of the Menai Bridge is just another example of Labour's inability to understand the needs of the business community in Wales and the lack of public transport in rural areas.
"How are hard working families going to run their businesses with so much confusion and congestion surrounding the area?
"This isn't a one off, but a damning indictment of Labour's 25-year streak of policies holding back the Welsh economy.
"Labour ministers must work with the business community on Ynys Môn to mitigate the damage done by their poor decision-making."
MP for Ynys Môn, Virginia Crosbie added: " I am shocked and appalled by the sudden decision by the Welsh Government to close the Menai Bridge – without notice – for up to four months due to structural weakness caused by heavy traffic.
This is a problem that should have been anticipated. The bridge should never have been allowed to get into a state where this kind of emergency response is necessary.
In June 2021 the Welsh Labour Government – propped up by Plaid Cymru – froze all new road-building projects to conduct a review. Their delays and lack of investment in our infrastructure is having a devastating impact on Anglesey.
46,000 vehicles cross the Menai Straits each day and the Menai Bridge is a critical part of our infrastructure – particularly for the families, workers and our students who commute over the bridge daily.
With the Britannia Bridge often closed to high sided vehicles due to high winds this move will also hit the port of Holyhead and our fragile Island economy.
This is unacceptable. I am doing all I can to bring jobs and investment to Ynys Môn but our island desperately needs the Welsh Government to prioritise good, reliable transport links in order to make these new opportunities viable for our community."
Sam Rowlands MS concluded: "The sudden closure of Menai Bridge is very concerning, and it's disappointing that the Welsh Labour Government haven't outlined sufficient rationale behind the reason for this sudden closure.
"The healthcare, economy and infrastructure of North Wales has been ignored for too long. These are not luxuries, these are necessities.
"The sudden closure of the Menai Bridge will deliver a massive blow to the economy of Anglesey, restricting the number of vehicles and will increase congestion.
"That's why I raised an emergency question regarding this issue and am glad a statement will be made tomorrow."
Network Rail and the Welsh government have now agreed the work can begin again, but with restrictions only between 22:00 and 05:00 GMT and all closures happening after midnight.
Network Rail said: "The bridge will remain open throughout, with the exception of a few 20-minute periods, after midnight on some shifts, when we'll need to stop traffic in order to ensure everyone's safety.
The Welsh government said it understood people's frustrations at the closure, adding that the emergency services would be "accommodated to safely cross in the event of a blue light emergency".
It said traffic volume at night was about 10% of peak time, "so disruption will be minimal".