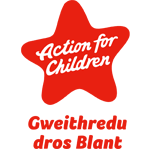 ACTION FOR CHILDREN young carer projects in Pembrokeshire and Ceredigion are marking Young Carers Action Day (Mar 16) by delivering hundreds of wellbeing toolkits to the children and young people who use these key services and have been particularly affected during the coronavirus pandemic.
The toolkit is funded by the Hywel Dda Health Board and is designed to help young carers to find new ways of supporting their own wellbeing and be a 'go to' box when things get too much for them. The box contains pamper items (face mask, blanket), stress toys, hot chocolate, mindfulness colouring books, colouring pencils, bubbles, information of local and national agencies of support. Also included is a pack of information cards designed by Young Carers about how to use the contents of the boxes to improve their wellbeing. All of these items were presented in a wooden box that young carers could keep and decorate.
Vikki Phillips, family support practitioner for Pembrokeshire Young Carers services, said: 'The last year has been a very challenging time for young carers and their families who were already under great pressure. As we mark Young Carers Action Day, we wanted to develop something practical for the young carers to use when their everyday pressures get on top of them. Knowing you have something to turn to instantly can really help someone at a stressful moment in addition to the regular support we have continued to provide. We're very grateful to Hywel Dda University Health Board for kindly funding these important wellbeing toolkits that are already making a difference to this remarkable group of young people.'
A total of 300 wellbeing boxes were created and have been distributed across Pembrokeshire and Ceredigion, including over 30 to 'hidden' young carers that have been in identified via schools, colleges, siblings, Pembrokeshire Carer Information Service (PCISS) and the Ceredigion Carers Unit.
Anna Bird, Assistant Director of Strategic Partnerships, Diversity and Inclusion, Hywel Dda University Health Board said: "Every day our Young Carers and Young Adult Carers are providing vital care to family and friends throughout our communities. We are delighted to be working in partnership with Action for Children to build on the support we offer through initiatives like this that supports their health and well-being. The Health Board and its partners through the West Wales Carers Development Group are committed to supporting Young Carers and Young Adult Carers through delivery of our Regional Carers Strategy and look forward to developing future initiatives that respond to the needs of Young Carers."
Helen Richardson, mother to young carer, Bella in Llanarth, Ceredigion said: 'I would like to thank Action for Children and Hywel Dda University Health Board for the lovely wellbeing box she was sent this week, her face was beaming when she opened it as she is looking forward to decorating the wooden box to store all her fidget toys in. Thanks again for all the kindness you have shown Bella this year, she has always felt like someone is thinking about her wellbeing and that is due to you continued support and kind gestures.'
Angharad Phillips, mother to young carer Bethan in Fishguard, added: 'The wellbeing toolkit is incredible, such an amazing idea and lovely to be given out to the Young Carers. They are looking forward to joining in on the group to learn how to use it.'
Hywel Dda Health board have funded this project and have also given additional funds so that Action for Children are able to support all young carers throughout the county. The public is being asked if they know of anyone who is not registered with Action for Children but is still a young carer to get in touch with Vikki via email, Vikki.booth@actionforchildren.org.uk to receive their own Wellbeing toolkit.
Pembrokeshire and Ceredigion Young Carer services supports young carers aged 8 – 25 by raising awareness, identifying and providing direct support to children and young people who look after or help to look after someone in their family who is unwell or disabled, including children caring for parents who have mental health or substance misuse problems.
Related posts