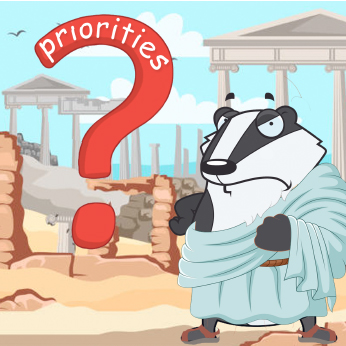 As much as he would like to come up with the idea, Badger cannot claim the credit.
The American political analyst Christ Stirewalt, who is certainly no soft liberal lefty, captured the moment.

"Even for determinedly unserious people, Boris Johnson was a very, very silly person to make Prime Minister.

"A decade ago, Johnson was an intentionally goofy, antic attention hound with a loose relationship with the truth.

"How he ended up in 10 Downing Street and persisted there for so long despite massive ineptitude and scandal is very much like how America ended up with a similarly silly president who nearly ended up winning re-election despite his chaotic, corrupt tenure."

Badger is envious when right-wing American commentators nail important truths about the UK, especially when many in the UK persist in delusions and denial.

A point comes when myth-making degenerates into willful and foolish self-deceit.
Myth-making is no more common in Britain than in any other nation. The British are, however, peculiar in creating myths so quickly and sticking with them for so long.

Boris Johnson is a natural myth-maker. Most things he says or writes have a passing relationship with the truth, but not much more than that.
He plugs into people's preference for myth over reality.

Better a romantic and constructed narrative than the plain truth.
Given a choice, Badger prefers history to myth.

The word history's linguistic roots lie in the Ancient Greek word for truth and fact.
Myth's linguistic roots also lie in Ancient Greek, the word relating to untruth and fiction.
And with his final word, for now, on the Conservative Party's leadership election, Badger suggests that those involved pay close attention to history and much less to myth.

Moving away from the parliamentary Conservatives' collective nervous breakdown, Badger will examine a very uncomfortable truth relating to Pembrokeshire.

Having spoken about Pembrokeshire's hopelessly dysfunctional economy for the last couple of weeks, Badger wants to talk about that economy's victims.

Many of Badger's readers will recall the famous "Yorkshiremen" sketch – "A cardboard box? Luxury! We used to dream of cardboard box!"

The sketch illustrates how – too many – people conceive of poverty.
Child poverty is embedded in Pembrokeshire.

The causes of poverty are things that reduce your resources or increase your needs and the costs of meeting them.

These causes can also be consequences, creating a cycle that traps you. Life events and moments of transition – getting sick, bereavement, redundancy or relationship breakdown – are common triggers for poverty.

According to the Joseph Rowntree Foundation, poverty's main causes are: "Unemployment and low-paid jobs lacking prospects and security (or a lack of jobs): too many jobs do not provide decent pay, prospects or security.

"Many places have concentrations of these jobs or do not have enough jobs.
"Low pay and unemployment can also lead to inadequate savings or pensions."
Parents' lack of well-paid and permanent jobs leaves children hopelessly exposed to the consequences of economic deprivation.

And if the above doesn't explain why Pembrokeshire is a hotbed for child poverty, nothing will.

Poverty does not mean people living in shacks on a diet of foraged food and fresh air. Poverty is relative and inextricably linked to disposable income.

Poverty is not absolute deprivation. When a household's income is 60% less than the average, that is poverty.

If you are born poor, you are likely to stay poor.

You will have fewer life opportunities.

You are less likely to move out of poverty and more likely to live shorter and unhealthier lives.
Child poverty is a scandal, and Pembrokeshire is plagued by it.

Wages are lower in Pembrokeshire, meaning many people struggle. People in Pembrokeshire living in poverty struggle with 60% of a lower income base.

Reducing child poverty in Pembrokeshire will take more than local action, no matter how well-meaning and determined those trying to tackle it are.

Breaking the promise he made a couple of hundred words ago, Badger suggests a multi-millionaire who imagines cutting taxes will address child poverty cannot become PM.
Badger doesn't think tax cuts are bad. However, he strongly suggests those proposing drastic ones are living in Narnia.

The relentless focus of government must be on lifting children from poverty.

No child chooses their parents or chooses to suffer the consequences of inherited poverty.
Financially penalising parents for not taking minimum wage jobs miles away from their homes or at unsocial hours is state-sponsored child cruelty.

Insanity is doing the same thing repeatedly and expecting different results.
The last dozen years of the Westminster government qualify for a special room with padded walls.

The last twenty-odd years of government from Cardiff Bay will be in an identical room next door.

The discussion must move on from tax-cutting quackery or relying on "third sector partner organisations" to do a government's job for it.

Neither approach has made any difference to child poverty levels in the UK or Wales.
Both governments' approaches shift the burden of dealing with the consequences of failed economic and political ideologies onto others.

In the UK government's case, it places the onus on those least able to help themselves.
It ignores the government's ethical responsibility to act to correct a social wrong.
In Wales, too much money is spent on schemes and initiatives with fractured and contradictory objectives absent effective oversight.

The Welsh government ignored its responsibility to be accountable and get value for the public money spent.

Direction must come from the centre with a properly resourced and forensic focus on getting the best outcomes for children in poverty.

Pembrokeshire's children in poverty cannot wait for governments planning on future economic growth fuelled by tax cuts to provide them with a ladder out of their plight.
Neither can Pembrokeshire's children in poverty wait for another idea for a scheme to report to a working group of carefully-selected "stakeholders" before emerging as an aspiration to do something at some undefined future point.

Anyone promising less than to work to reduce child poverty as a government's primary objective is unfit to run a whelk stall, let alone a country.
Related posts