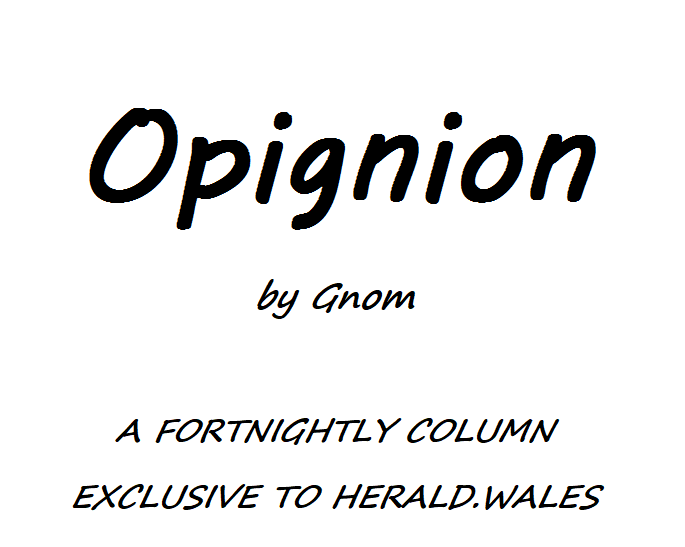 Relations between King Farouk of Egypt and the allied occupying forces were often very poor, according to Gnom's father, who served there in the 1940s.  The British ambassador, impeccably clad as ever, took to visiting the King in a tank.  He would climb down, briefcase in hand, and go into the palace, with the tank's gun turret was pointedly directed at it.  Will the Welsh be as receptive to such a message?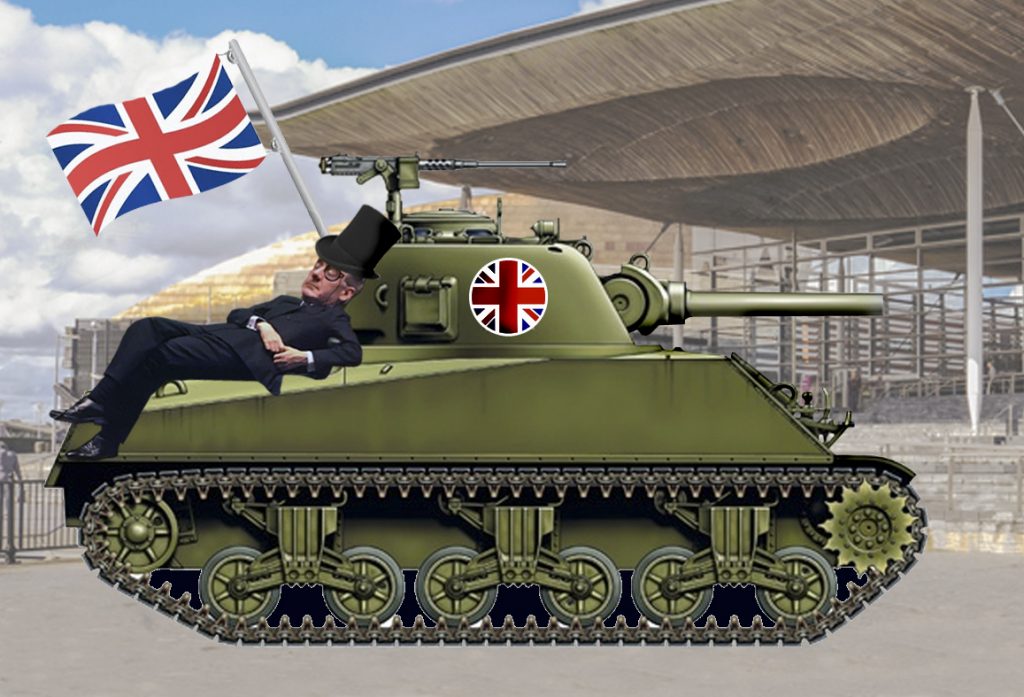 _______________
New exciting plans for more east-west roads for West Britland have emerged from the Treasury's levelling-up funds. First, the M4 will be renamed 'The Avenue of the Britons'. Every 5 British Imperial Miles (5BIMs), tall flagpoles will be erected for the Union flag on both sides of the highway. In addition, flagpoles will be equipped with a transmitter and a loudspeaker. These will broadcast a continuous loop of 'Land of Hope and Glory' alternating with the National Anthem. In what is considered to be a world-beating first, the transmissions will be beamed into car radios, overriding all programmes except traffic news, and the off-button. Passengers will not be expected to sit at attention, but singing along will certainly be encouraged, said a spokesperson from the Union Strategy and Nudge Group (US&NG). The loudspeakers will be aimed at local residences. This pattern will be repeated along the upgraded M40, M44, A5(M) and M55.
Andrew Duckhouse (no relation), the Leader of the Conservatives, thought that flagpoles every 10BIMs would be sufficient to get their point across. An enthusiastic Glamorgan Tory councillor, Percival Finkleton-Thwaites, welcomed the news, saying a line of Union flags stretching 500BIMs from London to Galway would be amazing. "I wanted flagpoles every 2BIMs but I'm happy with the plan."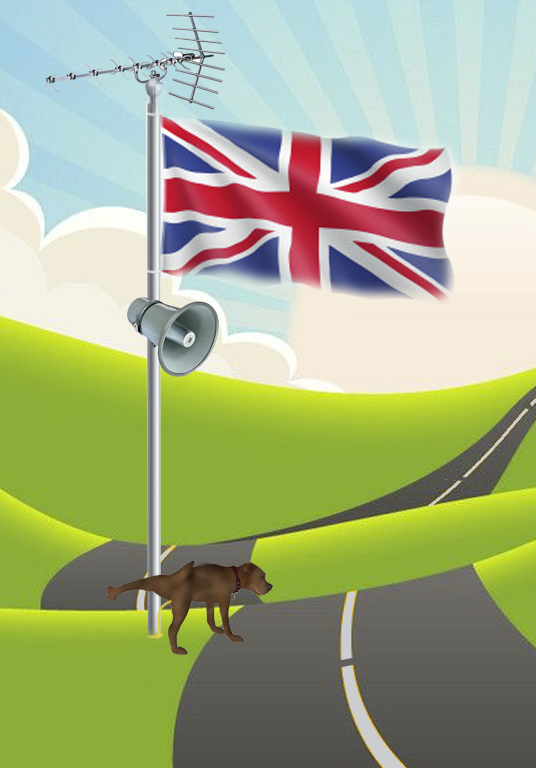 Darlene Fawlty, the First Minister of Northern Ireland, was surprised but ecstatic about the proposals. "It's about time the Empire reasserted itself on this island" she said. But the Irish Taoiseach, Paddy O'Vostok queried the idea, saying "Well now, why exactly would we be wanting a row of British flags stretching across the Republic of Ireland as part of a British imperialist exercise, purporting to strengthen their Union?" Over my dead body, said a Sinn Féin member who didn't want to be named. Do they think it's the 1920s again?
Confronted with this, Cllr Finkleton-Thwaites said "I distinctly remember Ireland being red in my private school atlas. Is Galway not in England? Well, I know Fishguard is."
_______________
More exciting news from Liz Truss, Minister Plenipotentiary and Travelling Salesperson. She has concluded a new free, fair and frictionless trade deal with Easter Island. Speaking on a bad line from Bora Bora, the idyllic island resort almost 3000BIMs away from Easter Island, Ms Trust said that the Island produces a distinctive range of products that British consumers will love. "I didn't actually land on Easter Island, but spoke to Huarangi Johnson (no relation), the owner of the general store in Hanga Roa. He assured me he had plenty of stock and offered to sell me the lot!" Asked to be more specific about what exactly Easter Island had to trade, Truss seemed uncertain but said "Easter eggs?"
_______________
More on the radical constitutional shakeup announced recently…
The Government spokesperson said that "when Wales voted for Brexit, they voted for powers to be returned from Brussels to Westminster. Consistent with this, devolution is null and void."
North and South Wales are to join the Greater Manchester and Greater Bristol Co-Prosperity Spheres and will be administered as counties from those cities respectively. Local councils will be replaced by single representatives appointed by the metropolitan bodies. The Cardiff City Region will be scrapped in favour of an intensified focus on central Bristol, considered to be much better placed to reap agglomeration benefits than tiny Cardiff.
Mid-Wales, now West Herefordshire, will be dammed and flooded to create a large reservoir, and a pipeline will be constructed to provide Oxfordshire farms and London with West Britland water and hydro energy in perpetuity. The uplands will be turned into large estates, game parks and grouse moors for TOPs (The One Percents). The Clearances will come to be seen as a turning point in the fortunes of Mid-Wales, the government statement said.

Large single-sex dormitories offering affordable bedspaces and shared bathrooms will be constructed in villages within walking and cycling distances of the new estates. Reduced living costs will enable the lowering of wage rates for domestic servants and farm labourers, which will be welcomed by all employers. Zero hours contracts will disappear and be replaced by zero holidays contracts.
A spokesperson for Shelter said that dormitories could assist homeless people all over West Britland. They were concerned about the provision of separate all-male and part-family (women and children) accommodation for the survival of the family unit "though shared bathrooms will be better than many have," she said.
More soon…
_______________
News of Lembit Öpik, the former LibDem MP. He has recently claimed that he "gravitates towards common sense and liberty" and has now become a parody of his former self.
_______________
The Department of Flags and Flagpoles (DOFF) is to be upgraded after recent UK Government initiatives. New Loyalty Conformance Inspectors (LCIs) will be appointed in all peripheral regions of the UK, a spokesperson said, and the Prime Minister will appoint a new Minister at Cabinet level to oversee the rollout of the flag initiatives.
DOFFO (DOFF Outsource) will shortly be canvassing friends of the PM and cabinet colleagues to find one without any experience of flag or pole manufacture nor any suitable plant to make them in, to offer them a lucrative initial contract for 5 million flagpoles, 10 million Union flags and a small number of tiny sub-regional flags. This will satisfy the increased demand among government and quasi-government offices for the regalia, as well as the many people who will want one or two for their homes, especially for Zoom meetings. The value of the contract has not been disclosed publicly, but well into eight figures has been rumoured.
Andrew Duckhouse (no relation), the Leader of the Conservatives in West Britland, said that "our election manifesto promising more roads may have looked a bit thin. But we're now pleased to add flags to that in support of the UK Government's brilliant initiative. Flags will also help conceal the poverty of our thinking".
He went on to say that should the Tories win the upcoming Senedd elections, we would also require all schools and community facilities to fly the Union flag every day. Later, we will require all recipients of any West Britland Council or UK funds – farms, homes, businesses and beneficiaries – to show their gratitude and support for the Union by flying its flag. "Roads and Union flags will be the key to a successful election for the Tories!" said Mr Duckhouse.
_______________
Gnom