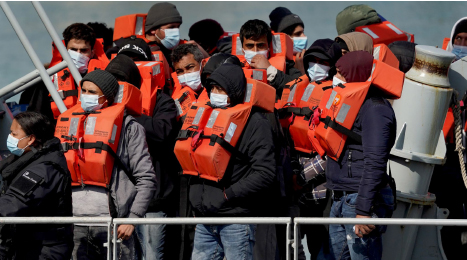 'There is nothing,' as Rat famously remarked to Mole, 'half so much worth doing as simply messing about in boats.'

The undocumented migrants who disembark with profound relief every day on the beaches of Kent might not entirely share Ratty's enthusiasm. But then, open-sea crossings of the world's busiest shipping lane in an overloaded inflatable rib probably weren't what Rat had in mind. Even so, that hasn't deterred 11,000 of them from making the crossing so far this year. And now it's summer and the channel-hopping season is in full swing.

Last year, a record 28,000 people entered the UK illegally, having crossed from France in small boats. 44 others, including three children, didn't make it. On 24 November, 27 souls were lost in a small boat that French officials likened to 'a children's inflatable pool'.

Illegal migration across the channel has become a big problem. People-trafficking damages public confidence in the immigration system, and leads to horrible, avoidable deaths. So it's reassuring to hear that the Government is taking firm, practical steps to solve it, by ensuring that anyone entering the UK has their position regularised and is offered safe haven in wait, what? Where?

Referring to the central African nation of Rwanda –with whose government Priti Patel has done a deal arranging the resettlement of illegal entrants to the UK– as a backward, tin-pot, fly-blown, one horse, third-world banana dictatorship would be unfair and racist, so we shan't do that. We might dimly remember some unpleasant business going on there in the early nineties, but since then the country bounded forward to join the ranks of the semi-civilised world. President Paul Kagame has run a tight ship since he took power 22 years ago (no silly term limits in Rwanda!), even if limp-wristed, bedwetting, Pembrokeshire Herald-reading liberals might not like the way he does business.

In fact, the Herald's pinko readership wouldn't be entirely alone. The US State Department recently registered one or two minor quibbles about Rwanda's human rights record, including 'credible reports of: unlawful or arbitrary killings by the government; forced disappearance by the government; torture or cruel, inhuman, or degrading treatment or punishment by the government; harsh and life-threatening prison conditions; arbitrary detention; political prisoners or detainees; politically motivated reprisals against individuals located outside the country, including killings, kidnappings, and violence; arbitrary or unlawful interference with privacy; serious restrictions on free expression and media, including threats of violence against journalists, unjustified arrests or prosecutions of journalists, and censorship; serious restrictions on internet freedom; substantial interference with the rights of peaceful assembly and freedom of association, including overly restrictive laws on the organisation, funding, or operation of nongovernmental and civil society organisations; serious and unreasonable restrictions on political participation; and serious government restrictions on or harassment of domestic and international human rights organisations.'

Gosh. And they aren't very nice to their gays either; Rwanda being one of the source countries of people successfully claiming asylum in the UK because of persecution based on their sexual orientation. This is very convenient, because as well as the hefty wad of cash we are bunging Rwanda to stand in for Botany Bay, we have agreed to accommodate anyone seeking asylum from, um, Rwanda. You wouldn't have to be a complete cynic to think that that old crocodile Kagame got the better end of this bargain, particularly as, for the time being, it doesn't look as though the European Court of Human Rights (BOO! HISS! BOO!) is going to let us send anyone to Rwanda at all.
It is never very becoming to leer at anyone and say 'I told you so', but we Remainers f***ing well told you so. Those lethal little boats crossing the channel are entirely a function of Brexit. The Remain campaign's widely mocked prediction that Brexit would transpose the Jungle from Calais to Dover were only wrong in one respect: namely that the UK Border Force hasn't had the competence or gumption to round the migrants up. If there were a Jungle at Dover, it would be getting on for the size of Milton Keynes by now.

Likewise, before Brexit there was a legal mechanism (the Dublin Regulation) that allowed the UK to remove migrants who had come here from France back to France. It wasn't used much; more because of Home Office incompetence and Brexity belligerence towards France than for any substantive reason. In hammering out his rock-hard Brexit deal, Boris omitted to renew or replace the Regulation. The French –jolly glad to be shot of all the migrants– have little interest in maintaining the integrity of the UK border at Coquelles.

While Priti's prison plane lies waiting on the runway, empty of migrants, knuckle-draggers within the Tory Party have started banging on again about the urgent need to rip up the European Convention of Human Rights, and exit the jurisdiction of the Court in Strasbourg.
That the only country to have previously done so is Putin's Russia gives some hint as to how good an idea that would be. It's also more or less impossible for the UK to opt out of the Convention, as the 1997 Good Friday Agreement requires that the Convention is incorporated into the law of Northern Ireland. Abrogating it would be a breach of the agreement, and would further widen the Brexit barrier between the six counties and the rest of the UK.
The Rwanda policy would be a miserable embarrassment for the Home Office, were it really designed to send refugees to Rwanda. But it isn't. The whole thing is a cynical, Trumpian dog whistle, designed to deflect attention from the Government's failure to manage migration, and to whip up hostility against the rule of law itself.
Related posts