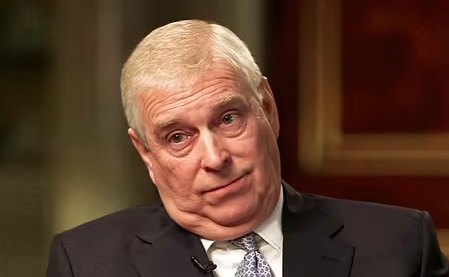 This hasn't been a great week for the Queen. Hidden away for what looked troublingly like a period of Covidy self-isolation, she's had to sit with the corgis, growling at the radio while her heir and successor deals with impertinent questions about who let his valet go about selling knighthoods. Then, as soon as the lateral flow test sounds the all-clear, there's Andrew mooching around outside the throne room door waiting to tap her up for two million quid.
After spending half of last year wriggling and writhing on the hook, deploying a vast and ultimately futile assortment of Wile E. Coyote legal gambits to shut Virginia Giuffre's sexual assault case down, His former Royal Highness the Duke of York recognised this week that when it comes to being accused of raping teenage girls, all publicity is bad publicity.
Publicity, unfortunately, is one thing his accuser does rather better than him. Standing up valiantly for the rights of women everywhere who get paid $15,000 to sleep with princes, Ms Giuffre has spent the past seventeen years polishing the account of her victimhood and turning it to ever greater financial advantage. If Andrew did 'rape' her, this situation was Leda and the swan that laid the golden egg.
He didn't, of course, rape her, except perhaps in terms of her being under the age of consent (18) in her home state of Florida. Number 44 Kinnerton Street is however in Belgravia not Boca Raton, so this wasn't a case of what gets called 'statutory rape' in America. Giuffre has said that Epstein paid her handsomely to have sex with the Duke, and hasn't said she returned the money. And if –as some of the Duke's supporters have suggested– the photo of Andrew with his arm round Giuffre at that mews house in London is a photoshopped forgery, whoever faked it did a rotten job of making her look like a victim.
To those who knew Giuffre at the time, she didn't appear too badly scarred by the ordeal. Carolyn Andriano (a witness in Ghislaine Maxwell's trial, who claimed that around the time of the Andrew episode Giuffre recruited her, aged 14, to join Epstein's seraglio) saw the photo and asked if Giuffre had gone to the palace. No: 'I got to sleep with him'
'What? You're f****** with me!'
'No, I got to sleep with him.'
Innocent of rape or not, Andrew couldn't win. He couldn't win because, despite protestations that he would Have His Day In Court, the prospect of this squalid circus overshadowing the Platinum Jubilee was too much for The Firm to bear. He couldn't win because, even if Giuffre's case fell flat, it could have cost him almost as much in legal fees –money he couldn't hope to recover from Giuffre– as he's had to pay to settle. And he couldn't win because anyone who watched his hog-whimperingly awful interview with Emily Maitlis can see what an absolute turnip he would have made of himself under cross-examination.
So Andrew settled the case. In return for Giuffre keeping her mouth shut and her autobiography unghostwritten until the Jubilee celebrations are done, he agreed to pony up an estimated £10m in damages (plus a £2m donation to Giuffre's charity supporting victims of sex trafficking, which the Queen is reportedly going to pay) and signed a grovelling declaration of support for Giuffre, which, as Emily Maitlis gleefully pointed out, doesn't sound much like the account of events he gave in That Interview.
Whether or not what Andrew did was legally rape, he deserves every bit of the trouble his sleazy, self-indulgent behaviour has landed him in. Whatever Giuffre thought she was doing, she was very young, and damaged both by a ghastly, abusive upbringing and by the vampiric company of Epstein and Maxwell. Andrew didn't force her into bed, but was nonetheless party to her exploitation.
Now that the Duke has no reputation left to lose, expect the dam-bust of forty years' worth of tittle-tattle and scuttlebutt. A masseuse told an edified nation how Andrew wore NO CLOTHES! when having a massage, and asked her salacious questions about anal sex. Flunkeys moaned that he yelled at them when his teddy bears were set out in the wrong order. This is a rich seam, with much tabloid fuel to yield.
Andrew has been an embarrassment to the Crown and the country for too long. If the Duke wants to be of real assistance to the Monarchy during the Jubilee year, he should take the hint and hoof it. Get out of the country for a very long time, if not for good.
Because the FBI are still sniffing around the whole business –and this will come as a delight and a relief to the Duke and Duchess of Sussex– he won't want to go anywhere near the United States of America for now. Or anywhere that has an extradition treaty with the United States of America. Or indeed any place without an extradition treaty where he might get kidnapped, stuffed in a black helicopter and rendered to the United States of America.
That leaves Switzerland. So if the Duke hasn't completed the sale on that chalet in Verbier, it might not be a bad idea for Her Majesty to slip him another fifteen or sixteen million, and suggest he stays there. Take it, Andrew, and don't come back any time soon.
Related posts