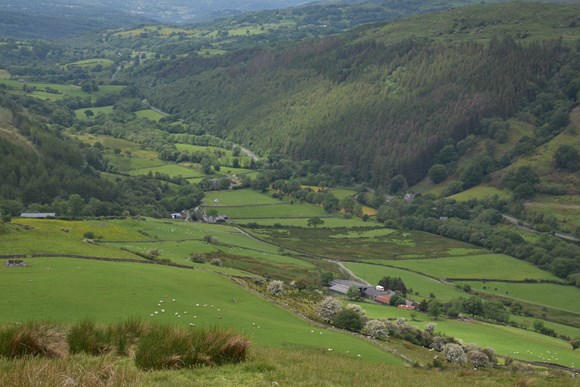 IN response to reports of land being bought up in Wales for the purpose of tree planting and carbon sequestration, the Farmers' Union of Wales (FUW) hosted a well received webinar on 19 January titled 'Preventing Wales' Corporate Carbon Land Grab: Balancing carbon, trees and rural communities'.
Chaired by FUW Policy Officer, Teleri Fielden, the webinar gave an insight into the situation in Wales.
As part of Wales' route to Net Zero, the Welsh Government has set an ambitious target of planting an additional 180,000 hectares (ha) with trees by 2050 and to improve woodland management. This is equivalent to 10% of Welsh farmland.
Mrs Fielden explained that the future value of carbon offsets is also driving afforestation and land purchases. However, the current carbon market is voluntary therefore private companies can purchase carbon credits without having to reduce their emissions in the first instance.
"Some see this as a lucrative future market for landowners. Indeed, if the price of carbon rises to £50 per tonne, payments for carbon sequestration could be worth up to £1.7 billion per year in the UK, but there remain two key issues with the control of this market.
"Firstly, the market isn't being led or controlled by farmers who currently manage land in Wales, and secondly, the demands on land are increasing – carbon is just one of them" she told the audience," she said.
Figures obtained by the FUW have shown that 75% of the afforestation applications in Wales for over 50 ha of planting are from charities and private companies based in England, with a 450% increase in afforestation Environmental Impact Assessment (EIA) applications to Natural Resources Wales (NRW) from 2015 to 2021. Only 20% of applications were from private individuals or businesses based in Wales.
"Naturally, there are concerns about how such changes in land use and ownership will affect Wales' rural economies, culture, communities and food production," said Mrs Fielden.
The first speaker, Mike Butterick, 50 Shades of Green campaign spokesperson and New Zealand beef and sheep farmer, focussed on how the New Zealand Emissions Trading Scheme (ETS) introduced a pricing mechanism on carbon credits. This has led to a rapid surge in the purchase of good farmland in New Zealand by carbon investors seeking to sell carbon offsets in the future through forestry creation.
"Within a three week period, 80,000 stock units have been lost in the southern part of the North Island of New Zealand to tree planting, two-thirds of which is owned by foreign companies and will cost the area in the region of $35 million due to lost productivity," he said.
Mr Butterick further highlighted that New Zealand has targets to plant 380,000 ha of exotic tree species and 300,000 ha of indigienous species by 2050, but there are currently no restrictions on where they should be planted.
The situation in New Zealand served as a stark reminder to Wales of how quickly unsustainable land use change and ownership can occur. 50 Shades of Green were clear that allowing carbon emitters to use forestry as an excuse to continue emitting shouldn't be the route to Net Zero.
Jerry Langford from The Woodland Trust explained how two forms of agroforestry could deliver nearly half of the Welsh Government's 2050 woodland creation target without removing land from farming.
"The farm 'hedges and edges' approach has the potential to make up around 22% (40,000 ha) of the 2050 target, with 'regeneration of upland wood pasture' making up an additional 22%," he said.
Mr Langford further outlined details of the Woodland Carbon Code, which is the UK's quality assurance standard for generating verified carbon units. However, he added that only new woodland planting can register and qualify for the code.
Andrew Sowerby from Confor brought a commercial forestry perspective to the panel and spoke about the opportunities in this changing marketplace. He emphasised that farmers need to spend time doing calculations, comparisons and critical thinking before planting to ensure they are in the driving seat.
"Rather than planting the 'right tree in the right place for the right reason', we believe that it should be reversed so that the right reasons are the main driver for the farmer or landowner – whether it's for carbon sequestration, timber production, diversified income or simply shelter for livestock," he said.
Mr Sowerby further clarified that the enhanced Glastir Woodland Creation Scheme Category allows up to 75% non native species, with at least five different types required, due to the risks associated with monocultures.
During the webinar, 52% of participants answered a poll saying that they would be interested in creating woodland in the next five years, but 77% of whom would not consider partnering with an investor to grow trees.
Dr Helaina Black from the Sustainable Soils Alliance, spoke about their work developing a UK farm soil carbon code. "There are a great deal of variables when it comes to creating a model for the carbon sequestration potential of soil, mainly the soil type, management practices and its current carbon store. Understanding the soils potential and emissions is vital for creating a baseline from which carbon credits can be calculated," she said.
Dr Black also explained how soils can take up to 60 years of targeted management before reaching their carbon storage capacity, meaning contracts are long term commitments, and the UK still needs to establish how private finance will sit alongside public funded schemes in future. However, she concluded by saying that improving soil organic carbon levels in soils is a win-win for soil health, farm productivity, carbon sequestration and biodiversity, offering a 'land sharing' approach to sustainable land use.
Concluding the webinar, FUW President Glyn Roberts said: "I'd like to thank all of the speakers for their invaluable contribution to the webinar and hope that the dialogue will continue to ensure that Wales does not suffer from a carbon land grab. It is evident from this webinar that we need to find a balance in this debate, and look at this situation through the lense of our future farmers and rural communities' needs."The webinar can be re-watched using the links below:
Welsh version: https://youtu.be/N58EvegVDbo
English version: https://youtu.be/MD-ciVffA50
Related posts