HAVERHUB is delighted to be showing the work of two extremely knowledgeable and sensitivePembrokeshire based artists, whose strong individual styles are bringing colour, pattern and spontaneity to the walls of the former county post office in Quay Street, Haverfordwest.
This uplifting range of work can be enjoyed 6 days a week until the end of March"explains art adviser Annabel Thomas. "Local art being on display at the community venue means wider access to some of the significant talent in our county.
We are always interested to talk to artists who would like to show their work and have experienced team members to help curate exhibitions" says Molly Lewis, venue manager at Haverhub. Already on show since the festive season, Tim Hughes intricate paintings have brought the old Sorting Office to life for all those visiting Haverhub this winter.
The paintings come from a long series of abstract works which Tim began in the late 1990s while studying an MA in Fine Art, Theory and Practise at UWIC, Cardiff.
"I used squares and rectangles as units within which to invent simple designs. We mostly live in squares and rectangles, most of us like our architecture and towns that way.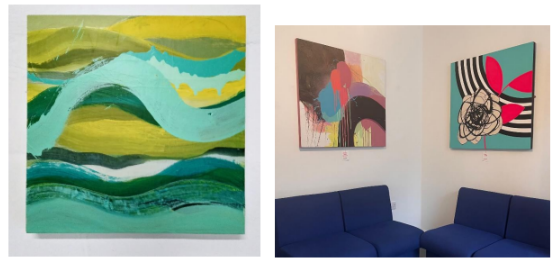 Colour is important too, usually I began each work with a strong idea about the range of colours I would use. I was also very aware of textiles from many cultures, such as Indian appliqué, African kuba cloths, Welsh tapestry blankets, American quilts especially 'crazy' quilts as well as Bauhaus textiles" explains Tim Hughes.
"The space at Haverhub is large so you can see the pictures from a distance as well as close up. The daylight in the space is often spectacular and I think suits the paintings.

Museums all seem to be blocking out daylight in favour of conservation, but paintings need daylight to be seen properly", explained Tim Hughes when arranging his paintings at Haverhub.
"This unusual hall with its skylights and glass lantern is enjoyed by a wide range of the public who attend classes in yoga, ballet, Zumba as well as many meetings, mother and toddlers, breathworks, craft markets and screenings, and having local art on our walls makes all the difference to our space- users" says Venue Manager Molly Lewis.
Kate Freeman"s vibrant works in the café reception area, brings together her focus on colour relationships and the 'happy accidents' which happen when painting, and her work has given a modern and uplifting abstract transformation to the former post office main counter and transaction area throughout the winter.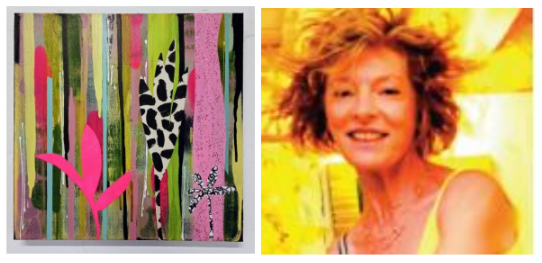 "I am fascinated by the incidental marks, accidental splashes and unexpected colour combinations which happen 'around the edges' of artmaking. I aim to incorporate the character of these serendipitous events into my paintings, and constantly navigate a path between control and spontaneity" says Kate about her approach.
Kate Freeman gained a BA Hons in Art and Aesthetics, in 2007 having attended Cardiff University part time for six years, whilst working as a painter and decorator and bringing up two children.
Living around the UK, Kate first studied textiles in Carlisle college of Art, lived in Ireland in the first remote area of Kerry then Dublin before coming to Hay on Wye on the Welsh border where she made textile works. "Pembrokeshire has been home for over ten years, and I am lucky to now have a light, airy studio in which to paint".
People can book painting classes and workshops with Kate by emailing [email protected] or mailto:[email protected]