Schoolboy who died from brain tumour inspires heart-warming book
Cerys Lafferty, 3 weeks ago
3 min

read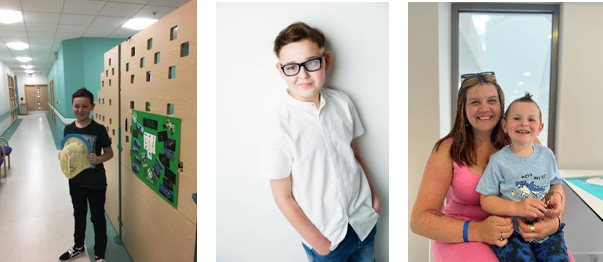 A BOY who died from a brain tumour is the inspiration behind a book to help families impacted by the deadly disease.
Finn McCabe from Barry in Wales was just 12 when he died from a diffuse intrinsic pontine glioma (DIPG), a year after he was diagnosed. Sister-in-law, Alana Frassinelli, 25, took to writing through her grief publishing 'A Guardian In The Sky' which shares Finn's memory with the nephew he never got to meet.
The mum of one said: "It took around 18 months after Finn's death for me to complete the book. I found the process cathartic, helping me through my grief, which was delayed due to the birth of my son, Luca Finn."
Finn died when Alana was 32 weeks pregnant with Luca who is now three.
In July 2017, Finn started to experience double vision which prompted his parents, Lee and Joanna to take him for an eye test at O'Sullivan Opticians in Barry and he was referred to the University Hospital of Wales for an emergency MRI scan.
Finn was diagnosed with a DIPG, inoperable due to it growing on his brain stem and surgery could lead to life-changing injuries, or even death.
Alana recalls: "I was performing in a musical when I checked my phone and saw missed calls from Finn's brother Jesse, who was my partner at the time and is Luca's dad. A text on my phone read 'something's wrong with Finn, we are at the hospital and it's not good.'
"Advice from the doctors was as blunt as 'take Finn home with this medication and make some memories. He started radiotherapy treatment shortly after, not to cure the cancer but to offer some kind of extension of his life expectancy which we were told was between nine to 12 months."
Treatment couldn't contend with the fast-growing nature of his tumour, and in February 2018 he was taken to Tŷ Hafan Children's Hospice in Sully where he died on 20 July.
Since Finn's death, the family set up Finn's Foundation which gives cash grants to families of children with terminal illnesses to try and lift the burden of financial worries during end-of-life care, and 20% of all donations go straight into DIPG research.
Alana said: "My hope is that by sharing Finn's story, I can help loved ones talk to their young children and family members about loss and help keep the memory of that person alive."
Brain tumours kill more children than leukaemia and any other cancer, yet historically just 1% of the national spend on cancer research has been allocated to brain tumours.
Mel Tiley, community development manager at Brain Tumour Research, said: "We're sorry to hear about Finn's diagnosis and are grateful to the family for sharing his story with us. We hope Alana is proud of her achievement in writing the book, Finn certainly has left a lasting legacy which we hope continues to raise awareness of the devastation that can be caused by a brain tumour."
Brain Tumour Research funds sustainable research at dedicated centres in the UK. It also campaigns for the Government and the larger cancer charities to invest more in research into brain tumours in order to speed up new treatments for patients and, ultimately, to find a cure. The charity is the driving force behind the call for a national annual spend of £35 million in order to improve survival rates and patient outcomes in line with other cancers such as breast cancer and leukaemia and is also campaigning for greater repurposing of drugs.
Related posts