COVID-19 has impacted every single man, woman and child in Wales for the last 12 months. As we've stayed at home to protect the NHS, kept our distance from loved ones, and covered our faces with masks, nobody has escaped the impact of the deadly pandemic.

Children across Wales have missed nearly a year of school, during which time their education and social skills have suffered, and experts say that there may be serious long term implications on the younger generation.

Because of this, the consultation "Coronavirus and Me" was launched to find out how the pandemic was impacting the lives of young people across Wales by the Children's Commissioner for Wales.

The consultation included 23,700 children aged 3-18 from across Wales, across a two-week period, after restrictions in Wales had been in place for two months once again.

The consultation shows that children experienced this lockdown in a drastically different way to adults.

37% of children stated they were not worried about Coronavirus on the day they completed the survey, with 38% felt the same level of worry, with 12% feeling more worried and 14% feeling less worried.

Worries included concerns about how long the situation would last and fears that loved ones would catch the virus. Some felt they were being safe, however nearly all said they could not avoid distressing news on the subject.

72% said that the main worry was "not able to spend time with friends", 59% that "they could not spend time with family members" and 42% that "school or college was closed".

Only 39% of the children aged 12-18 said they would feel confident seeking mental health advice from school counselling.

Some of the quotes from children aged 11 and below questioned included:

"My mummy and daddy still need to work and I need to stay with Nanny to keep safe, I am scared they will get ill and I won't see them again."

"Because it might not go for a long time, I really miss people close to me."

"My grandma has lung problems and she lives with me and I don't want her to die like lots of people have."
"My mum is terminally ill so I'm scared now this virus will kill her as up to now she has been able to live but now she can't go out and if she gets the virus she will die as the hospital has not per her on a ventilator."
58% of children said they felt happy most of the time, with 84% stating they felt safe most of the time, with secondary age children feeling more negative than primary age children.

Comments from children of secondary school age included:

"Going out with my friends was a daily thing I did almost every day. Not being able to do
that has been difficult."

"We have much less income as one of my parents is unable to work."

"Lockdown made my primary household a lot more hostile, so I've had to move in with
my mum away from my beautiful dog and with none of my things."

"I can't see dad face to face, I can only see him on video calls."

Falling behind in school was also a big concern. 25% said they lacked confidence they were getting the education they needed and 54% said they had fears of falling behind their peers and not being able to catch up as the lockdown period dragged on.

Of those who were worried about their education, common complaints included wanting more contact and support from their school with additional online provisions. Access to electronic devices at home was also a challenge for many, and those with additional learning needs felt those requirements were not being met. Only 2% of those surveyed reporting having no contact at all with their school.

For those who were in their final year and preparing to leave their primary school, 75% said they wanted to "say goodbye" to their school and visit their new secondary school before the new educational year started.

Comments from secondary age students included:

"A video or phone call from my teacher is all I get, I actually miss them."

"Teachers live on Zoom or Teams to talk to us at the beginning of the day about our homeschooling tasks for our day, that's it."

"I would like to have interactive online learning with my teachers and classmates."

"My school work has decreased in quantity and quality, so I would like to do some Zoom chats with my teacher."
"Home learning is very difficult when my parents are essential workers and don't speak English very well. I need to take care of my little sister all day and explain the worksheets her teachers have sent to her. It's difficult to do this while sharing one desk for all of us".

The person behind the consultation, Prof Sally Holland, said: "It is obvious from these survey results that, despite the enormous efforts of our schools, colleges, youth workers, social services and health services, the pandemic is having a crushing impact on many young lives."

Concerns have also been raised about parents being hesitant to seek out medical help for their children during the pandemic.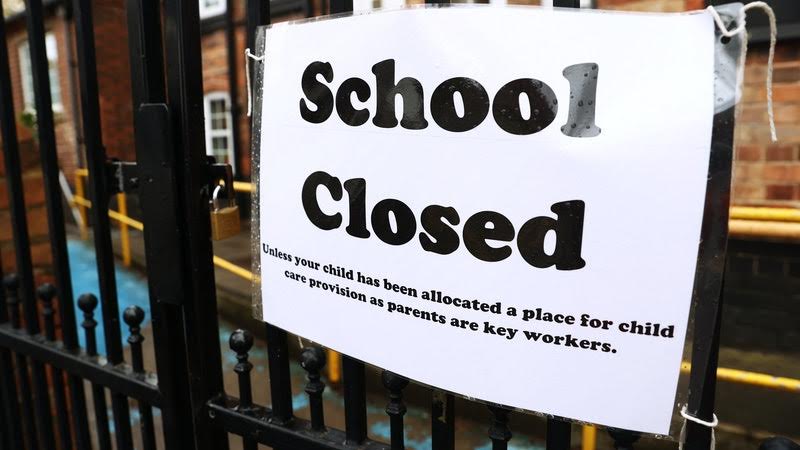 Prof Holland said: "I completely understand why parents might feel reluctant to go to their GP or hospital in the current situation. They might feel like they're putting their children or themselves at risk or perhaps they feel like they would be burdening stretched medical teams with something unimportant.

"But this reluctance could result in children not getting the medical help they need for potentially serious illnesses, which would completely outweigh the risk posed by leaving the house and attending hospital.

"I would like to urge all parents to get medical help or advice for the same issues that would have prompted them to see their doctor or local hospital before the coronavirus epidemic.

"For other issues like extra support if they are struggling at home, families need to know their local authority's social services are absolutely still running and are still there to give them the support they need."

Dr Jennifer Evans said: "On the whole COVID is a much milder disease in children, and children will continue to get other illnesses.

"We know there are significantly fewer children coming to Children's departments – in our own department this is by a factor of up to 75% as compared to this time last year. This is a rough figure but based on the past 3 weeks as compared with march/April last year. This is a pattern being seen across the UK.

"We are anxious that other conditions that need urgent treatment including meningitis and sepsis are not being missed and want to reassure parents that children's departments are open and are safe.

"We also want to reassure parents that one parent or carer will be able to stay with their child at all times if they come to the hospital.

"And finally we want to stress that babies are taken for their routine immunisations when they are called – we do not want to see further outbreaks of infections in the future if this can be avoided – and there is a risk of this happening if we do not keep our rates of immunisation high."

But that's not all, the Children's Commissioner for Wales has also warned that a drop in referrals to social services meant that children across Wales could be going without the support they need.

"Family support services and children's mental health services are still available, even though they've had to find new ways of supporting families. If families are struggling with parenting or family relationships, they should be assured that there is help out there.

"Additionally, if any member of the public is worried about the safety of a child in their community they should discuss these concerns with their local authority, the NSPCC or the police."

Marian Parry Hughes, chair of the All Wales Heads of Children's Services Group, which consists of heads of children's services from all local authorities, said that the majority of Wales' 22 local authorities were reporting a reduction in safeguarding referrals, and estimated that in her own authority of Gwynedd there had been a 50% drop in all referrals compared to the same period last year, which includes safeguarding as well as a wide variety of help and support.

She said: "Since the start of this period of social distancing and self-isolating, Children's Social Care has had to adapt to a new and different way of working. We are very aware of the risk of some safeguarding matters not being brought to the attention of our services due to children having less contact with their schools and with the other agencies who usually work with families.

"Due to the overall reduction in the numbers of referrals being made to Children's Services at present, I would like to assure you that Local Authorities' Children's Services in Wales are operating a 'business as usual' approach to safeguarding issues.

"This means that we would respond in the same way as usual to any reports of concern or harm regarding a child or young person and will ensure that our response places their safety and welfare first. It is therefore imperative that anyone who has any concern knows that help and support is available and that they can contact the Local Authority with their concerns."

One problem is the return to school plan for children, which will bring back a sense or normality, is still highly debated, with the short and long term impacts unknown.

However, the government hopes that a cautious approach will ultimately be the right one for children.

During a visit to a primary school in Cardiff, Education Minister Kirsty Williams told BBC Wales: "I'm not aware of another country anywhere in the world that after such a prolonged period of lockdown and of such a peak in cases has then returned all their children all at once.
"We've been advised if you bring all children back in one big bang that potentially has a massive effect on the R number.

"And we will see rates begin to climb again and we will see extra pressure being put back on our NHS.

"Nobody wants to go there. That's why we are doing it carefully and cautiously."

As children return to school, the long term impact on the last year on their lives will not be known for a long time. For some, normality will return, lessons will be caught up, and social circles will carry on as normal. But, like adults, not all will find it that easy, and these children may find themselves left behind in both educational and social situations.
Related posts