Guest writer: Jeff Dunn – Photos: Jason Davies
It's hard to believe that it's thirty years since Milford was hit by tall ship's fever, but it was on Sunday the 21st July 1991 that the Duke of York , as part of his busy schedule, officially started the Tall Ship's race from the Royal yacht Britannia, perfectly placed just outside St. Anne's Head.
I've been invited to cast my mind back to reflect on my own, personal recollections of the weekend when Milford went "Hello Sailor" crazy.
When you consider that the Milford Haven Waterway, a drowned valley, flooded at the end of the last Ice Age, and which became widely acclaimed as one of the deepest, most natural harbours in the world, with a port once recognised as the largest in Wales and sixth largest in the UK, it makes you wonder… "Why did it take so long to come here ?"
I thought it might be helpful to remind myself of what constitutes a tall ship, and what the Tall Ships Races are all about.
There are different "classes" of tall ship. Traditionally they are large, rigged sailing vessels which include schooners, brigantines, brigs and barques. Traditionally the rigging may include square rigs and gaffe rigs, while most smaller, modern vessels utilise newer materials such as aluminium and steel to construct taller, lightweight masts.
The Tall Ships Race was set up predominantly to encourage alliances and friendship between nations, and to train young people in the exciting art of sailing. The Race is held on an annual basis in European waters, consists of two racing legs, and it's conditional that each ship that participates must ensure that over one half of the crew are youngsters.
The very first Tall Ship's Race was held in 1956, and went from Torquay in Devon, to Lisbon, in Portugal.
It appears that there'd been no definite plans for further races to follow, but because of the tremendous
amount of interest shown by the public ..with millions of spectators worldwide… and with major sponsors
soon climbing on board to add some commercial clout, there was no turning back.
From 1973 to 2007 it was whisky sponsored, sailing under the banner as the Cutty Sark Tall Ships Race.
And so it was that thirty five years after its inception, Milford became the famous Race's starting point.
The official announcement was met by all round delight, and it was proclaimed that there would be wide
financial benefits brought to the town..a town which, for over a century, had endured more peaks and
troughs, highs and lows, than a corner shop in Coronation Street.
It was confidently declared that a million visitors would descend on the town and district, clogging up
all the car parks and bringing "NO VACANCIES" signs to all the hotels, guest houses and caravan sites
for miles around.
Apparently some of the more mercenary locals considered moving out for that weekend, and renting
their property to the anticipated overspill of the unlucky ship-loving tourists who found that there was
no room at the inn.
There were even some contemplating "renting out" part of their drives for spectators to park their
vehicles before scuttling off to find themselves the most advantageous viewing points.
To a town that's always found itself "down the pecking order" when it comes to drawing in a steady
flow of tourists, a million new faces would be welcomed with open arms, it would give them a chance
to see, and savour, the wonders of our historic heritage, and, hopefully, would encourage many of
them to return on future occasions.
It was time for our magnificent waterway to come good.
After all, it wasn't that Milford Haven had gone unnoticed.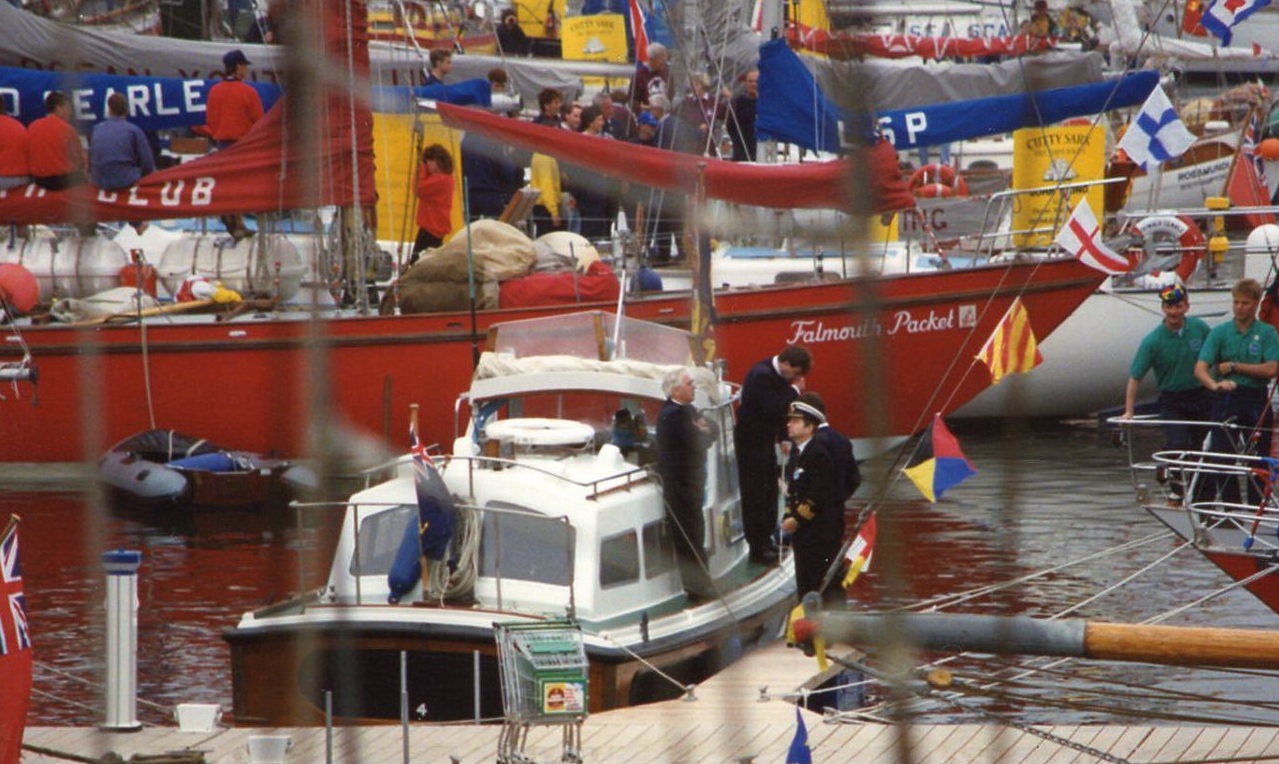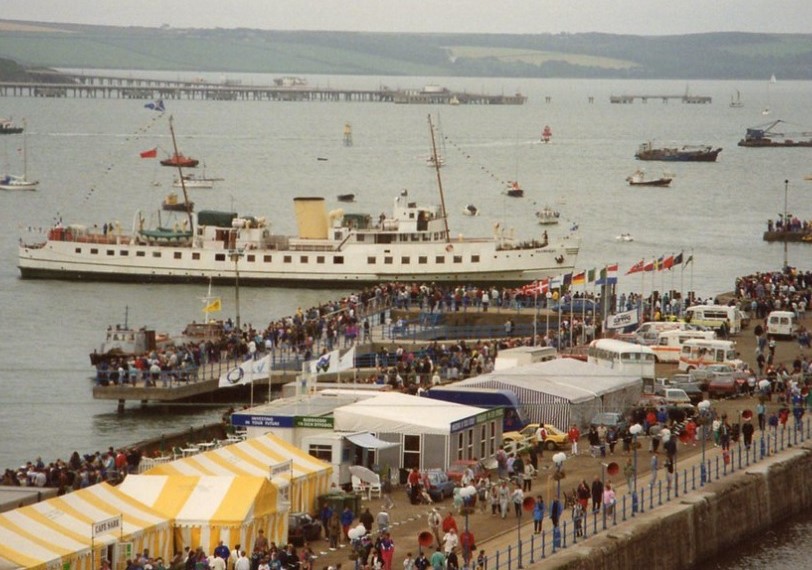 In the 1600's the Bard of Avon himself, William Shakespeare, in his play "Cymbeline," had featured
the town, and in Act 3 Scene 3 wrote…"..How far it is to this blessed Milford..and by the way, tell me
how Wales was made so happy as to inherit such a haven."
Then in 1802, when Lord Horatio Nelson, a national hero and himself not too bad a sailor, paid a
visit to Milford with his "Lady friend with benefits," Emma Hamilton, and described it thus..
"the next best natural harbour to Trincomalee in Ceylon (Sri Lanka)" and.."the finest port in Christendom."
Then from1971 to 1980, BBC television latched onto the suitability of the town, using it when filming
part of their highly successful and popular drama "The Onedin Line."
So maybe the arrival of the Tall Ships Race in 1991 would, once again, open the doors of opportunity.
The town's historical highs and lows included, in the late 1800's, the much vaunted, highly
publicised efforts to make Milford a major player in the booming Transatlantic trade, which
never really got off the ground, losing out to the likes of Liverpool and Southampton.
Then for years the town basked in the hard earned glory of being a famous fishing port, with well
over a hundred deep sea trawlers providing employment for around four thousand people..when
"every day was a pay day."
But the decline of the industry, from the 1950's, for many reasons, hit the town hard.
Then BOOM, the Oil Industry cottoned on to the fact that the Milford Haven Waterway was
home to the finest deep water harbour in the west…as Nelson and Shakespeare had declared
to everyone many moons ago, and oil refineries were built around our shores. bringing much needed
jobs during the construction periods.
Someone declared that we could soon look forward to seeing
Milford's Charles Street overflowing with a torrent of "black gold" ..maybe twinning the town with Dallas !
By the mid 1970's, the Port of Milford Haven , having had a total of over 4000 ships entered,
and more than 59 million tons of cargo handled (mostly oil related), was perched proudly
as Britain's largest port.
But as we know, starting with the closure of Esso Refinery, the Oil Industry also experienced a
steady decline.
So, in July 1991, with Bryan Adams dominating the pop charts with his No 1 hit.."Everything"
I do, I do it for you," it was time for 40 tall ships, from all around the world, to bring smiles to our faces,
help the economy, and raise the spirits of our town.
It was said that the docks area would be transformed into "Blackpool's Golden Mile," with a myriad
of stalls and tents selling loads of tall ships memorabilia, t-shirts, Hello sailor caps and mugs, together with lots of different Milford mementos, ready for the arrival of the one million strong crowd that was anticipated.
I candidly admit that, from a personal point of view, the heady thrill of the weekend event, its concept, the whole exciting anticipation of it all, was something that inflamed my imagination.
At that time I'd just begun writing the script to my musical play, The Day War Broke Out, which was to
be staged in the Torch Theatre a few years later, but recognised that here was a golden opportunity to
not only get myself involved in the Tall Ships Race fervour , but also raise a bit of cash that could go towards the costs of staging the play.
So I co-wrote a song called "On Tall Ships" which a collection of hugely talented local musicians
recorded, along with another of my songs, "Any Port in a storm"…Then we added some nautical poetry,
including "I must go down to the sea again…" the John Masefield's classic "Sea Fever," and we all
paid to have an audio cassette professionally produced. Working on the premise that there'd
be a million visitors in town, even if only 0.05% (500) of them bought one of our "Tall Ships" tapes..
we should make some money. Surely it was worth a place in the "Golden Mile" of trinkets and commercial
paraphernalia that would bring some "pizzazz" to the affair.
When the weekend finally arrived, there was a buzz of excitement in the air…a feeling of anticipation..
and the docks area, soon to be declared a marina, was alive…busier and more colourful than I'd
ever seen it…and boy, those magnificent tall ships were tantalising and mesmerising me so.
They were enough to thrill even the most hardened of land-lubbers.
That weekend also saw my wife's cousin come down from Neath to stay with us. He wanted to
be tantalised and mesmerised too.
With his car in the drive, even if I'd wanted to, there was no chance of "renting out" a
parking spot.
The number of visitors to the town turned out not to be a million…I was told it was more like
10,000…and I wouldn't argue with that.
That, of course, effectively sank our cassette sales… although, if calculated using the same formula..
0.05 % of 10,000 is 5….and our sales smashed that…but we still ended up making a loss.
The "On Tall Ships" tapes ended up being returned to the performers for their own use, and my
allocation was given to Margaret Jones's Cancer Charity shop in Hakin.
Apparently, according to the BBC, the Milford Haven Tall Ships Race is thought to have contributed
over £5m to the local economy, and, although I didn't hear it myself, I was told that the BBC Wales
news coverage of the event included snatches of our song !
My wife's cousin from Neath thoroughly enjoyed his weekend.
On the Saturday night we all went down the docks for a drink but at shut tap he wasn't ready to return
home with us. Four hours later, after walking the streets looking for him, fearing he
might've been shanghaied, we were about to ring the police when he turned up.
He'd got caught up with a sea shanty group , then gate-crashed a party somewhere in Milford !
The following morning after devouring a hearty breakfast he left, complete with a Tall Ship tape,
expressed his gratitude for a great weekend, adding.…"Please don't tell my mother."
In conclusion, although I have mixed personal memories of Milford Tall Ships Race weekend,
I would love to see it return.
The town deserves it.
The people of the town deserve it.
Thirty years have brought many changes, but one thing remains the same.
The Milford Haven Waterway.
How blessed are we to live in a town such as this.
Related posts