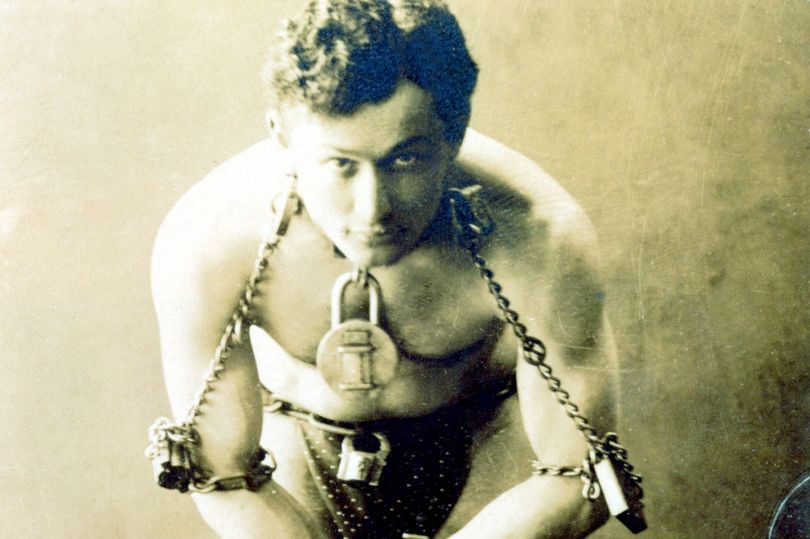 IF THERE'S one man who should have no problem escaping prison, it would the legendary magician and showman Harry Houdini.
In both 1905 and 1913/14, Welsh crowds were lucky enough to see the amazing escape artist, at the very height of his fame.
And on two occasions he found himself in a cell.
During his 1905 visit, Houdini encouraged his audiences to challenge him to daring escapes.
Most notable of which was a group of Newport joiners who built a series of wooden casks from which he would escape.
According to contemporary newspaper reports, he complained on only one occasion, during a performance at the Newport Lyceum on 18 April 1905: "They had omitted to provide air holes, and as Houdini, who has his share of humour, quietly remarked that he needed air sometimes, there was little delay while the holes were made."
During this run at the Newport Lyceum was when his first run in with the authorities occurred, when he tried to file an assault report.
Houdini went to a nearby Cardiff theatre, the Empire, to see Hilbert, a local escape artist and music hall performer.
The stunts Hilbert performed were so similar to those of Houdini that they shared a nickname in the Welsh press: "The Handcuff King".
Houdini, accompanied by his wife and mother-in-law, went to the theatre disguised as an old man, with talced hair, a moustache glued to his upper lip and carrying a walking stick.
With the show about to begin, Houdini called out "fraud" and, brandishing a pair of handcuffs, yelled "I have a pair of handcuffs you can't get out of!"
Mr Lea, the theatre manager, had Houdini forcibly removed from the auditorium.
He was grabbed by the throat and thrown into an alleyway outside, it was alleged.
While Houdini alleged Lea personally assaulted him, Lea coolly denied involvement in the altercation.
When asked by the alderman "if you had been there, would [Houdini], you think, have suffered even more than he did?", a smiling Lea replied: "Well, he would have run the chance." The magician's case against Mr Lea was swiftly dismissed.
Ironically, it was Houdini himself who ended up in a cell following this claim, but not because he had committed a crime.
Chief Constable Sinclair allowed him "to try his luck" in escaping a cell in Newport Police Station, naked and handcuffed.
The Weekly Argus newspaper, dated 22 April 1905, reported how an "astonished" Sinclair witnessed a fully-clothed Houdini emerge from the cell after merely four minutes.
A crowd of 1,000 people met Houdini on the Town Hall steps, where he received an ovation from them.
It would be nearly a decade later, in 1913, that he returned to Newport and found himself in actual trouble with the law.
On Monday 3 March, while performing at the Newport Empire, he announced his intention to leap into the River Usk from the Newport Bridge pending the permission of the authorities.
When permission was not granted, he devised a plan to bypass the authorities and perform the stunt regardless.
Two days later police and crowds of onlookers flooded the bridge.
Houdini had anticipated the clamour and so placed a lookalike, along with the theatre manager and press representatives, in an open top car to act as a diversion.
The crowd, after an initial commotion, realised the magician was not in the car and began to disperse.
The lookalike continued to engage the attention of the police while Houdini made his way to the opposite side of the bridge and, already stripped and handcuffed, lowered himself in.
Upon miraculously freeing himself from his bonds and swimming ashore, he returned to the Empire that evening and, according to the South Wales Argus, was greeted by a "magnificent reception" from his audience.
The press hailed the jump as a "triumphant vindication of Houdini's pluck and resource," praising him for outsmarting the police force in order "to keep faith with the public".
But he was soon summoned to court with charges relating to obstructing a public highway.
Fittingly, the escapologist, was allowed to walk free after the magistrate at Newport Police Court threw the case out.
Remarkably, he would once again return to Newport as a year later he accepted a challenge from four workers.
The wording of the challenge said: "On your last visit you escaped from one of our packing crates, but as it was delivered ahead of time, you had an opportunity to tamper with same.
"To prove the contrary, we hereby challenge you to allow us to bring to the Empire Theatre, timbers and battens and we will construct a strong box in full view of the audience. You must enter immediately, we will nail down the lid, securely rope up the box and defy you to escape without demolishing same."
He took just two-and-a-half minutes to free himself.
Related posts