IT might surprise you to learn that a native Welsh person hasn't held the title of Prince of Wales for hundreds of years.
Owain Glyndwr was the last native Welsh person to hold the title Prince of Wales. He was born in 1359 into a powerful family of the Anglo-Welsh nobility, during a time of relative peace between the tribes of Wales and the English aristocracy.
His father, Gruffydd Fychan II, was a hereditary prince of Powys Fadog and Lord of Glyndyfrdwy, one of the lines of Welsh lords and princes who traced their royal lineage back to before the Norman conquest.
His mother, Elen Ferch Tomas Ap Llywelyn of Deheubarth, was also of noble blood.
It is thought that his father died sometime before Owain was 11 years old, and the young prince was fostered to the household of Sir David Hanmer, an Anglo-Welsh judge.
Owain followed Hanmer's profession, by going to study Law at the Inns Of Court, but didn't become a 'man of law'. He married Hanmer's daughter, Margaret, in 1383 adding the titles of Squire of Sycharth and Glyndyfrdwy to his portfolio.
In 1384, military service called Owain, and he enlisted under Sir Gregory Sais in the Marches area, the border country of England and Wales.
In 1385 he enlisted under the Earl Of Arundel, fighting for King Richard II. Until the last decade of the 14th century, Owain Glyndwr was a man of the March, having married into a leading Marcher family and become the epitome of an assimilated Welshman.
The year 1399 saw the dethronement of Richard II and the seizure of the throne by Henry IV – the lord of Brecon, Monmouth, Cydweli and Ogwr – although Edmund Mortimer, the leading lord of the March, had a better claim to be the heir of Richard II.
The immediate spark for Owain's revolt seems to have been the King's unwillingness to mediate fairly in a dispute between Owain and his neighbour, Reginald Grey of the Rhuthun marcher lordship.
On September 16, 1400, Glyndŵr instigated the Welsh Revolt against the rule of Henry IV of England.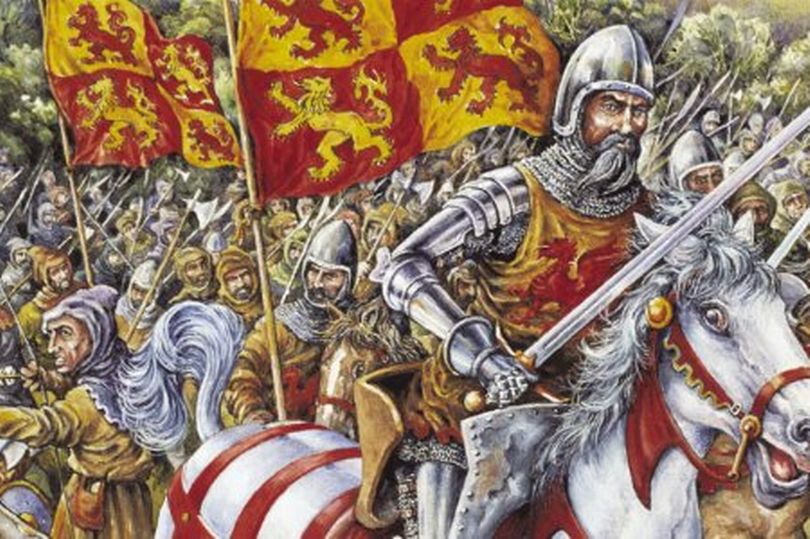 A group of Owain's supporters proclaimed him Prince of Wales at Glyndyfrdwy.
Although initially successful, the uprising was eventually put down.
After the final battles of the revolt in 1412, little is known of Owain Glyndwr.
Flashes of sporadic violence against the English continued, but by bandits and outlets rather than any semblance of an organised military force.
Henry IV died in 1413, and was succeeded by the less Plantagenet, more astute Henry of Monmouth, Henry V.

He began to offer the Welsh rebels pardons. Owain's son Marededd refused a pardon until 1421, leading some historians to suspect that this was the year in which he died.
One theory is that he ended his life as a the family chaplain on his daughter Alys' estate she shared with her husband, Sir Henry Scudamore, the sheriff of Herefordshire.
The rebellion had to a large extent ruined the fragile but comfortable coexistence the English and Welsh had arrived at.
Chroniclers at the time reported that, Glyndwr had "brought all things to waste" and the English king "proclaimed havoc in Wales".
There was extensive destruction of towns and villages, and agricultural land went to waste. It was at least a generation before most of the areas caught up in the revolt got back to working life.
There had been great loss of life, an economic blockade and a weakening of commerce. Politically, too, the Welsh were knocked back where they had been making progress.
It would be 150 years until the Welsh were allowed to become more prominent in society. But Glyndwr was not being forgotten in the misery.
In his play, Henry IV, Shakespeare portrays Owain Glyndwr as a wild, exotic, magical and spiritual man, playing up the romantic 'Celtic' traits.
In the 19th century his life and legacy was beginning to be re-evaluated as the Welsh 'nation' began to find its voice once more.
The discovery of his seal and letters were proof that he was a national leader of some importance – a learned head of a country with diplomatic ties as any other head of state might.
In 2006, Adrien Jones, the president of the Owain Glyndŵr Society, said: "Four years ago we visited a direct descendant of Glyndŵr, a John Skidmore, at Kentchurch Court, near Abergavenny. He took us to Mornington Straddle, in Herefordshire, where one of Glyndŵr's daughters, Alice, lived.
"Mr Skidmore told us that he (Glyndŵr) spent his last days there and eventually died there…. It was a family secret for 600 years and even Mr. Skidmore's mother, who died shortly before we visited, refused to reveal the secret. There's even a mound where he is believed to be buried at Mornington Straddle."
Renowned historian Gruffydd Aled Williams suggested in a 2017 monograph that the burial site is in the Kimbolton Chapel near Leominster, the present parish church of St. James the Great which used to be the chapelry of Leominster Priory, based upon a number of manuscripts held in the National Archives.
Although Kimbolton is an unexceptional and relatively unknown place outside of Herefordshire, it is closely connected to the Skydmore family.
Given the existence of other links with Herefordshire, its place within the mystery of Owain Glyndŵr's lasts days cannot be discounted.
The nationalist movement has always held Owain Glyndwr in high regard, but he is now a figure of mass culture in Wales, with statues and monuments alongside pub and street names commemorating him.