TO BUY a toy that was made in Wales, you now need to trawl eBay for listing from collectors and those clearing out their attics.
But once upon a time the toy industry in Wales was booming, with countless childhood memories created at a Welsh factory.
The likes of Corgi Carys, Louis Marx and SuperTed will be well known to those from a certain generation, but unfortunately the memory of this joyful industry is now fading with age.
Whilst the mind immediately jumps to coal when you think of Welsh industry, in the early twentieth century thousands were employed in toy factories across Wales.
Mrs Kennelly and her husband, Paul, preside over a staggering collection of 10,000 toys at the museum in Llangeler, Carmarthenshire – many of them Welsh-made.
Describing the rise of their creators, she said: "There were so many toys needed that a lot of British firms and the occasional American firm came to Wales.
"And, of course, there was government help to set up factories.
"Especially when you had the men doing coal mining and the steel-making, you wanted something for the wives to be doing. So, a lot of toy making was actually the wives, because they had more nimble fingers."
Up until the start of World War 1, Germany led the way in Europe for toy production, but once war was declared, you couldn't be seen to be "playing with the enemies' toys", so the industry saw a boom in the UK.
The most famous in Wales, Corgi Cars, was started by Jewish manufacturers who had been exiled from Germany, in fact.
Before it was famous as Corgi Cars, the company was called Mettoy, with a site in both Northampton and Fforestfach in Swansea.
They weren't making toy cars during this period though, they were producing necessities for the war such as jerrycans and Bren Gun clips.
Once the wars were over, Corgi's first toy vehicle, a Ford Consul, was released to massive success.
This led to their rapid expansion – employing over 5,000 people at their peak.
The miniatures created by Corgi were sold all over the world, and they won the licensing for TV and film replicas, for such franchises as James Bond (Aston Martin DB5) and Batman's Batmobile.
In 1989, the company was sold to the American giant Mattel and the Swansea factory was closed in 1991. In 1995, Corgi was bought by Hornby, based in Kent.
Louis Marx started production in the UK in 1931 making toy trains. The original factory was in Dudley. After World War II, when the Dudley factory was also taken over for vital war production, the Company moved to a new site at Swansea Industrial Estate.
The Estate had been opened in 1945 by King George VI and Queen Elizabeth as part of the Government's attempt to re vitalise South Wales. Louis Marx and Co Limited took possession of their new factory at Ystrad Road, Swansea Industrial Estate, Fforestfach, West Glamorgan in September 1948.
In 1967, the UK Company was bought by Dunbee Cobex and continued to produce Marx toys under the name of Louis Marx and Company Limited until 1976.
It was at this time that Dunbee Cobex Marx, as it was known, took over the US Company from Quaker Oates and continued to produce toys until February 1980.
Huge losses in the USA forced in the receiver in the UK and the Swansea factory was finally closed on the 2nd January 1981.
Several attempts were made to keep the company going in the UK but on the 11th August 1992 Louis Marx and Company Limited was finally dissolved.
The Lines family first became involved in the production of toys and baby equipment in about 1850. Their first factory was based at Bagnidge Wells, an early 'spa' near Kings Cross in London and their products were mainly produced in wood.
The most popular products were wooden horses in a range of sizes. Tailors and saddlers of London's West End would purchase life-sizes wooden horses from this company to model their goods on. The Lines' factory later occupied an old steam works on the nearby Caledonian Road.
In 1945 Lines Brothers set up a factory at Merthyr Tydfil in Wales. By the early 60s, the Tri-ang empire created by Lines Brothers was claimed to be the largest toy manufacturer in the world.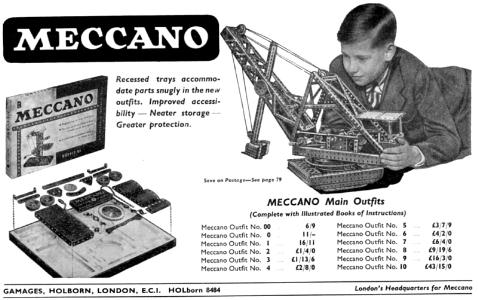 Lines Brothers brought Meccano Ltd. which included Dinky Toys from Hornby in 1964. To increase sales of the financially-struggling Meccano, Lines Brothers introduced other products which brought it up-to-date. They introduced Play-Doh, Cliki and Cliki-Plus, similar to Lego, in this first year
However, their fortunes turned around not long afterwards.
In 1971, due to failing business overseas and uncertain demand in the UK, Lines Brothers, then the biggest toy manufacturer in the UK, collapsed.
Airfix bought Meccano, Dunbee Combex Marx bought Rovex Triang, Triang-Pedigree was bought by Barclay Securities, which included the Merton factory, the teddy bear range was taken over by Canterbury Bears and the Pedigree production manager Jim Mulholland set up his own factory in Belfast named Mulholland & Bailie.
In 1978 Triang-Pedigree announced the closure of the company's Merthyr Tydfil factory in Wales, despite a rescue attempt in 1975 with a £4 million injection from government and Airfix.
This ultimately led to the loss of hundreds of jobs.
With the collapse of such a giant industry, where has all the production gone?
Unsurprisingly, like most things, the leaders are now in China.
However, as with other industries in China, toy production is a controversial subject, with concerns raised about child labour, long working hours, and unsafe conditions.
An investigation with the US-based NGO China Labor Watch reveals that toys including Barbie, Thomas the Tank Engine and Hot Wheels were made by staff earning as little as 86p an hour.
The group's founder and executive director, Li Qiang, said: "We can't tolerate that children's dreams are based on workers' nightmares, and we must fight against the unfair oppression of workers who manufacture toys."
But the toy industry's own watchdog, the ICTI Care Foundation, says it is powerless to stop many Chinese factories breaking the law on overtime.
"The reality is, across the board, most factories, or the vast majority at least, work way beyond legal limits in China, and legal limits are almost universally ignored," said Mark Robertson, ICTI Care's director of communications. 
"Our position is, we want transparency. We want to know how many hours are worked in the factories, so we can make sure workers are paid for every minute that they work."
The investigators said that the average working week was 68.3 hours. Chinese labour law allows a maximum of only 36 overtime hours a month. A worker averaging 68.3 hours a week would be working an average 88 hours of overtime a month – but workers claimed the figure was higher during peak production periods over the summer.
However, despite Wales' decline, the UK still remains at the top in Europe. Total sales for last year were £3.2 billion, which still makes the UK toy market the largest in Europe, but with Germany now a very close second.
A new report from Kids Insights, launched at Toy Fair, revealed that board games especially are more popular than ever. Over a third of kids aged six-to-nine play with classic board games such as Monopoly, Guess Who and Jenga monthly. The report also revealed a positive link between playing board games and wellbeing, as tweens who play board games reported feeling above average happiness and less anxiety.
Related posts