A MOTHER from Aberystwyth who starred in a TV health transformation series is urging people to put their names forward to be part of the new series in 2023.
in 2020, Wendy Thomas, aged 58, had the terrifying experience of being rushed to hospital with Covid-19, and subsequently suffered from the effects of Long Covid.
With her mental health deteriorating also, in early 2022, Wendy decided to put her name forward to be part of S4C series, FFIT Cymru.
That was the push that Wendy needed. With the support of the team of FFIT Cymru experts, psychologist Dr Ioan Rees, personal trainer Rae Carpenter and dietician Beca Lyne-Pirkis, Wendy fully committed to the plan.
"After having covid, I had never felt so sick and it scared the hell out of me," said Wendy. "Before starting with FFIT Cymru, I was suffering with my mental health.
"Losing weight wasn't important at the start, it was about sorting my head out. But after a session with Dr Ioan, everything slotted into place for me, mentally.
"Then I got Beca's menu and the exercise plan from Rae to get myself fit, and everything came together – I needed those three things together. I would never have done it without coming on FFIT Cymru and getting the support of the experts."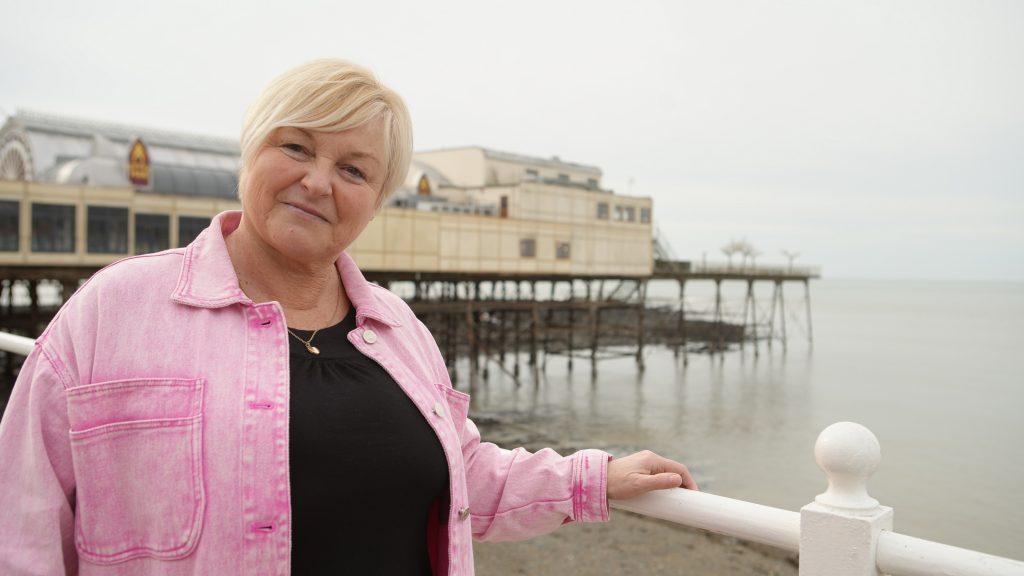 Before her FFIT Cymru journey, Wendy weighed 13 stone and two lbs, and she had the equivalent fitness level of someone over the age of 79. But after following the plans and rediscovering her enjoyment of exercise, she managed to lose two stone and one pound during the seven weeks of the series.
Having continued exercising regularly after the series finished, by climbing mountains, going to spinning classes and coasteering, Wendy's weight has now come down to nine stone and nine pounds. But more important is the effect that the experience has had on her mental health, happiness and self-confidence.

"This has been an unforgettable experience," said Wendy. "When I started it, I thought, 'I can never do this', and it wasn't easy. There were a few days when I had to push through the clouds to see the sun. But it was all worth it .
"This year, I was at my lowest, but now I'm at my highest. Before, I felt like I was just existing. But life is worth living now. And now I have a memento to remind myself, three little words which I've had tattooed – 'let it go'. FFIT Cymru has saved me, that's all I can say. My goal now is just to live my life."
Dr Ioan Rees said: "When we first met and started working together, there were many things mentally that limited Wendy's life and health. But she managed to get over them during the series and get a personal breakthrough."
Rae Carpenter added: "I can't: that's not in Wendy's vocabulary any more, at all.
"Her commitment over the last six months has been huge, and absolutely inspiring. She's 58, but I believe she's going to show everyone that 60 is the new 40."
Do you want to be one of the leaders of the new series of FFIT Cymru? Apply before January 31 for your chance to take part. Go to www.s4c.cymru/ffitcymru to apply online.
FFIT Cymru are keen to receive applications from people of any background, and we especially welcome applications from people from ethnic minority communities, disabled or Deaf people, and people who identify as LGBTQ+.
If you'd like an informal conversation for more information, you can contact the production team on [email protected]