THIS WEEKEND (Saturday, April 22 – Sunday, April 23) New Quay RNLI crew members, with the help of Clwb Rhwyfo Sion Cwilt Rowing Club, will row indoors for 24 hours to raise funds for the new Shannon class all-weather lifeboat fundraising appeal. 
With New Quay RNLI's new Shannon class all-weather lifeboat, the Roy Barker V, arriving this June, the station launched a fundraising appeal in February to raise £105,600. The money raised during the appeal will be going towards essential crew training and equipment delivery.
Pete Yates, one of New Quay RNLI's coxswains and organiser of the event said, "As a crew, together with Sion Cwilt Rowing Club, we are embarking on the challenge of a 24 hour indoor rowing event from Saturday to Sunday this weekend. We will be using two rowing machines and have scheduled crew to cover the 24 hour time period between 13:48 on Saturday and 13:48 on Sunday.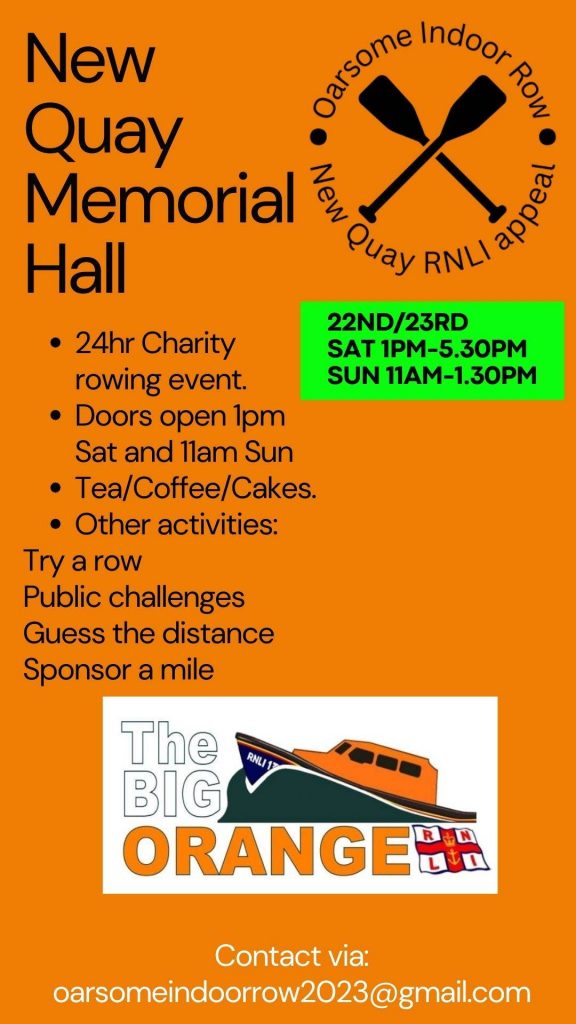 "13-48 is a symbolic number as it is the hull number of our new Shannon Class all-weather lifeboat, so we feel it's a fitting time to start and complete our challenge.
"The event will take place at New Quay Memorial Hall, with doors open to the public from 1pm-5.30pm on Saturday and 11am-2.30pm on Sunday. There will be a 3rd rowing machine for the public to get involved, so pop in during these times and say hello and give the crew some support on their mammoth task. Refreshments will also be available.
"We hope that with everyone's help and support we can smash our £5,000 crew target towards the larger appeal. If you would like to donate please go to our just giving page: https://www.justgiving.com/page/oarsomeindoorrow2023."