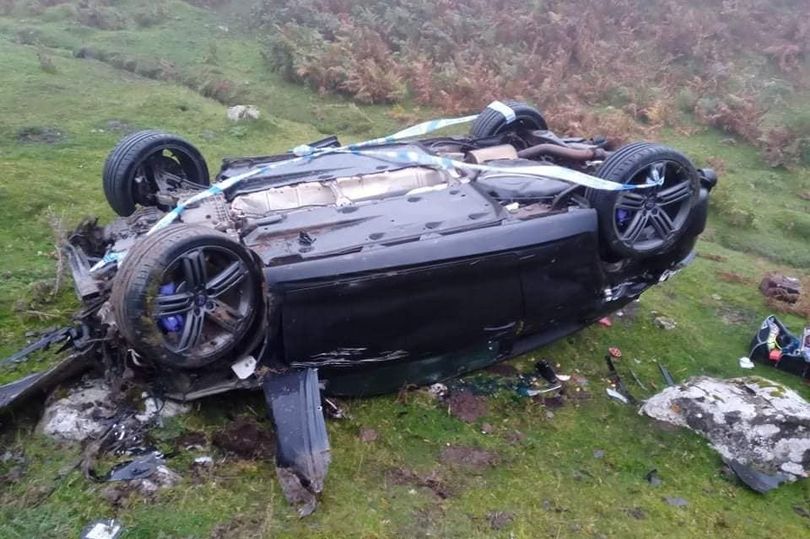 A man who says he can't believe he is still alive has told of the terrifying moment his car careered off a windy mountain road and fell 50m onto the terrain below.
Iestyn Brown-Morris was driving back from a trip to Llangynidr mountain – about a 20-minute drive from his home in Abergavenny – on Sunday night when disaster struck.
"I visit the mountains quite often as they are my favourite place to go for some me time," the 22-year-old said. "I had just finished work that day and was very hungry, the weather was sunny too, so I decided to get some food and thought it was the perfect time to park up and watch the sunset.
"I drive the roads there very regularly and have never had any scares or problems. I see a lot of drivers speeding past me and even overtaking sometimes, which baffles me.
"I decided to go home near 7pm when the sun had gone down. I wasn't sure at the time what I had hit, it felt like a big dip, and then a loud bang on the left side of the vehicle which caused me to lose control.
"I was really scared. I could not think of anything at the time. As I flew off the cliff and saw the ground coming closer I really thought I was going to die.
"I crashed into the bank and flipped a few times. That car that I worked so hard for for an entire year is a write-off."
Asked if he now remembers anything about the incident he explained: "I believe the car fell around 50m into the bank below. I don't really remember much. It all happened so fast.
"I hit the ground and the next thing I know I'm upside-down looking for the door to escape."
Related posts