HAY FESTIVAL 2023 closed Sunday, June 4 after more than 500 events brought thousands of writers and readers together over 11 days of programming to inspire, examine and entertain.
Event highlights can be enjoyed on Hay Player now at hayfestival.org/hayplayer for an annual subscription of £15 / year.
Held in the booktown of Hay-on-Wye on the edge of the Bannau Brycheiniog National Park, this year's programme launched the best new fiction and non-fiction books, while offering insights and debate around significant global issues, world class comedy and music, and a vibrant programme of pop-up events, workshops, and activities for all ages.
With footfall up by 37 per cent on 2022 and ticket sales up by 17 per cent, many first-time festival-goers travelled from all over the world to experience the Festival site and see the events.
The most accessible Festival edition yet, 77 schools and 7,500 pupils (primary and secondary) took part in the free live Programme for Schools with over 21,000 taking part digitally. In addition, 43 libraries took part in streaming free events via The British Library and the Living Knowledge Network across the UK; and thousands more watched online with the Online Festival Pass.
Community groups who had never visited Hay Festival before, along with a wide range of artists, were drawn by a series of new partnerships and projects.
Guests included writers Margaret Atwood, Barbara Kingsolver, Eleanor Catton, Jonathan Coe, Leïla Slimani, Fflur Dafydd, Caleb Azumah Nelson, Alys Conran, Richard Ford, Jojo Moyes, Horatio Clare, Natalie Haynes, Richard Osman, Douglas Stuart, Elif Shafak, Katherine May; poets Simon Armitage, Owen Sheers, Carol Ann Duffy, Rufus Mufasa and Michael Rosen; YA star Alice Oseman; children's heroes Cressida Cowell, Jacqueline Wilson, Julia Donaldson, Connor Allen; music icons Stormzy, Dua Lipa, The Proclaimers, the Levellers, Judi Jackson, Baaba Maal, Zhadan and the Dogs; comedians Dara Ó Brian, Tom Allen, Jason Byrne, Kiri Pritchard-McLean, Josie Long, Isy Suttie; stars of stage and screen Helena Bonham Carter, Richard E. Grant; politicians and policy makers Sadiq Khan, chief scientific adviser Patrick Vallance; journalists George Monbiot, Alastair Campbell, Marina Hyde, Gary Younge, Lyse Doucet; economist Mariana Mazzucato; historians Lucy Worsley, Simon Schama, Irene Vallejo; artist Tracey Emin; foodies Mary Berry, Jack Monroe, Ruth Rogers, Andi Oliver and Prue Leith; Thinkers in Residence Laura Bates, Jack Edwards, Will Gompertz, David Olusoga, Charlotte Williams; and more.
Hay Festival CEO Julie Finch said: "This year's Hay Festival offered a programme of bold thinking and new ideas to carry us forward with optimism and hope. Festivalgoers turned out in their thousands to celebrate culture and engage in new thinking, a sign that audiences are hungry for inspiration and to participate with authors and their books, in discussions and debates and in creative experiences. None of this would have been possible without the support of the artists, sponsors, partners and audiences who took part. Thank you, Haymakers, for participating in an exciting '11 days of different' with us."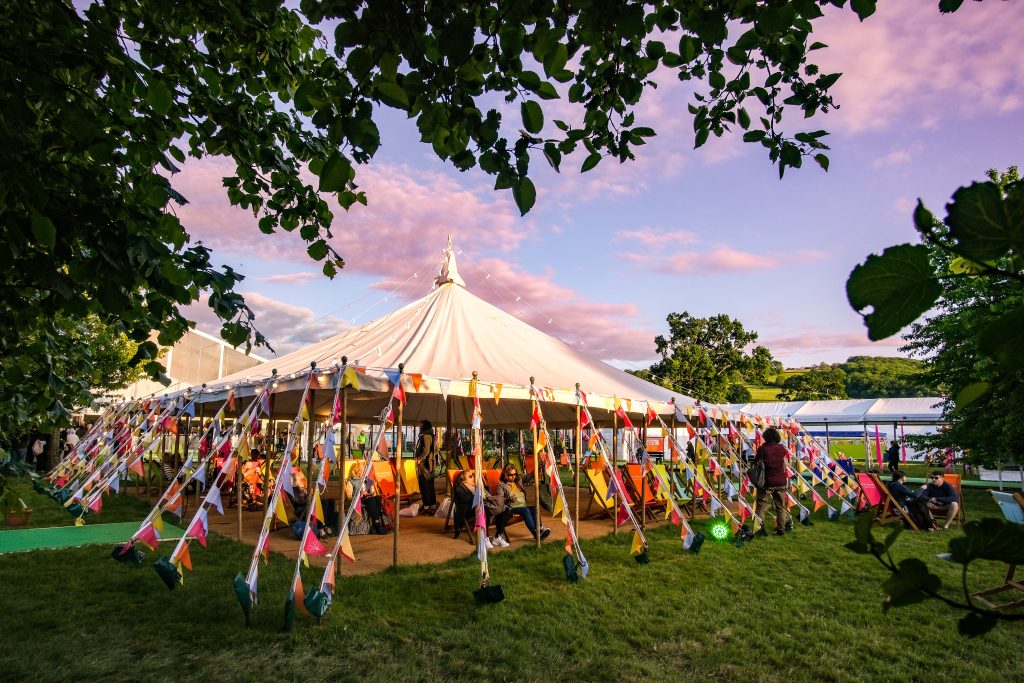 Bestselling books in the Festival bookshop included:
ADULT
1. JEREMY BOWEN – Making of the Modern Middle East
2. BARBARA KINGSOLVER – Demon Copperhead
3. NATALIE HAYNES – Stone Blind
4. RUBY WAX – I'm Not As Well As I Thought I Was
5. BEN MACINTYRE – Colditz
6. MARINA HYDE – What Just Happened?
7. MARGARET ATWOOD – Old Babes in the Wood
8. NICK CAVE – Faith, Hope and Carnage
9. CHRIS VAN TULLEKEN – Ultra- Processed People
10. RICHARD E. GRANT – A Pocketful of Happiness
11. ELIF SHAFAK – The Island of Missing Trees
12. PETER FRANKOPAN – The Earth Transformed
13. RANULPH FIENNES – Climb Your Mountain
14. REBECCA KUANG – Yellowface
15. MARIELLA FROSTRUP & ALICE SMELLIE – Cracking the Menopause
16. RAYNOR WINN – Landlines
17.DAVID BADDIEL – The God Desire
18. RA PAGE (ed.) – COLLISION
19. ALASTAIR CAMPBELL – But What Can I Do?
20. MICHAEL ROSEN – Getting Better
CHILDREN'S & YOUNG ADULTS
1. DAVID WALLIAMS – Robodog
2. YEVA SKALIETSKA – You Don't Know What War Is
3. BEAR GRYLLS – You vs. the World
4. MAGGIE ADERIN-POCOCK – Am I Made of Stardust?
5. DR RANJ – Brain Power
6. PATRICE LAWRENCE – The Elemental Detectives
7. CRESSIDA COWELL – Which Way to Anywhere
8. ALLIE ESIRI – A Nursery Rhyme for Every Night of the Year
9. ROBIN STEVENS – The Ministry of Unladylike Activity
10. ANTHONY MCGOWAN – Dogs of the Deadlands
11. LAURA BATES – The Trial
12. JEFFREY BOAKYE – Kofi and the Rap Battle Summer
13. LIZ PICHON – Tom Gates: Happy to Help (Eventually)
14. LAURA DOCKRILL – You Are Story
15. CLARA KUMAGAI – Catfish Rolling
16. OTI MABUSE – Dance with Oti: The Lion Samba
17. JOSEPH COELHO – Creeping Beauty
18. LEE NEWBERY – The Last Firefox
19. DAVID WALLIAMS – The World's Worst Pets
20. JACKIE MCCANN & AARON CUSHLEY – If the World Were 100 People
Meanwhile, pioneering new projects encouraged threads of curiosity throughout the Festival:
• Thinkers in Residence Laura Bates, Jack Edwards, Will Gompertz, David Olusoga and Charlotte Williams convened artists and innovators to explore issues facing the world today and create new platforms to grow ideas.
• Wales and its cultural impact was championed in events with Publishing Wales, Wales Arts International, National Theatre Wales, BBC Wales, Aberystwyth University, Swansea University and Cardiff University.
• Ukraine's biggest book festival, Lviv BookForum, came to Wales, co-curating events throughout the Festival to spotlight great Ukrainian storytelling and the state of Ukraine today.
• The Debut Discoveries series showcased emerging writers alongside established names, offering opportunities for fresh talent to take part in Hay Festival events for the first time.
• The Eurovision Book Contest highlighted dazzling literature in partnership with the European Song Contest team, as Eurovision fever swept the UK throughout May.
• A new series, Planet Assembly, pioneered the use of civic space and engagement in exploring dynamic solutions to regenerate the planet, with the support of Hive Energy.
• This year's Hay on Earth Forum explored food production and climate change, including a range of activities aim to mitigate against the Festival's own negative environmental impacts.
• Hay-on-Wye's creative community was championed in events with Pride, Hay Writers' Circle, Hay Music, Rural Media and Hereford College of Arts.
• The BBC Marquee brought leading BBC audio programmes and podcasts to the Festival site in free events, while additional media partners TikTok, Sky Arts, Prospect magazine, the welsh agenda, JUNO, and The TLS contributed to programming here and around the Festival site.
• Rigour and intellect were celebrated in lectures from eight leading universities, showcasing the latest research in the arts and sciences.
• Wide-ranging collaborations strengthened the diversity of programming, with additional partners including British Council, The British Academy, National Literacy Trust, International Booker Prize, The Reading Agency, The Royal Society, English PEN, De Balie, Continental Drifts, Going South, Index on Censorship, RSA, BookAid International, LR Foundation, Accenture, The Eccles Centre for American Studies at The British Library and scientific journal Nature.
• Winners of the Hay Festival Medals 2023 were celebrated, including Salman Rushdie (Prose), Alice Oseman (Fiction), Serhiy Zhadan (Songwriting) and Mererid Hopwood (Poetry).