THE UK Government's Shared Prosperity Fund is paying for specialist staff to help Powys County Council comply with environmental legislation and help it on its journey to become carbon neutral by 2030.
At a Cabinet meeting on Tuesday, May 23 councillors were told how the authority is endeavouring to comply with section six of the Biodiversity and Resilience of Ecosystems duty, Environment (Wales) Act 2016.
This places a duty on all local authorities in Wales: "to seek to maintain and enhance biodiversity in the exercise of its functions, and in so doing promote the resilience of ecosystems, so far as is consistent with the proper exercise of those functions."
Cabinet member for a greener Powys, Cllr Jackie Charlton explained that the council needs to set out a plan on how it proposes to comply with these duties as well as explain what it already has done.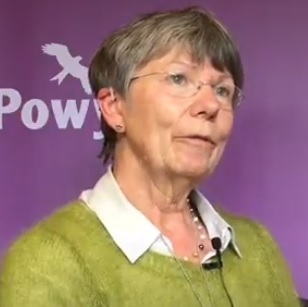 The biodiversity plan must be reviewed regularly with a formal report every three years and the report in front of cabinet looked at what the council did between December 2019 and December 2022.
Cllr Charlton told councillors that the council had delivered several "green space enhancements" across the county with funding coming from the Local Places for Nature Schemes.
Funding has also been found for "cut and collect" machinery which Cllr Charlton said would "improve road verge and grassland management" which would benefit wildlife and biodiversity.
Cllr Charlton said: "We have over 5,000 km of roads across Powys, you will understand that we can't do all of those but we're doing our best.

"We have declared a Nature Emergency committing the council to further protect the environment,"
Cllr Charlton added that funding is an "ongoing issue" and that money for staff and schemes is found externally and doesn't come from "day to day" council expenditure.
The report says that £65,540 from the Shared Prosperity Fund cover the salary, National Insurance and pension costs for full and part time Biodiversity and Nature Recovery officer posts.
The council also received a Local Places for Nature grant worth £232,000 which comes from the Welsh Government and The National Lottery Heritage Fund.

This mainly covers project funding.
Countryside access and recreation professional lead, Sian Barnes said: "We are thoroughly grateful for funding and the indication is that will be continuing for this and the next financial year.
"This has enabled us to bring on board a nature recovery officer.
"The expertise is absolutely key to support other council teams, and community organisations who are very enthusiastic about taking meaningful action within the resources available to them and sustain them for the longer term."
Cabinet member for future generations, Cllr Sandra Davies said: "This is positive for our future and for our youngsters.
"To see the flowers as you pass the verges raises the spirits."
Cllr Charlton added: "This is a starting point.
"This is a really good building block – we have along long way to go to make that difference that we want to make by 2030 and embed biodiversity in all of the work that we do."
Cabinet accepted the report.