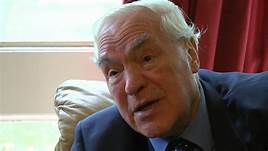 TRIBUTES have poured in for Lord Elystan-Morgan who passed away at the age of 88 this week.
Elystan-Morgan lead the campaign for a Welsh Parliament, years before it came to fruition, and has been described as a 'rare figure' in the world of politics.
His political career began in the 50s when he stood for Plaid Cymru as a candidate in Wrexham and later in Merionnydd
Lord Elystan-Morgan would then switch to the Labour party to contest Cardiganshire, which would later become Ceredigion.
He was the only Labour MP to hold the Cardiganshire seat at Westminster, doing so from 1966 to 1974.
Five years later he lead the 'yes' campaign when devolution was defeated in a referendum.
Ceredigion MP Ben Lake said: "A sad day, as Ceredigion loses one of her brightest sons. Lord Elystan-Morgan was a rare figure in the political world: a statesman of intellect and integrity.
"My deepest condolences to his family and friends.
"He always made his case with an eloquence founded on an unshakeable belief in its merits, and a masterful understanding of the detail. His capacity for kindness and good humour, even during the most divisive of political debates, is something to which we should all aspire."
He was also life president at Bow Street football club who tweeted: "Everyone at Bow Street FC is extremely saddened by the passing of our Life President Lord Elystan Morgan – our thoughts and condolences go out to Elystan's family."
Aberystwyth University added: "It is with great sadness that we note the death of our alumnus and former President, Lord Elystan Morgan who made an enormous contribution to Wales and to the University in so many different capacities."
First Minister Mark Drakeford also paid tributes saying: "My thoughts are today with Lord Elystan-Morgan's family following the sad news of his death – a fierce and dedicated campaigner for devolution, who's tireless work laid the foundations for the Senedd we have today."
Related posts