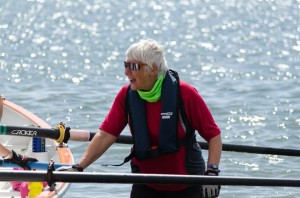 AN INTREPID team of oarsmen (and women) will be rowing arund the west coast of Wales over the coming fortnight, as part of a programme of celebrations to mark the tenth anniversary of Wales' Millenium Centre.
Among the rowers will be 71-year-old Maggy Clarke from Porthmadog. She will be aiming to complete the first five legs of the 'Cob to Cardiff' challenge – a 230 mile row in a Celtic longboat from Porthmadog to Cardiff Bay.
The sea journey will form part of an array of celebrations for the Millenium Centre's Ar Waith Ar Daith event, planned by world-renowned outdoor arts specialists Walk the Plank.
The Porthmadog boat will stop over in Aberdyfi, New Quay, Fishguard, Whitesands Bay, Dale, Tenby, Mumbles, Porthcawl, and Barry before arriving into Cardiff Bay on 12 September, accompanied by a flotilla of Celtic longboats from sea rowing clubs along the Welsh coast.
Setting out on 2 September, Ms Clarke, along with a 20 strong rowing team from Madoc Yacht Club Rowing Porthmadog, will attempt the club's most ambitious challenge to date. On board their Celtic longboat, they'll also be carrying an engraved slate plaque – as a gift to Wales Millennium Centre – brought down from Llechwedd Quarry, Blaenau Ffestiniog, by zip wire, mountain bike and finally the Ffestiniog railway, mirroring the journey taken by the piece of slate that formed the foundation stone for the Wales Millennium Centre, put in place by opera star Bryn Terfel. In Porthmadog the engraved plaque will be met by local MP Liz Saville Roberts, who will pass the plaque on to Maggy and the team in their Celtic longboat, ready to be rowed down to Cardiff.
Working in relays, the Porthmadog boat will be averaging around 20 – 30 miles of arduous rowing per day to complete the journey down the west coast of Wales to Cardiff Bay, facing the challenges of unfamiliar waters, unpredictable weather and high seas. As they progress on their journey, they will be joined by around 25 boats from sea rowing clubs along the Welsh coast, arriving into Cardiff Bay on 12 September to take part in Wales Millennium Centre's breath-taking 10th Anniversary outdoor spectacular, the Ar Waith Ar Daith finale event.
Maggy Clarke said: "It's going to be tough, but I'm looking forward to it. It's wonderful that the Celtic longboats get to play a part in the Ar Waith Ar Daith finale and it will be a beautiful sight to see so many of them rowing into Cardiff Bay together."
Co-organiser of the Cob to Cardiff Challenge, Richard Aherne from Madoc Yaught Club rowing Porthmadog said: "We've crossed the Irish Sea in the Celtic Challenge, rowed a marathon up the Thames in London's Great River Race, and we regularly race at clubs along the coast, but this will be a spectacular challenge of endurance and determination in potentially tough conditions, a marathon every day, and the club is looking forward to rising to this exciting challenge."

"We were inspired by watching Celtic longboats racing off Aberdyfi, echoing the race to get a pilot out to sailing ships to help them navigate into port" said John Wassell, Producer for Walk the Plank and originally a boatbuilder himself. "Realising that many ports and harbours around the coast of Wales are connected by a network of rowing clubs, we contacted the Welsh Sea Rowing Association, and we were delighted when 15 clubs responded. The Porthmadog boat is making the longest voyage: 230 miles through some treacherous waters…a tough challenge in a rowing boat! "
The flotilla of Celtic longboats will form a striking part of the Ar Waith Ar Daith finale event, in Cardiff Bay on 12 September. Taking place on an immense scale, with over 700 participants from across Wales, this unforgettable event will celebrate Wales' rich cultural heritage and history with a breathtaking display of procession, dance, aerial artistry, projection, storytelling, music and pyrotechnics.
"More than 150 rowers will accompany the Riches of the Sea procession into the Roald Dahl Plas, and at the end of the event, the boats will set off back across the Bay, a flame blazing in each boat, symbolising the return of the fires of creative inspiration which nourish the Wales Millennium Centre to their communities " added Liz Pugh, Artistic Director.
Danielle Milliner from the Welsh Sea Rowing Association commented: "When John Wassell of Walk the Plank and Wales Millennium Centre first approached the Welsh Sea Rowing Association with the idea that they wanted our Celtic longboat rowers to form part of the Wales Millennium Centre 10th Anniversary celebration event we were delighted. I am really pleased that so many of our clubs will be taking part in this event and I'm sure I speak on behalf of all in the WSRA that we are proud of 'MYC rowing Porthmadog' for taking on such an arduous challenge of rowing all the way to Cardiff. We are all excited and looking forward to forming part of the grand finale procession of Ar Waith Ar Daith at Cardiff Bay. This sensational sea spectacle will surely be a memorable event for all our sea rowing community and we thank you for inviting us.
Towy rowing club will be involved in the finale of the event, which will be shown live on S4C. Rowing coach Nicola Thomas told The Herald that it would be a fantastic display:
"There are two boats going up from the club – our junior rowers, who won the Welsh Championships, and our lady rowers in another boat," she said.
"We're meeting just outside Cardiff, for three days of rehearsals. All the boats will be rowing into the festival, coming together in a choreographed display."
The Ar Waith Ar Daith finale event will take place in Roald Dahl Plas on Saturday 12 September at 7.30pm. Audiences are advised to arrive early to secure a good vantage position to watch the show, and to dress appropriately for an outdoor show. The event is free to attend and suitable for all ages.