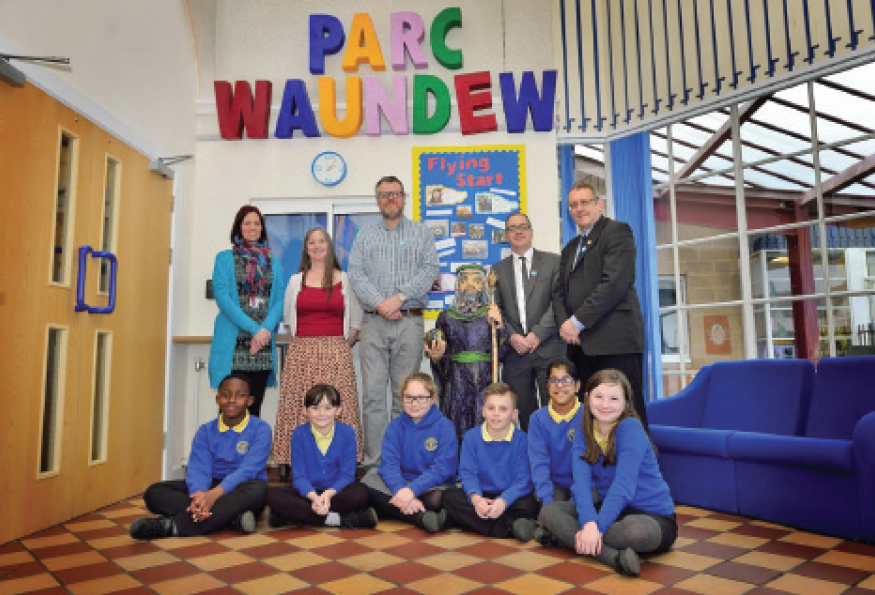 SCHOOLS in Carmarthenshire have been getting into the Merlin Festival spirit by creating sculptures of characters from the legendary stories.
Eight schools in the Carmarthen and Llanelli areas have built the sculptures, which tell the story of one of the town's most famous sons and the other characters who lived alongside him.
The sculptures have been created for a special trail as part of the Merlin Festival, which takes place next Saturday (Mar 25) in Carmarthen.
Maps will be available of the trail, which will run from the town library on King Street, through to the market on Red Street and featuring characters such as King Arthur, the red and white dragon as well as Merlin himself.
Schools taking part included Richmond Park and Llangunnor Schools from Carmarthen and Brynteg, Pwll, Brynsierfel, Penrhos, Old Road and Penygaer Schools from Llanelli. Artists from Arts Care Gofal Celf and Splat Cymru (in association with Communities First) worked with the children to create the sculptures.
The activity will run alongside a host of others taking place that day to celebrate the town's heritage and links with one of the world's most famous wizards. Parking will be free in all county council car parks.
Council Leader Cllr Emlyn Dole said: "Carmarthen's links with Merlin and Arthurian legend are well known. Originally named Caerfyrddin, which means Merlin's Fort in Welsh, the town boasts many tales and strong evidence of the wizard having been associated with the area.
"Carmarthenshire is well known for its abundance of myths and legends. With this year being the Year of the Legend, it is important that we celebrate that."
Executive Board Member for Education, Cllr Gareth Jones said: "It is great to see our schools taking part in these celebrations whilst learning about their local heritage at the same time."
Next weekend, the sculptures will be placed as follows:
Library – Merlin (Richmond Park School)
Oriel Myrddin – King Arthur (Brynteg School, Llanelli)
St. Peters Hall – The Carmarthen Oak (Llangunnor School)
Tourist Information Centre – Red Dragon & White Dragon (Pwll & Brynsierfel)
Inspired 2 Collect, Blue St – Black Book of Carmarthen (Penrhos, Llanelli)
Ty Hafan, Merlins Walk – Lady of The Lake (Old Road School)
Indoor market – Morganna (Penygaer School)