THIS year marks the 40th anniversary of the Falklands War, an undeclared war between the United Kingdom and Argentina over the sovereignty of the Falkland Islands, South Georgia and the South Sandwich Islands.
The conflict lasted seventy-four days – but was the first military operation since World War Two in which all branches of the British armed forces were deployed at once.
In recent weeks, tributes have been paid to those who served with the armed forces during the War. In a memorial service held at the Falklands War Memorial in Cardiff on June 5th, Chief Constable Jeremy Vaughan spoke before War veterans and took part in a bike ride in memory of those who died in the conflict.
Chief Constable Jeremy Vaughan attends Falklands Memorial Event with South Wales Police Halberdiers. Photo: Abigail Greentree
Before setting off on the memorial bike ride, Mr Vaughan said: "I'm proud to be here today representing the force and showing our support to armed forces communities. It's extremely important that we raise awareness of the contributions of those who served in the Falklands War. Their commitment and bravery should never be forgotten."
Another service was held at the Memorial Sundial at police headquarters on 14th June which gave colleagues an opportunity to pay their respects. The service was led by Assistant Chief Constable Jenny Gilmer and included a two-minute silence observed by colleagues.
Throughout the anniversary of the Falklands, we've also spoken with several former colleagues, who prior to their careers in policing had served with the armed forces in the Falklands. Former Police Sergeant, Andy Roberts, was one of whom we caught up with.

Andy's Story
Andy joined Her Majesty's Royal Navy in 1980 as a Seaman Radar Operator. By April 1982 Andy, who by now had received specialist radar training, was aboard the HMS Andromeda in the South Atlantic. One of the many roles of this ship was to protect the aircraft carrier Task Force and to provide launch time support to aircraft.
When we caught up with Andy, he recalled to us the feeling of returning home from the War: "We returned to Plymouth in September 1982 after a period of 5 months. I think we all felt extremely lucky and thankful that we were able to return to our families – unlike many of our fallen brothers.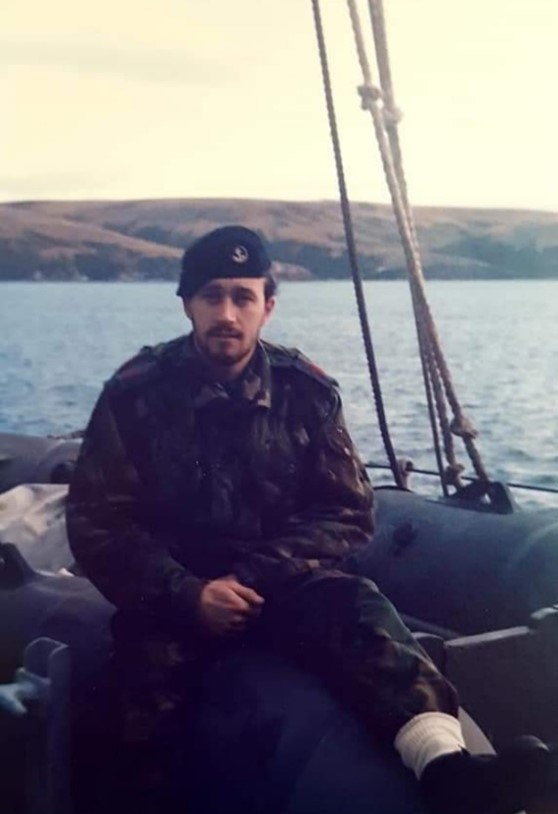 "It's so important that we remind the public of the contributions of the many British soldiers who fought in the Falklands. Their courage deserves to be recognised and shared with future generations."
In 1989, after nine years' service with the Navy, Andy joined South Wales Police. In a career spanning over twenty years, he served communities in Swansea City Centre, Mumbles, Gower and Gorseinon. During his time in Swansea, he received a Royal Humane Society Award for rescuing a man from the waters in the Swansea Bay. In 2012, Andy retired as a Sergeant having served four years with the Dog Section.
Forty years on from the Falklands War, we commend the courage and bravery of those like Andy, who fought in the conflict. We also pay tribute and remember those who lost their lives. Their sacrifice will not be forgotten.