NEW data published this week shows that businesses across Wales received a total of over £2.3bn in funding under the government's two largest Covid-19 loan schemes, the Coronavirus Business Interruption Loan Scheme (CBILS) and the Bounce Back Loan Scheme (BBLS).  
The schemes provided financial support to businesses across the UK impacted by the Covid-19 outbreak, closing for applicants at the end of March 2021.
Nearly 60,000 loans worth over £1.6bn have been provided across Wales under the Bounce Bank Loan Scheme, which provided a six-year term loan from £2,000 up to 25% of a business' turnover, with a limit of £50,000.
Over 3,200 loans worth over £0.7bn have been provided across Wales under the Coronavirus Business Interruption Loan Scheme, which provided Business loans, overdrafts, invoice finance & asset finance of up to £5m to businesses with a turnover less than £45m.
Total funding from the schemes provided to nearly 63,000 businesses represents 4% of the UK total, broadly in line with the relative size of Wales's business population (3%).
Mark Sterritt, UK Network Director, Wales at British Business Bank said: "The Covid-19 loan schemes have been an important part of the government's response to the pandemic, providing businesses with much-needed breathing space and reducing cash-flow concerns for many. We're pleased to see evidence that they have helped smaller businesses right across Wales and look forward to helping more businesses to prosper and grow as we look towards economic recovery."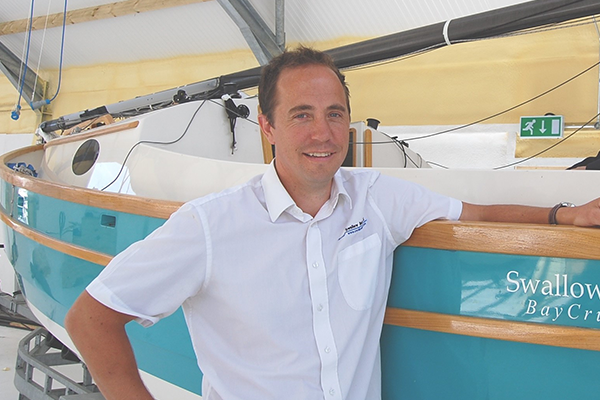 Cardigan case study
For this Welsh bespoke boat builder, Covid-19 couldn't have come at a worse time. Having already suffered a major fire in its workshop, the business now had to contend with the cashflow challenges resulting from the coronavirus pandemic. Needing funds to restart production and avoid redundancies, the business applied for a CBILS loan.
Matt Newland, Director of Swallow Yachts said: "The workshop fire and impact of the pandemic put real pressure on our business, and resulted in us furloughing 80% of our employees. Luckily the support we've received has enabled us to return to production and retain our workforce."