THE WELSH youth movement Urdd Gobaith Cymru has been praised for providing a "world leading" 5-month refugee program for 113 Afghans seeking sanctuary, and is currently in discussions as to how it can support Ukrainian refugees.
Following the Taliban takeover in Afghanistan in August 2021, the Welsh youth organisation reached out and offered accommodation and support at its Residential Centre in Cardiff to 20 families (113 refugees in total), the majority of these being children and young people.
A 'Team Wales' approach meant the Urdd worked closely with partners such as the Welsh Government, Local Authorities, Taff Housing, Cytûn and refugee support organisations to provide a strategic response to the situation in Afghanistan and ensure Wales could truly embody its Nation of Sanctuary vision.
In addition to offering accommodation the Urdd and its network of partners and volunteers played a vital role in assisting with resettlement by planning a program of activities to engage and support the families. The project lasted 5 months and is a demonstration of how the "Welsh approach" to supporting refugees can achieve better outcomes than the traditional model used elsewhere.
The Urdd's staff arranged daily activities for the children, varying from swimming lessons to sport and dance sessions, and workshops in the company of local volunteers, including six formers from Ysgol Plasmawr. The activities also offered a necessary respite for the parents. Weekly support groups, workshops and activities were also arranged for the adults, from language lessons and business workshops to cricket and 5-a-side football matches.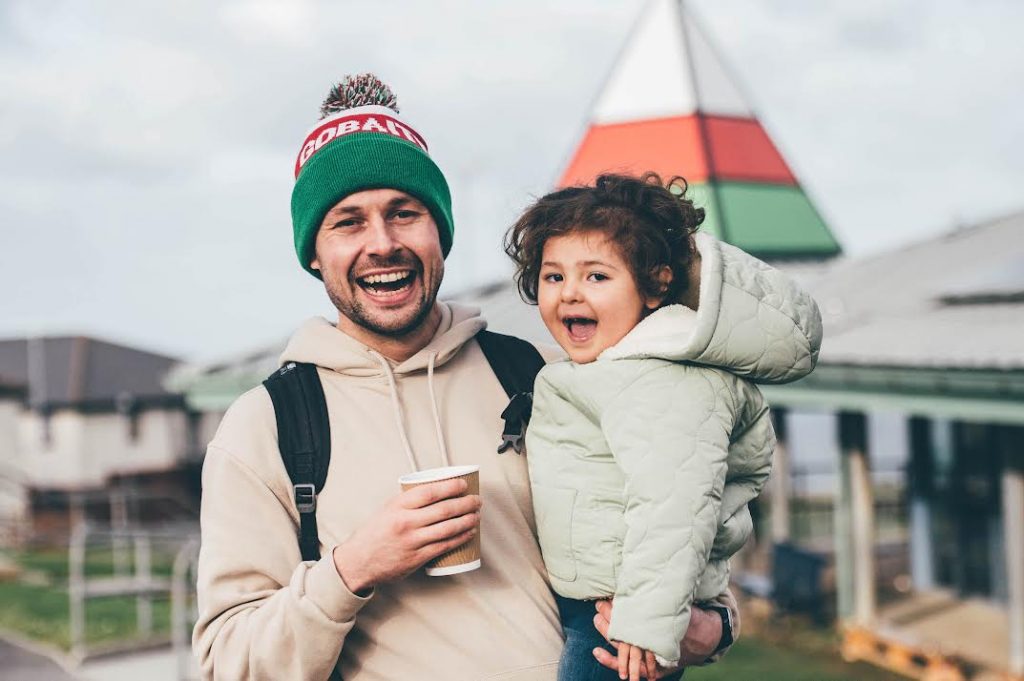 The support of various partners and generosity of the public in their response to the project's JustGiving fund also helped ensure the families enjoyed numerous day trips to local attractions and were able to attend several national football and rugby games.
A letter addressed to the Urdd by the families reads: "Thank you for your tireless work to make our families happy. The presence and support of the Urdd has always been a source of encouragement and peace of mind to us all and we appreciate it greatly. You were by our side in all our difficulties and were there with us in every moment of our life here in Wales. Thank you, Urdd, for so much you have given us and for not leaving us alone."
The First Minister of Wales Mark Drakeford said: "I'd like to thank the Urdd for giving our friends from Afghanistan a warm Welsh welcome. I'm so happy that we here in Wales can help when an international crisis happens. This is an excellent example of how we can give support and shelter to those who need it."
Siân Lewis, Chief Executive of Urdd Gobaith Cymru said: "We are extremely grateful to our partners and volunteers for making it possible for us to open our doors to families looking for sanctuary and safety. The past five months has been a humbling experience for us all, and one we'll never forget.
"The role of our staff, volunteers and partners was instrumental in extending respect, support and friendship to the Afghan refugees. It was of upmost importance that we gave them a warm Welsh welcome, showed support, and assisted them to settle into their new lives after having to endure such tragic and horrific moments in their lives.
"As well as providing accommodation we introduced them to Wales, our culture and language. Wales is a Nation of Sanctuary, and we'll continue to offer a hand of friendship to each family as they start the next chapter of their lives here in Wales.
"Humanitarian support and helping others have been at the core of the Urdd's values since our establishment in 1922. We have a duty to ensure our members learn and understand the importance of helping those in need. As an organisation we are already in discussions with regards to the support we can offer Ukrainian refugees and will be able to confirm our plans very soon."
Canon Aled Edwards OBE, CEO of Cytûn (Churches Together in Wales) said: "The way in which the Urdd responded to the call to house refugee families from Afghanistan following the fall of Kabul in August 2021 may be world leading. Going above and beyond the need to provide accommodation and core services to vulnerable families, the movement created a warm and welcoming community totally unique in the history of receiving displaced families."