ON Sunday December 22, 1985, the bodies of Richard Thomas, 58, and his sister Helen Thomas, 55, were found with shotgun injuries at their burned out Scoveston Manor home.
The double murder of the wealthy Thomas siblings was investigated at the time but it would take 26 years before John Cooper was convicted of their deaths following 'Operation: Ottawa', a cold-case review that led to Cooper being convicted of this, the double shotgun murder of the Dixons at Little Haven, a rape and a sexual assault.
A Herald investigation into those events has revealed that Dyfed-Powys Police had another suspect long before John Cooper could be connected with the deaths of Richard and Helen Thomas.
This is what we have discovered during an in depth study of police records dating back to the time of the shocking double murder and the police investigation that followed.
WILLIAM DAVID JONES
Born in February 1958, 'Billy' Jones appears to have lived a troubled life. By the age of 18 he was threatened with being kicked out of his parents home as he had developed a serious alcohol problem and regularly became violent.
This led to Jones turning to religion and he would describe himself as "a born again Evangelist". Jones would give "sermons" from his open bedroom window to anyone on the street outside, these "sermons" often became little more than streams of heavily religious abuse aimed at whoever walked by. This embarrassed his family for the final time and he was kicked out by his parents.
Mr. Jones spent his adult life travelling the length and breadth of the United Kingdom.
Although he was often described as a "down and out", his appearance suggests otherwise as he was always reasonably clean and, within two years, changed his appearance many times.
Photos of 'Billy', above, show him going from being clean-shaven to sporting a full unkempt beard just weeks later.
By the time of the double murders at Scoveston Manor, Mr. Jones had been convicted of criminal damage and assault occasioning actual bodily harm in Birkenhead, Lincoln, Bury and Taunton Deane.
Best described as a 'religious fanatic', Billy Jones travelled around the UK sleeping rough in barns, farm buildings, churches and hostels, mainly ones run by The Salvation Army.
He would often seek refuge at places of worship, one recorded instance has him calling a priest late at night and asking for people to pray with him to help exorcise the spirit of Satan which would possess Billy and make him do "terrible things".
He also claimed that a religious group had attempted to "beat the devil" from him, which had failed.
After praying for some time, Billy's mood changed in an instant and he launched into a "torrent of religious abuse" before running off into the night.
In November 1985, Jones took up residence with a female in a hostel in Swansea but she ended the relationship because of his "insatiable sexual desires", it was also claimed that Jones "masturbates continually (literally dozens of times a day)" and exhibited possible "homosexual tendencies".
On December 1, 1985, Jones was arrested in Taunton, Somerset for Actual Bodily Harm on a vicar, during that arrest Jones stated to police officers that his mission in life "was to destroy".
Jones developed an unhealthy obsession with "Operation Mobilisation" which revolved around a ship called the M.V. Logos.
The Logos was a vessel that had been converted to a religious library that travelled around UK ports, it was staffed by volunteers of many faiths.
Jones would follow this vessel around the country and attempt to obtain employment onboard, which was repeatedly denied.
Causing trouble wherever it was berthed, Jones would visit licensed premises where he'd drink other people's drinks and "scrounge cigarettes".
On his travels, Jones would visit DHSS offices and give his address as the M.V. Logos, his parents address or state he was of no fixed abode, if his benefit claim was denied, Jones would instantly launch into religious tirades against the staff and, on times, police would need to attend to remove Jones from the building after he physically assaulted staff.
Jones was in the Milford Haven area on December 21 and December the 22, 1985, the day of the murders of Richard and Helen Thomas.
Jones was attending a disco at The Silverdale Inn in Johnston on the night of the 21 where he told other patrons there that he had spent the day "gardening in Steynton", he then disappeared from Johnston between midnight and 1am on December the 22, the day of the murders.
Jones was then positively identified by witnesses as being at the end of the lane leading to the isolated manor house at around 5:15-5:30pm, less than four hours before the last conversation was had with Helen Thomas.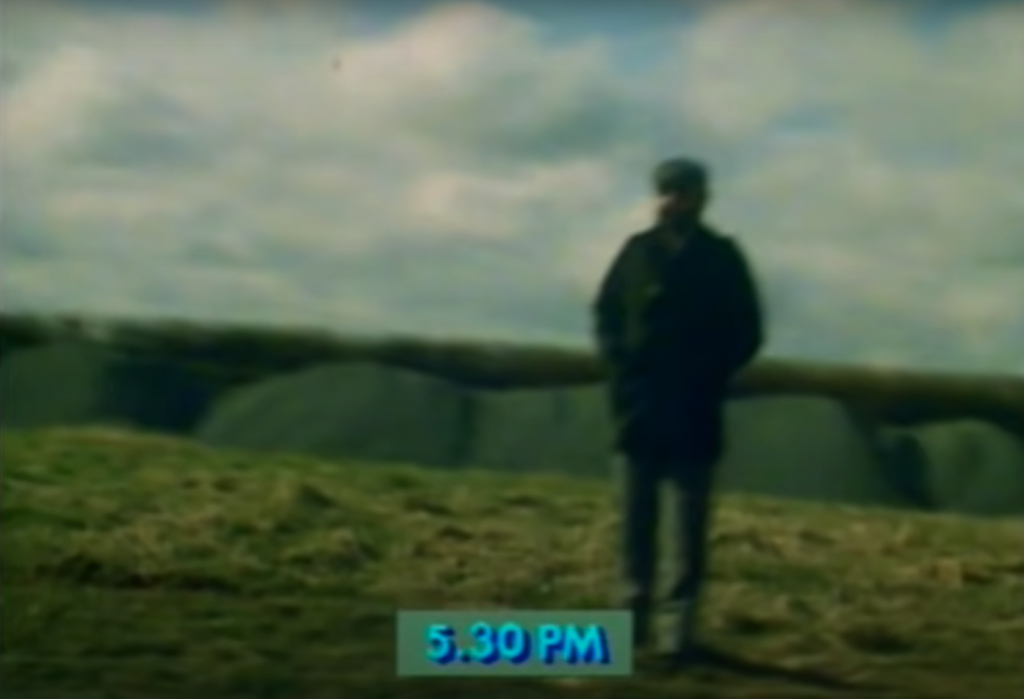 After the murders, the next sighting of Jones is made by police officers returning to Dyfed-Powys Police headquarters after being called to attend the scene at Scoveston Park. Officers reported seeing someone matching his description at Sarnau Crossing, near Bancyfelin, walking towards Carmarthen at 5:30am on Monday, December 23.
What makes Jones an even more intriguing suspect is that he was known for staying in barn and farm buildings without permission and we now know that police discovered human excrement in outbuildings at Scoveston Park.
Unfortunately, like all of the shotgun cartridges removed from Scoveston Park and the blood sample retrieved from outbuildings, Dyfed-Powys Police were unable to locate the excrement by the time of Operation: Ottawa and so it was never subjected to DNA testing.
QUESTIONING BILLY JONES
In July 1986, Jones was committed to Shelton Mental Hospital in Shrewsbury following 2 more unprovoked attacks on a vicar and a church warden within the space of a week.
Police attempted to question him throughout the latter half of 1986 but he was still receiving maximum amounts of medication for various psychological disorders and was deemed unfit for questioning.
When he was finally questioned by police it was under the proviso that his psychologist and his doctor were present, Jones seemed talkative even joking with officers that he didn't like eggs when asked if he knew Eglwswrw.
When the conversation moved to how well he knew Johnston, Jones clammed up, stood and "assumed an aggressive stance" before telling his doctor he was becoming angry and wanted to return to his ward. Jones could not be calmed down so the interview was stopped.
Unable to discuss what happened to him after leaving Johnston, Jones was removed from the room. At this time the psychologist treating him told police that it's possible that "something negative happened" to Jones that night that he has "blocked out".
The psychologist and the doctor both tell police that, in their opinions, it was "likely" if not "probable" that Jones was responsible for the deaths of Richard and Helen Thomas at Scoveston Park.
It's not known how long Jones remained a patient of Shelton Mental Hospital before his death in August 2014, or how Police were able to eliminate him from their enquiries before John Cooper was convicted of the double murder of the Thomas siblings in 2011.