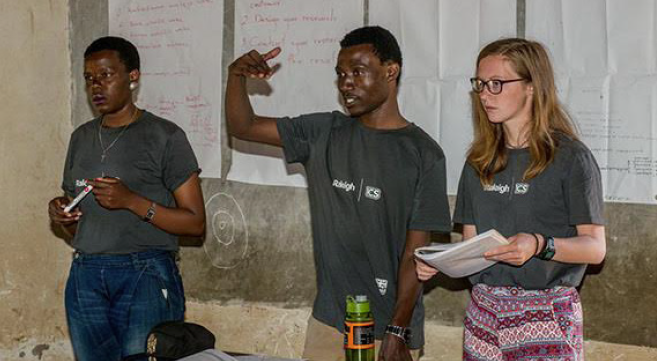 ELLA WILKINSON, a student at the University of Wales Trinity Saint David, recently returned from 10 weeks volunteering in Tanzania with Raleigh International as part of the UK Government-funded International Citizen Service (ICS) programme, and is now calling on other young people to take the plunge and consider volunteering overseas.
Ella, 20, worked in partnership with Tanzanian volunteers on a project run by international development organisation Raleigh International as part of the ICS programme, where she worked alongside Tanzanian volunteers to providing training and resources to support young entrepreneurs in rural communities.
ICS volunteers, aged 18-25, work on long-term projects that seek to end poverty in some of the poorest countries in the world. The scheme offers young people the chance to gain valuable new skills while working on projects that make a genuine difference to the people they work with and their communities. Those aged 23-35 can also apply to be ICS team leaders.
Ella studies Environ mental Conservation and is now in her second year at UWTSD. An end to global poverty is considered essential for achieving the UN's 17 Global Goals for Sustainable Development, which include 'Climate Action' as well as 'Affordable and Clean Energy', directly related to the course offered by UWTSD. Ella looks forward to her module in Sustainable Development next academic year and hopes that her time in Tanzania will enhance her learning.

Ella said: "I would not have had the opportunity to volunteer in Tanzania if it wasn't for UWTSD. Opportunities like this are life changing and I'm so fortunate to have been able to take part in such a fantastic scheme with the support of my university – I was overwhelmed by people's generosity!
"Raleigh ICS is a unique opportunity to work alongside people from a different culture and make a difference at the same time. I'd encourage young people like myself to apply!"
Lili Marfani, Director of ICS, said: "It's great to hear Ella is encouraging other young people to apply for ICS. We're passionate about supporting young people from across the UK and using their energy to tackle poverty. Our experience of working with young people shows they really can take on the big issues and make a difference in people's lives.