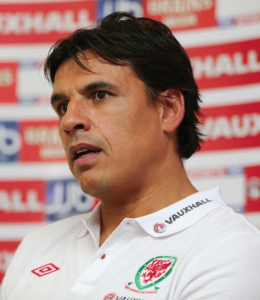 PLAYERS from the Wales National Football team have been doing their bit to help pupils concentrate on their modern languages lessons by launching a new learning resource pack linked to this year's Euros.
The educational resources have been produced as part of the Welsh Government's Global Futures plan which aims to improve and promote modern foreign languages in Wales.
The Euros- based resources have been published on Hwb, the digital learning platform for schools, so teachers can capitalise on their pupils' excitement in the run up to June's tournament, and use the packs to promote the importance and relevance of modern foreign languages.
The new resources were launched by the Wales National Team at an event at the Vale Hotel in Hensol.
Wales' Football Manager, Chris Coleman said: "I am delighted that we are involved in this programme. From experience I know how important it is to be able to communicate in different languages. I spent time in Spain and in Greece.
"As a squad if we can help and encourage youngsters in any way to learn another language on the back of our success then we will be delighted to offer all our support. Sport, especially football can play a huge part promoting such initiatives".
Education Minister Huw Lewis said: "As globalisation continues to transform all our lives, footballers, like many of us, are increasingly travelling to, working and living in countries where English is not the first language.

"I want our young people to understand that a sound knowledge of another language can help them get ahead in life, in education and the competitive world.
"Our Global Futures Plan is all about encouraging our pupils to keep on with their language learning and grasp the benefits that a modern foreign language can offer.
"I hope that these resource packs, which we have developed in partnership with the Welsh FA, Arsenal Football club, the British Council, Routes into Languages and leading European language institutes, will support that work and will help to spark our pupil's interest in and commitment to modern foreign languages."
Director of British Council Wales, Jenny Scott, said: "We hope these resources will help make language learning fun and engaging for young learners across Wales.
"Sporting heroes have the power to inspire the next generation and I'm sure that the fantastic support the FAW and Wales team have shown for this initiative will help make modern foreign languages much more appealing to young fans as they look forward to an exciting summer."
The aim of the Welsh Government's Global Futures plan is to increase the number of learners choosing to study modern foreign languages at GCSE and A-level.
The packs have been produced in six languages, French, Spanish, Italian,German, Portuguese and Welsh, and aim to promote the benefits of modern foreign languages and engage pupils ahead of this year's tournament.