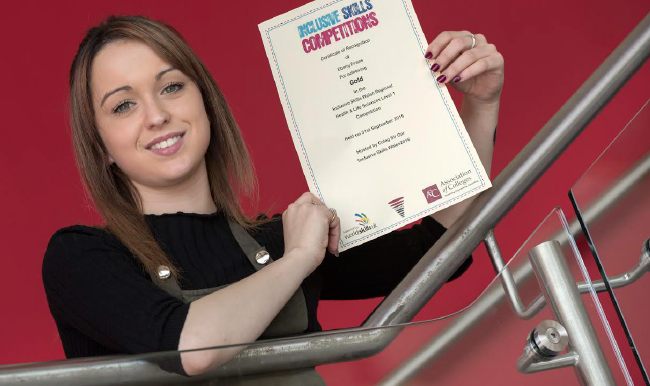 TWO STUDENTS from Coleg Sir Gâr have won gold in two national skills competition heats in the carpentry and health and life sciences categories.
Inclusive Skills is part of Skills Competitions Wales and is backed by the Welsh Government- designed to celebrate vocational skills for young people with learning difficulties or disabilities to help equip them with essential life, learning, and employability skills for the future.
Ebony Evans, 17, from Cross Hands, and Joshua Kerr, 18, from Ammanford, are just two of 11 Welsh youngsters who have been perfecting their skills in a bid to win a medal. Across a range of vocations, these budding skilled individuals could be chosen to represent Wales and Coleg Sir Gâr in the carpentry and health and life sciences categories at this year's Skills Show in Birmingham this November. Competing against youngsters from across the UK, the pair could potentially join 82 Welsh competitors to be part of Team Wales.
Ebony competed against one other student, completing a series of health and life science challenges within a 40 minute time period, including preparing a healthy meal plan which accommodated different religious dietary requirements. Ebony, who is studying an A level in health and social care, said she is thrilled to have won.

"I'm so pleased to have won the competition; I feel like all my hard work has paid off and I'm excited about maybe going on to the next stage.
"We studied a range of different cultures in college and had to remember their dietary requirements while making sure the meal plan was well balanced and healthy. I feel really proud of myself and it's made me think more about a future career in health and social care."
Joshua, who studies an entry level qualification in timber products, completed a series of carpentry challenges to win his gold medal by making a small wooden box using different joinery methods and demonstrating safety in the workshop. He said: "Being successful in this competition has made me think of all the different things I could do with a carpentry qualification; there's so many options in the woodwork trade. For now, I'm going to concentrate on getting to the next stage of my competition journey and making my family proud of me."
Inclusive Skills forms part of the Welsh Government's Skills Competitions Wales, designed to promote the importance of vocational skills with the aim of boosting the overall skill capabilities and prosperity of Wales.

Julie James, Minister for Skills and Science, said: "The Inclusive Skills competitions are a great way to not only help young people show off their skills but also test their abilities and become more independent. It's important to promote inclusive competitions and raise the profile of students with learning difficulties, helping them become work-ready and broadening their career options and aspirations.
"I'm proud that 2016 sees the highest number of competitors Wales has ever sent to the Skills Show in Birmingham and am confident that Ebony and Joshua will help to boost the country's team in the final heats."