A Welsh icon, known best perhaps for her ties with the James Bond franchise, Dame Shirley Bassey has dominated popular culture for nearly six decades.
Yes, six decades.
Shirley Veronica Bassey, the sixth and youngest child of Henry Bassey and Eliza Jane Start, was born on Bute Street, Tiger Bay, Cardiff.
She grew up in the adjacent community of Splott. Her father was Nigerian, and her mother came from Teesside.
In a 1999 interview with Nigel Havers in her Monte Carlo apartment, Bassey pointed to a piece of paper framed on the wall and referred to it as her first contract, at a salary of £14 a week (a considerable sum for a sixteen-year-old in 1953).
However, upon closer inspection, this document, dated 17 December 1953 (three weeks before her 17th birthday), appears to promise £10 for two performances.
In mid-1958, she recorded two singles that would become classics in the Bassey catalogue. "As I Love You" was released as the B-side of another ballad, "Hands Across the Sea"; it did not sell well at first, but after an appearance at the London Palladium sales began to pick up.
In January 1959, "As I Love You" reached number one and stayed there for four weeks; it was the first number-one single by a Welsh artist.
In the early and mid-1960s, Bassey had numerous hits in the UK, and five albums in the top 15.
Her 1960 recording of "As Long As He Needs Me" from Lionel Bart's Oliver! reached number two, and had a chart run of 30 weeks.
Bassey made her American television début on 13 November 1960, when she performed on The Ed Sullivan Show.
Her collaboration with Nelson Riddle and his orchestra, the album Let's Face the Music (1962), reached number 12 in the UK album chart; and the single, "What Now My Love" made it to number five.
Other UK top 10 singles of the period included her second number-one, the double A-side "Reach for the Stars"/"Climb Ev'ry Mountain" (1961), "I'll Get By" (also 1961), and a cover version of the Ben E. King hit "I (Who Have Nothing)" in 1963.
Bassey appeared on the cover of Ebony magazine in 1963, and sang at a Washington gala celebrating President Kennedy's second year in office.
Bassey enjoyed her only US top 40 Billboard Hot 100 hit in 1965 with the title song of the James Bond film, Goldfinger.
The single, released in the United States during January 1965, peaked at number eight, while the original soundtrack of Goldfinger hit number one in the US that year.

Also in 1965, she sang the title song for the James Bond spoof The Liquidator, and had a top 20 live album, recorded during a sold-out run at the Pigalle in London. Bassey recorded a song for the next Bond film, Thunderball (1965). "Mr Kiss Kiss Bang Bang" was not used in the movie, although the film's score follows its melodic theme.
The "Goldfinger" theme song had a lasting impact on her career. In the sleeve notes for Bassey's 25th Anniversary Album (1978), Peter Clayton noted that: "Acceptance in America was considerably helped by the enormous popularity of ("Goldfinger")…But she had actually established herself there as early as 1961, in cabaret in New York. She was also a success in Las Vegas…'I suppose I should feel hurt that I've never been really big in America on record since "Goldfinger"…But, concertwise, I always sell out.'…"
Bassey began to live as a tax exile in 1968 and was unable to work in Britain for almost two years.
Throughout most of the 1980s, Bassey focused on charitable work and performing occasional concert tours throughout Europe, Australia, and the United States.
She had ended her contract with United Artists, whose former record division was now part of EMI, and began what she referred to as "semi-retirement". Bassey recorded an album entitled All by Myself (1982) and made a TV special for Thames Television called A Special Lady with guest Robert Goulet.
Around this time she recorded a duet with the French film actor Alain Delon, "Thought I'd Ring You" (1983). Bassey was now recording far less often but an album of her most famous songs, I Am What I Am (1984), was recorded with the London Symphony Orchestra (LSO) conducted by Carl Davis.
This was followed by a single and video to support the London Tourist Board, "There's No Place Like London" (1986), which was co-written by Lynsey de Paul and Gerard Kenny.
She recorded an album of James Bond themes, The Bond Collection in 1987, but was apparently unhappy with the results so she declined to release it. (Five years later it was released anyway, Bassey sued in court, and all unsold copies were withdrawn.)
Throughout the 2000s and 2010s, Bassey continued to perform at various high profile events. In 2001, Bassey was principal artiste at the Duke of Edinburgh's 80th birthday celebration.
On 3 June 2002, she was one of a prestigious line-up of artists including Elton John, Paul McCartney and Tom Jones who performed at the Queen's 50th Jubilee Party at Buckingham Palace.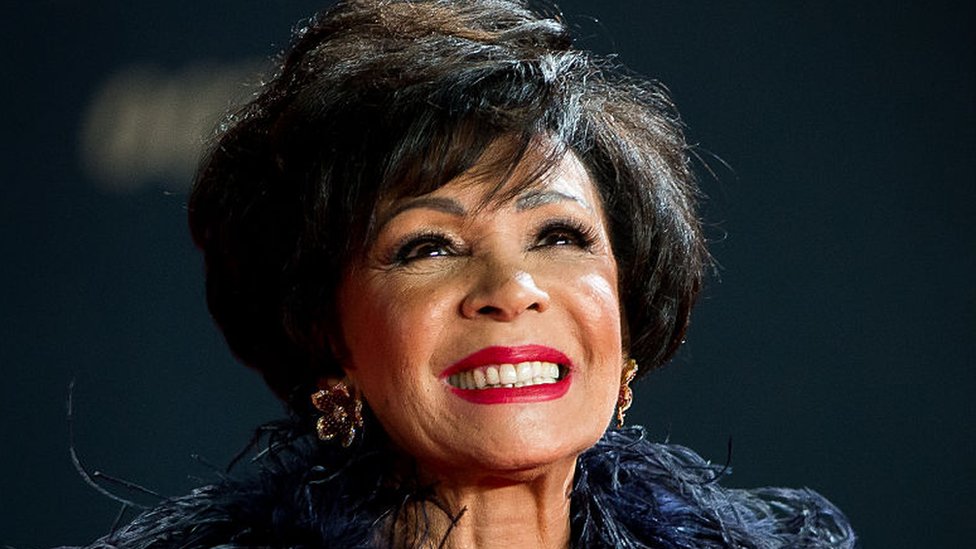 Bassey celebrated 50 years in show business in 2003 with the release of the CD Thank You for the Years, which was another top 20 album.
A gala charity auction of her stage costumes at Christie's, "Dame Shirley Bassey: 50 Years of Glittering Gowns", raised £250,000 for the Dame Shirley Bassey Scholarship at the Royal Welsh College of Music and Drama and the Noah's Ark Children's Hospital Appeal.
Bassey topped the bill at the 2005 Royal Variety Performance, introducing her new song "The Living Tree"
On 9 August 2019, Dame Shirley performed at UNICEF's Summer Gala in Porto Cervo, Sardinia, singing "Goldfinger", "Diamonds Are Forever" and "S'Wonderful".
Bassey appeared on the Ball & Boe TV Christmas Special on Friday 20 December 2019, singing "Have Yourself a Merry Little Christmas" with Michael Ball and Alfie Boe.
In 2020, with the release of her final album, I Owe It All To You, Bassey became the first female artist to chart an album in the top 40 of the UK Albums Chart in seven consecutive decades.