ALONG with the Stereophonics and Manic Street Preachers, the Super Furry Animals have defined an era of rock music from Wales.
Since their formation, the band has consisted of Gruff Rhys (lead vocals, guitar), Huw Bunford (lead guitar, vocals), Guto Pryce (bass guitar), Cian Ciaran (keyboards, synthesisers, various electronics, occasional guitar, vocals) and Dafydd Ieuan (drums, vocals). Actor Rhys Ifans is a former member.
Super Furry Animals formed in Cardiff after being in various other Welsh bands and techno outfits in the area.
Rhys, Ieuan and Pryce had been together since the early 1990s and had toured France as a techno group.

After Bunford and Ciaran (Ieuan's younger brother) joined, they wrote some songs, and in 1995 signed to Ankst, a Welsh indie label. The band are considered to be part of the renaissance of Welsh music.
After gigging in London in late 1995, they were noticed by Creation Records boss Alan McGee at the Camden Monarch club, who signed them to his label.
In February 1996, the band's debut on Creation, "Hometown Unicorn", became New Musical Express's Single of the Week, chosen by guest reviewers Pulp, and the first Super Furry Animals single to chart in the UK Top 50, peaking at No. 47.
The follow-up, a re-recording of "God! Show Me Magic", charted at No. 33 upon release in April 1996 and also became NME single of the week. Rawer than the "Moog Droog" version, it clocks in at 1 min 50 secs.

In May, their debut album Fuzzy Logic was released, to wide critical acclaim. Sales were slow, with the album peaking at No. 23 in the charts, but it garnered a little more interest when next single "Something 4 the Weekend" (a reworked, more mellow version of the album track) was given considerable radio airplay and charted at No. 18 in July 1996.
In 1999, NME readers named them 'best new band' in January (this despite the fact it was now three years since they released their debut album).
In May, the single "Northern Lites" was released and made No. 11 in the charts. A dense production, with steel drums clattering out a calypso rhythm whilst Rhys sang an irreverent lyric about the El Niño-Southern Oscillation weather phenomenon, it was an apt taster for the new album, Guerrilla.
With the demise of Creation, SFA needed to find a new label for their next album. Sony had long held a substantial stake in Creation and offered deals to many ex-Creation artists, including SFA, who signed with one of Sony's subsidiaries, Epic.

The band pushed for a deal which allowed them to take a new album elsewhere if the label wasn't interested in releasing it – thereby allowing them to find a home for any esoteric project they might want to undertake in the future.
The greater resources afforded them by Epic were apparent in their first album for the label, Rings Around the World, an album that recaptured the cohesive, experimental feel of Guerrilla but more song-driven and sonically expansive.
It is cited by many critics and fans alike as their most polished and accessible work. Again the first single was a good indication of what was to come: "Juxtapozed with U", released in July 2001, was a lush soul record which made No. 14 in the charts.
The album followed in the same month and major label marketing muscle made it their biggest-seller to date, reaching No. 3 in the album charts.
The next album, Phantom Power, relied less on sound experimentation and proved to be a more stripped-down, back-to-basics recording in contrast to the orchestral Rings Around the World. It was also released as both a CD and DVD album in July 2003, preceded by a single, "Golden Retriever", in June (chart No. 13).
Perhaps recognising that their approach to Phantom Power had been a little too straightforward, the group followed it up in 2004 with a remix version, Phantom Phorce, with tracks reworked by the likes of Killa Kela, Four Tet and Brave Captain.
They accompanied this with a download single, "Slow Life", which also included the track "Motherfokker", a collaboration with Goldie Lookin Chain.
In October 2004 the band released a best of album, Songbook: The Singles, Vol. 1, accompanied by a single.
In August 2005, Super Furry Animals released their seventh studio effort, Love Kraft, recorded in Spain. This represented a departure from their previous working methods: although all five members had always contributed to the development of the songs, Rhys had been the main songwriter.
On Love Kraft this was no longer the case, as Rhys, Bunford, Ieuan and Ciaran all contributed songs and lead vocals.
On 16 March 2009, Super Furry Animals released their ninth and final studio album, Dark Days/Light Years, digitally via their website.
The album's progress was recorded in a series of short films that were shown on the band's website in the build-up to the release. Later in March, they performed the record in its entirety through an exclusive stream on their website.
A physical release on Rough Trade Records followed on 21 April, resulting in a number 23 UK Chart placement. Dark Days/Light Years notably featured a guest appearance from Nick McCarthy of Franz Ferdinand on "Inaugural Trams."
Dark Days/Light Years received strong critical feedback, with The Guardian writing that "it has more spark and invention than most teen bands manage on their debuts."
In 2010, Super Furry Animals went on what became a five-year hiatus, as bassist Guto Pryce revealed in an interview with Wales Online. Pryce noted that the band expected to reconvene as soon as the members finished with the various projects they were working on.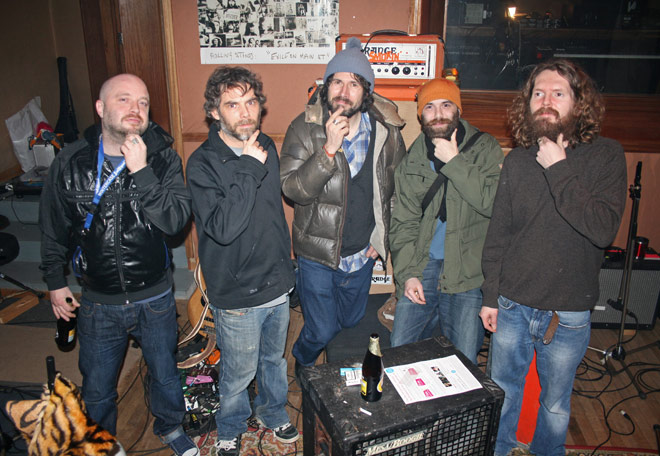 In May 2015, the band played several gigs from early May to September to accompany a major reissue of their 15-year-old album Mwng, which had been out of print. The same month a biography, Rise of the Super Furry Animals, was published by HarperCollins. In January 2016, the band announced their first North American tour in six years.
In May 2016, the band released "Bing Bong", their first single in seven years.
The song was released to celebrate the Wales national football team's qualification for UEFA Euro 2016.
They headlined the Caught by the River Festival in August 2016 and announced the re-release of Fuzzy Logic. A compilation album, Zoom! The Best of 1995–2016, was released on 4 November 2016. The final tour of their reunion, in which they played both Fuzzy Logic and Radiator in full across the UK and Ireland, took place in December 2016.