THE CAST of 1997 Welsh film 'Twin Town' have reunited for new film 'La Cha Cha' written and shot on the Gower Peninsula during the pandemic.
Director, Kevin Allen, came up with the idea during the COVID-19 lockdown after his film school was unexpectedly shut down.
He said: "I had a huge hole in my world so I wrote a film, then set about casting, then prepping a full feature production all under lockdown, to film as soon as we could.
"I'm amazed at the brilliant cast, crew and local suppliers who came together to creatively collaborate on what I hope is a very special film.
"It's really important to me that the film was made in Wales. I think we need more stuff based in Wales coming out of Wales."
The film was made in "extraordinary circumstances", shot entirely on smartphones, using anamorphic lenses, and on a "shoestring budget" ahead of its Welsh release on Friday 17 September.
The film tells the story of a road-tripper who goes to scatter his grandfather's ashes and stumbles on a rural campsite full of retired characters living off-grid.
La Cha Cha is described as "counterculture romantic comedy with a big heart". It is a "companion piece" to Twin Town, the dark-comedy set in Swansea centred around the Lewis twins – played by real-life brothers Rhys and Llyr Ifans – which was released in 1997.
Alongside Rhys and Llyr Ifans, La Cha Cha also reunites Dougray Scott, Keith Allen, Will Thomas, Boyd Clack, Di Botcher, Sue Roderick, and Sion Tudor Owen, with Mark Thomas again providing the film score.
As well as the cast of Twin Town, the film also features Melanie Walters from Gavin & Stacey, Ruby and Sonny Ashbourne Serkis, Tamzin Malleson, and the film's lead Liam Hourican, who is known mainly for his role in The IT Crowd.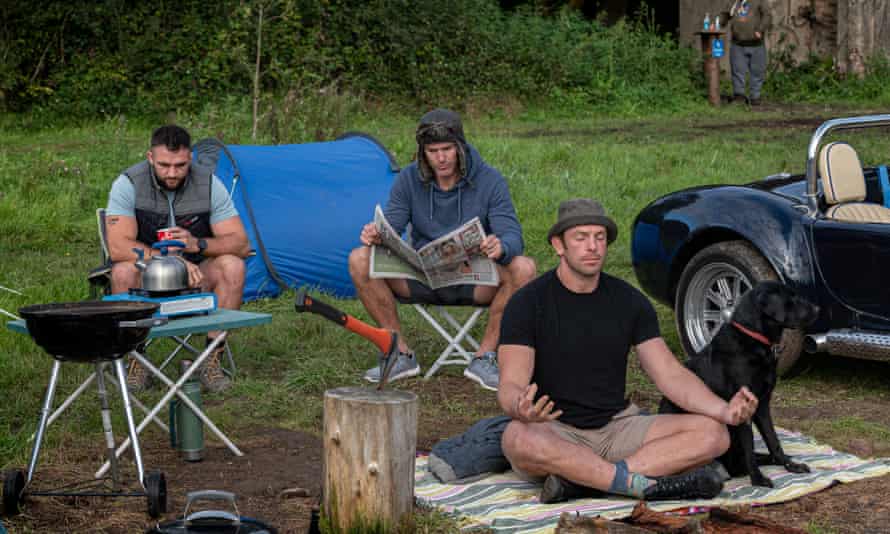 It also stars Game of Thrones actor and Keith Allen's son, Alfie Allen. There are also guest appearances from rugby players Alun Wyn Jones, James Hook, Scott Quinnell, Sean Fitzpatrick, and MMA star John Phillips.
The film received a red carpet premiere at Parc y Scarlets on Friday September 10. The rugby influence continues as the Scarlets rugby team were "heavily involved" during filming, providing a fireworks display for the finale.
Scarlets fan Keith Allen said: "It's great the premiere is being held at Parc y Scarlets. I much prefer rugby to football any day of the week. So it was brilliant getting to meet Phil Bennett, Alun Wyn Jones and Sean Fitzpatrick and the rest of them during this film."
For legal reasons, the new movie cannot be classified as a sequel to Twin Town, and returning actors will not be playing the same characters. Llyr Ifans felt the "only connection" with Twin Town was that most of the cast were in the 1997 Brit flick as the storylines are very different.
Twin Town, released in May 1997, is a Welsh dark comedy crime drama which was filmed around Port Talbot.
It starred Rhys and Llŷr Ifans, alongside Dougray Scott, William Thomas, and Huw Ceredig.
Director and writer Kevin Allen, and Co-writer Paul Durden also make brief guest appearances as a show host, and taxi driver respectively.
Film critic Roger Ebert gave the film two stars out of four and said he "was not sure where the movie wanted to go and what it wanted to do–this despite the fact that it goes many places and does too much."
He also compared the film unfavourably to Trainspotting, which had been released the year before.
Regardless, Twin Town is held in high regard by the Welsh. Described as a classic and the Welsh Pulp Fiction, Twin Town is loved by many.