TYWI VALLEY Open Studios Arts Trail has been held every year since 2013, apart from the last two years, making 2022 its 8th year.
TVOS was winner of the Carmarthenshire Celebration of Culture Awards 2019.
After a two year break for Covid, the artists and makers are naturally delighted to welcome visitors back to our studios, working as normal.
Many of the artists live in rural settings and are used to working in isolation, but the closure of galleries and shops has had to lead to major readjustments such as selling online.
However, time to think has given them opportunities to develop new ideas that normally would have been put on the back burner.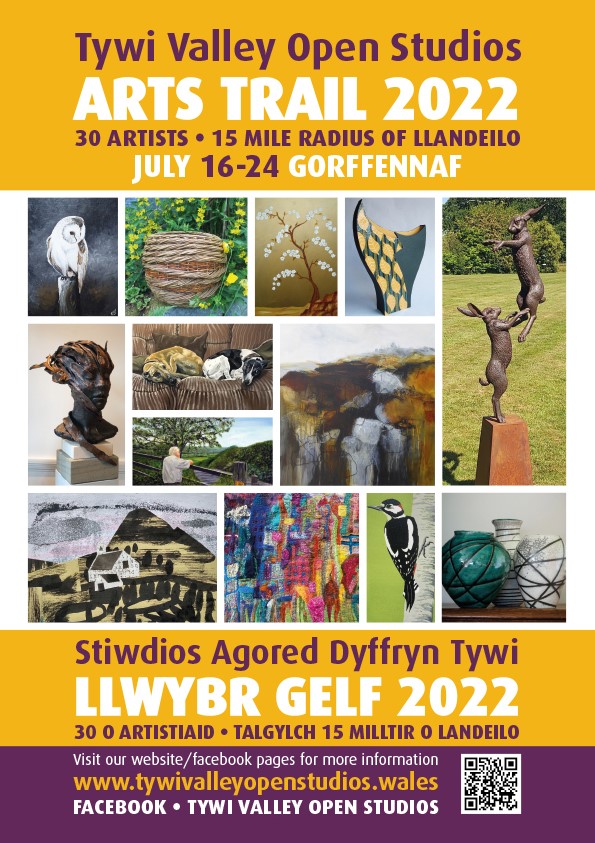 Visitors will be able to see these developments and the artists will enjoy this welcome company and the chance to talk about their work to interested visitors.
Visitors will be able to see artists at work or join in a workshop with an artistic activity.
As one of the artists says: "I remember as a child entering an artists studio was so exciting, so 'other'. The feel, the inspiration and being able to see how it all happens was truly Magical and set me forth on a long path of painting and singing.
"In Adulthood, it is still thrilling to see a 'personal' space, a place of exploration, a place of work that is rarely shared. Artists love solitude to contemplate and evaluate thoughts, potters in turn develop shapes and forms with textures and glazes in much the same way.
"A weaver may be discussing with themselves a new way of manipulating, a woodworker how better to enhance the beauty of natural wood, the materials' colours melded into pure joy. This is why it's so exciting to visit an 'artists ' studio – it's where alchemy happens.

"We are fortunate to have within our group very well known artists and makers and some for you to make your own discoveries ..
"Studio visits stay in the memory, there is special atmosphere waiting to be shared."
Each studio is unique in what it has to offer. Artists will be demonstrating the current pieces on which they are working while some are also offering workshops and activities for visitors.
Joining one of these workshops can be a good way to relax while learning something new.
There are sculpture workshops ranging from 2 hours to a whole day, drop in pottery activities such as throwing a pot on a wheel or trying Raku, wet felting and willow making, as well as decoupage, collage and glass fusing sessions.
Taking place in the first week of the school holidays, many activities are suitable for children.
Free brochures with a map are available from shops in Llandeilo and Llandovery and tourist information centres. This can be used to locate which artists to visit.
There are also suggestions of 5 different coloured routes each of which could be reasonably covered in a day, visiting a selection of studios.
Full details are on the website www.tywivalleyopenstudios.wales