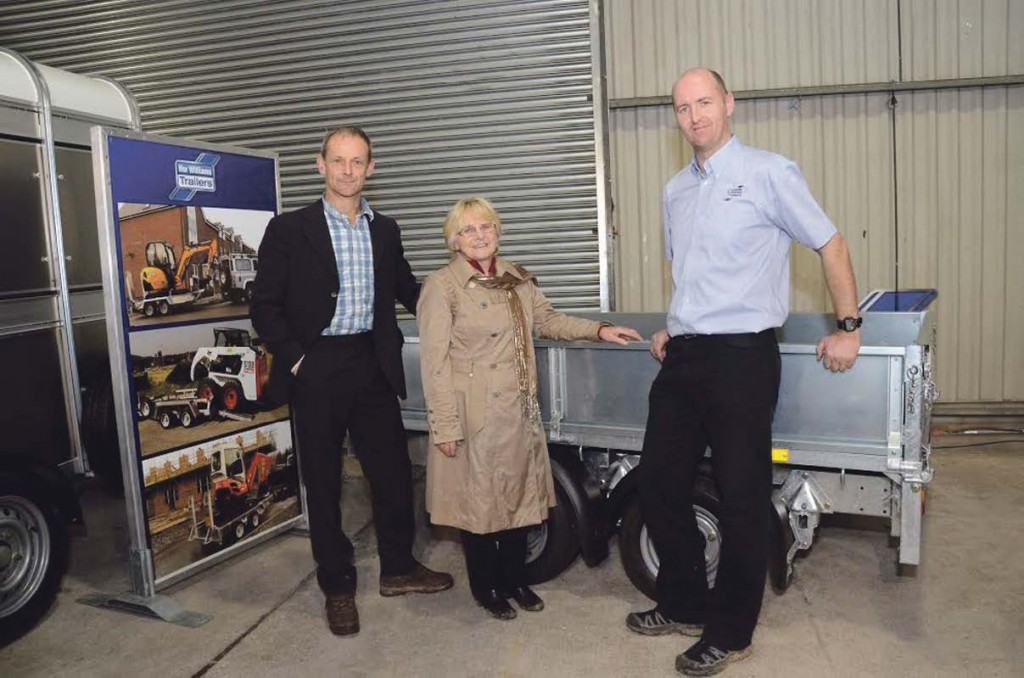 A SEMI-RETIRED farmer whose ill-health means he now watches more TV is celebrating after winning a major prize. 73-year-old Brian Thomas is now the proud owner of a new trailer worth over £2,000 after entering a competition on the popular S4C programme Ffermio. Every year the programme runs the competition in partnership with Ifor Williams Trailers, Europe's biggest trailer manufacturers, and the number of entries has increased over the years.
Viewers are asked to answer questions over a seven-week period and then, using the initial letters, give a seven-letter word. Brian, of Blaengilfach Uchaf, Cilrhedyn, Llanfyrnach, near Crymych in Pembrokeshire, has come up with the correct answers every year but until now has not been lucky enough to win. He has won this year's second prize, an LM85G model, eight-feet long and with dropsides, a headboard and tailboard, which is worth £1,970 plus VAT.
Blaengilfach Uchaf is a 200-acre holding on which Brian, who also worked as an agricultural contractor, keeps store cattle and sheep. He is one of five siblings, four of whom farmed in the area. He is helped on the farm by his wife Mary and son-in-law Richard Davies, and over the past three years his deteriorating health has restricted his mobility.
"I now have more time to watch TV and read, and so I do enter more competitions," he said. His only other success came when he won £500 in a competition on the S4C programme Rasus. There are already two Ifor Williams trailers at Blaengilfach Uchaf but the new model will prove very useful for different jobs.
"We always buy the company's trailers because they are the best around," said Brian. Unfortunately, due to his illhealth, he was unable to attend this year's Royal Welsh Agricultural Society's Winter Fair at Llanelwedd, and so it was left to Mary and their daughter Elaine to collect their prize and take it home to Llanfyrnach. Gwawr Lewis, of the production company Telesgop, who make Ffermio, said that interest in the competition increased every year.
"Whether you're a farmer or someone who loves the great outdoors an Ifor Williams trailer will always be a superb product to win," she said , "It's fantastic that the company has, once again, put up three of their best products as prizes, which helped to ensure that interest was again massive.
"The Ffermio competition is very valuable to us, with viewers far and wide tuning in, in the hope of getting their hands on the trailers. "The winners appreciate the quality of the trailers, be they farmers, small holders, or horse owners. It is a very special time for Telesgop's Ffermio team, to see the excellent prizes going once more to very worthy winners. "
Iorwerth Roberts, the company's head of sales in North Wales, said Ifor Williams Trailers was proud to be associated with Ffermio and that the faith in their product was clearly demonstrated in the response to the competition. "We have had fantastic support from our loyal customers over many years and in return we feel it is vitally important to support the rural community," he said.
"Ffermio provides us with a great way of giving something back." Winner of the first prize, a TA5G 10-feet-long trailer with sheep decks, worth £4,105 plus VAT, was Myrddin Davies, of Ffordd Tan y Ysgol, Llanrwst, while the third prize of a Q5e model with hinged solid sides, roof rack and stock door, worth £1,110 plus VAT went to Morris Jones, of Tryal Farm, Llanrhystyd, near Aberystwyth.