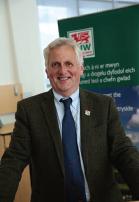 BALA BEEF and sheep farmer Emyr Jones has decided to stand down as the Farmers' Union of Wales' president following 15 years of loyal service to the organisation at national level.
Mr Jones, a family farms champion, revealed his decision at the union's annual general meeting in Aberystwyth.
He was Meirionnydd county chairman from 1998 to 2000 when he was elected to represent North Wales on the union's central finance and organisation committee. He was elected national vice president in 2002, deputy president in 2003 and president in 2011.
He told county delegates: "Following the major reorganisation during the past year of the management of both the FUW and FUW Insurance, I believe we are now an organisation that can look forward with confidence to serving the Welsh agricultural industry for another 60 years. Therefore, after serving as your leader for the past four years and as deputy president before that for eight years, I think it is time that I took a back seat and allowed the union to be led by a new face who can deal with the challenges that continue to confront the industry. I am confident that, whoever takes over from me, will do a fine job and can count on my full support. I also thank all the staff and members of the union for their support over the past 12 years and I offer my heartfelt thanks to all those people, both inside and outside our industry, for their valuable help through all the good, and sometimes difficult, times."

He finished by saying: "Finally, I wish the members of the new presidential team all the best in their future efforts to sustain the FUW for many more years to come."
Mr Jones' replacement in the top job will be deputy president Glyn Roberts, who was elected as the union's president during a meeting of its grand council.
Mr Roberts of Dylasau Uchaf, Padog, Betws-Y-Coed, Conwy, who stepped up from deputy president, said: "I would like to thank all those who have voted for me to be the next president of the Farmers' Union of Wales. We are indebted to our former president Emyr Jones for his leadership over the past four years and as we celebrate 60 years of fighting for family farms, I look forward to pro-actively continuing in the footsteps of my predecessors. As president of this union I want to see the opportunities in problems rather than see problems in opportunities and would like to further a sustainable agricultural community which continues to be the backbone of our rural economies and culture."