ON APRIL 24, a Passing Out Parade was held at Newtown Fire Station to celebrate the achievements of the latest cohort of Mid and West Wales Fire and Rescue Service (MAWWFRS) Fire Cadets.
The aim of the Fire Cadets Programme is to create safer communities through developing young people's knowledge and raising their awareness of the importance of keeping safe from fire.
Fire Cadets learn how to keep themselves and others safe by understanding hazards, risks and control measures, how to use a mixture of firefighting equipment such as hoses, ladders and squad drills. They also participate and attend events within the community and learn how to be positive and active members of their communities.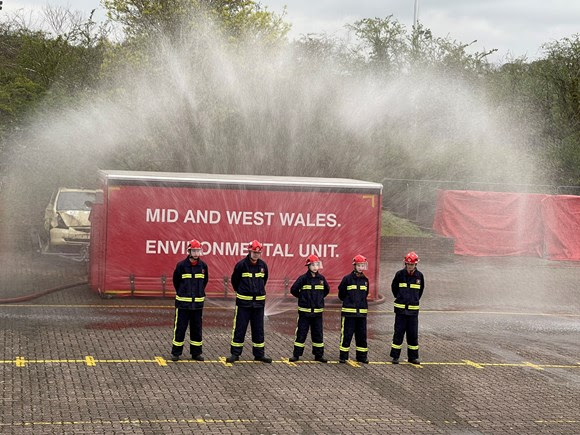 Fire Cadets also gain a Fire Cadet Award, which provides a standard level of experience and an accessible and structured programme of activities. Cadets collate evidence and supporting material for their workbook and on completion of the two-year programme, cadets will be presented with an achievement certificate.
Fire Cadets is a nationally recognised programme and is a great way for young people to have fun, make friends, gain a qualification and develop transferable skills and confidence.

MAWWFRS Chief Fire Officer, Roger Thomas, who attended the parade, said: "I'm delighted to be here at Newtown Station to recognise the achievements of our amazing cadets tonight.  Their hard work and determination is inspiring and I'm sure the skills and confidence they have learnt during this programme will not only help their development in future years, but will also keep our communities safer. 
"I'd also like to thank our Fire Cadet Instructors for their continued support and helping these young people gain their qualification."
Fire Cadet Coordinator, Karen Mayze, said:"I'd like to give a massive congratulations to the Newtown Fire Cadets. I'm incredibly proud of them all, passing out and completing the Cadet programme and achieving their Bronze Award. They are community role models and inspirational young people."
The Fire Cadets Programme is open to young people aged between 13-16 years old.  Recruitment for the Fire Cadet programme re-opens in June 2023.  For more information, please visit the Mid and West Wales Fire and Rescue Service website.