DIABETES UK Cymru is highlighting how quickly undiagnosed type 1 diabetes can become a medical emergency as another child had a lucky escape despite going into DKA (Diabetic ketoacidosis) after his diabetes was mistaken for COVID19.
Fynn Hannify from Neath felt unwell in November last year. First, he started losing weight and his parents and teachers noticed he was grumpy and not his usual self.
He was getting more and more tired and was diagnosed with a viral infection. His mother, Nicola said: "He looked like a bag of bones, so drawn, and tired. He was very lethargic and dehydrated, so the doctors thought he had COVID and sent him for a test that came back negative. Because he was eating and drinking, we were told, that he would be fine and was booked for blood tests in a few days."
Fynn quickly got worse and his parents rang 111 and went through the symptoms. "It was frightening, he was white as a sheet, floppy and also had shortness of breath. We were so worried, so took him to A&E where he was diagnosed and treated for type 1 diabetes".

Fynn bounced back and has been "brave and resilient" but the experience was a massive shock to the family. "Our routines changed completely and it's upsetting to be diagnosed in such a dramatic way. Fortunately, Fynn's diabetes team is brilliant and we have had support from online groups and Diabetes UK Cymru, so we don't feel so alone. There are so many misconceptions and lack of information." Nicola added "Fynn's school has also been very supportive and has been learning how to manage type 1 diabetes. It's so important that every school knows the symptoms and are glad to be raising awareness of the condition".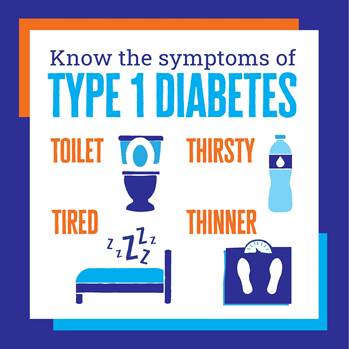 Last year, Diabetes UK Cymru warned that fears of COVID-19 and the impact of the pandemic on the health service were resulting in an increase of missed or late diagnoses.
Anyone can develop type 1 diabetes at any age, so everyone should remember the signs to watch out for in children and young people which can develop very quickly over a few days or weeks.
Get in touch with your GP now if you recognise any of the 4 Ts:

Toilet – Going to the toilet a lot, bed wetting by a previously dry child or heavier nappies in babies
Thirsty – Being really thirsty and not being able to quench the thirst
Tired – Feeling more tired than usual
Thinner – Losing weight or looking thinner than usual
Dai Williams, National Director at Diabetes UK Cymru said: "Fynn's case shows how serious a late or missed diagnosis of type 1 diabetes can be. The condition can be overlooked and dismissed. Last year, a child of a similar age died as a result of undiagnosed diabetes in Wales, because of delays seeking medical help during the pandemic. That's why we're urging parents, carers, teachers, friends and everyone to be extra vigilant and think: Could it be type 1 diabetes?"
For more information on our campaign go to:https://www.diabetes.org.uk/in_your_area/wales/campaigning/childrens-campaign