IT SEEMS like a long time since news about Coronavirus gave any hope to a return to normality.
However, in Wales cases are falling, and that normality seems closer than ever for most people.
Tragically, many families are now without loved ones across the country, and the impact of Coronavirus will be felt for many years – if not decades – but now is the time to start being hopeful and looking forward.
More than half of local authority areas have single figure case rates while the Wales is averaging 54 new cases a day, the lowest since the end of last August.
All of Wales' 22 council areas have been under 50 cases per 100,000 – one of the key thresholds for easing restrictions – since the start of April.
The low numbers suggest vaccinations are having an impact, with fewer people experiencing symptoms, while infection has become less of an issue within communities too.
As of April 29th, Public Health Wales said a total of 1,816,451 first doses of the Covid-19 vaccine have now been given in Wales.
The agency said 732,643 second doses have also been administered.
Wales is currently in phase two of its vaccination programme, meaning the NHS is now inviting everyone aged 40 to 49 to be vaccinated, after successfully offering the vaccine to everyone in the JCVI priority groups 1-9.
It comes as an estimated six in 10 adults (61 per cent) in private households would have tested positive for Covid-19 antibodies in the week to April 11th, the ONS said on April 28th.
This is up from around one in two adults, or 48.2 per cent, two weeks earlier.
On April 7th, Wales became the first country in Britain to administer the Moderna vaccine.
It was also announced on April 14th that all over 16s who live with an adult with a weakened immune system are to be prioritised for Covid-19 jabs, following advice from the Joint Committee on Vaccination and Immunisation (JCVI).
Adults who are immunosuppressed have a weaker immune system to fight infections naturally and are more likely to have poorer outcomes after contracting coronavirus.
This includes those with blood cancer, HIV or those who are having immunosuppressive treatment.
The Welsh Government is now looking at cases per 100,000 going back five days as the standard way of measuring infection rates.
Because of a lag in test results coming back PHW, to give the most accurate data, publishes case rate figures going back to an earlier seven-day period.
The case rate is only a snapshot of the virus out there as it relies on people asking for a test.

There is recognition that some may be reluctant because they fear a loss of income due to self-isolation. Others may have the virus and not know it, as they are asymptomatic.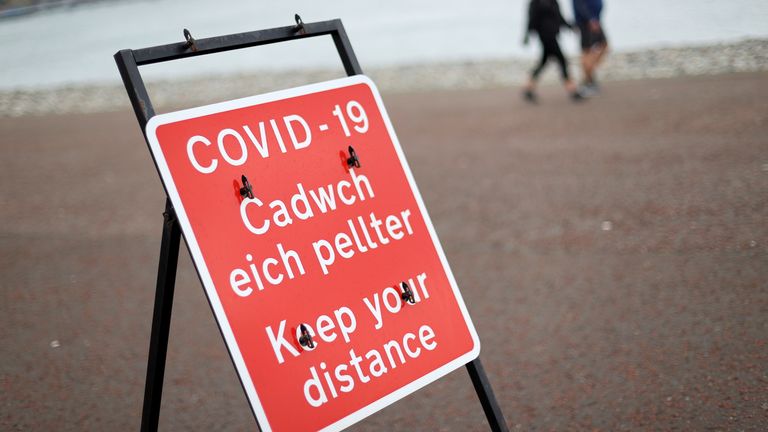 The case rate in Wales for a period in December was one of the highest in the world. But it has been falling and has been the lowest rate of the UK nations for nearly three months. At 11.9 cases per 100,000, it is at its lowest level since September 1st.
On April 28th, there were 241 Covid patients in hospital beds and the daily average (269) is the lowest since September 10th.
Confirmed and suspected cases have seen a 52% drop in a month. This is a 95% drop from the record levels we saw in late-December and at 96 is close to the figure of 93 last Sunday, the lowest yet in the pandemic for "active" cases.
Public Health Wales has reported 38 hospital-acquired Covid infections in the most recent week. That is five fewer in total than the previous week.
These include 14 "probable" and "definite" cases in Swansea Bay and 11 in Hywel Dda hospitals.
Seven cases were linked to north Wales hospitals in the last week. In March, 49 cases were linked to an outbreak on five wards at Ysbyty Gwynedd in Bangor.
There have now been about 2,330 hospital-acquired cases reported across Wales since the start of 2021 and 7,100 since the pandemic began.
The number of deaths involving Covid-19 has fallen slightly to 14 in the latest week. These accounted for 2.2% of all deaths, according to the Office for National Statistics.
This compares to 19 in the week before. This is still lower than for any other week since September 25th and fluctuations are to be expected with numbers now so low. The trend has been for a steady decline and is 71% fewer Covid deaths than registered a month ago.
During the latest week, up to April 16th – there were seven deaths in the Betsi Cadwaladr health board area, two in Cardiff and Vale and Cwm Taf Morgannwg and one in Aneurin Bevan, Swansea Bay and also in Powys, a Covid death involving a care home resident this week.
There were none across the Hywel Dda health board for a second week in succession. When broken down by local authority area, there were no deaths involving Covid registered in 12 counties: Anglesey, Blaenau Gwent, Bridgend, Caerphilly, Cardiff, Carmarthenshire, Ceredigion, Flintshire, Monmouthshire, Neath Port Talbot, Pembrokeshire and Torfaen.
First Minister Mark Drakeford warned that a third wave of coronavirus during the summer is "likely" but will not necessarily see restrictions reimposed in response.
"The modelling does show a third spike is likely to happen in the summer," he said.
"But there's a tension there. If it happens in the summer, in some ways that makes it more manageable.
"On the other hand, every week we can push it back is another week where we vaccinate people and that might make that wave a smaller one and less steep.
"In a way, governments are not in control of where those waves come. I am hopeful that, when we see a further wave, it will not be of the sort that will need us to take the sorts of very blunt actions we've had to take in the last calendar year."