Milford Haven's twin city Uman has been attacked and hit by Russian missiles following the invasion of Ukraine.
As conflict spread across the eastern European nation, Ukrainian authorities were forced to order the evacuation of civilians from Uman as Russia launched attacks on the Jewish-hub.
Shlomi Elisha, a United Hatzalah (volunteer-based emergency medical service) representative predicted that the town would be hit due to nearby weapon deposits.
"The Uman municipality has begun evacuating hundreds of families from the city, the danger is very great — there are many weapons depots in the area and the explosions are intense," they told Army Radio.
Around 7am on the 25th of February, security footage saw a missile hit the streets of Uman just streets away from a line of synagogues.
The video shows the Russian missile making direct impact with a civilian, who was cycling down the road.
A nearby pizza parlour was blown out, with its windows completely smashed.
Pro-Russian telegram channels shared videos of the pizza shop, street and dead cyclist.
At least one civilian has been killed, with 25 people said to be injured.
Milford Haven has been twinned to Uman since 1990.
The current mayor of Milford Haven Kathy Gray, Cllr XX, said the events were "sad and really worrying and I will pray for everyone to be safe."
In 2012, the Mayor, Councillor G. Woodham and his Consort C. Sharo undertook a historic visit to the city.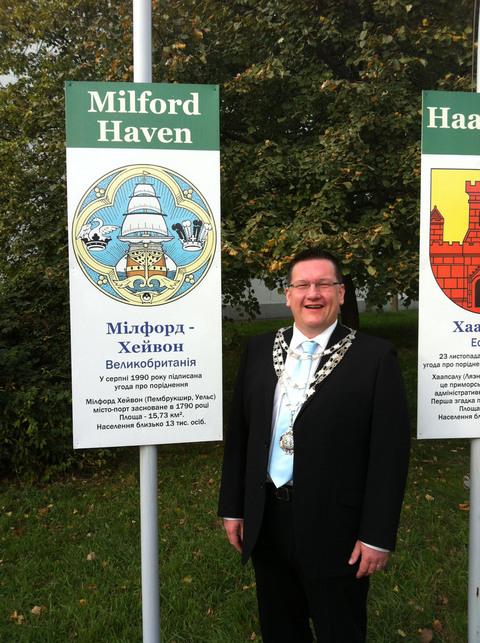 It is situated in the Cherkasy Oblast province in central Ukraine, around 210km south of capital city Kyiv.
The town is a cultural and religious hub for Jews in Ukraine.
Every year, more than 10,000 pilgrims visit Uman during Rosh Hashanah to visit the grave of Nachman of Breslov, great grandson of the Rabbi who is thought to be the founder of the modern Hasidic movement.
Russia claim the operations towards Uman were to knock out military and command infrastructure in Ukraine – and not to harm the citizens.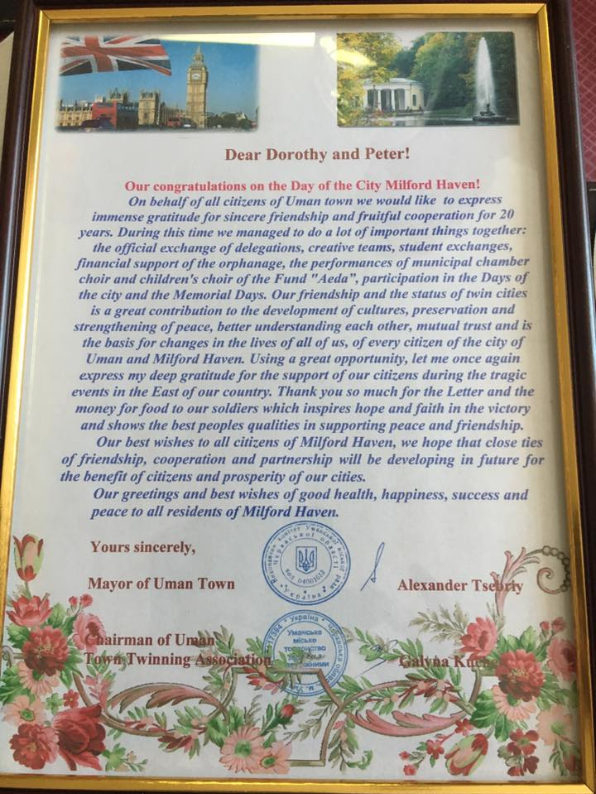 It's citizens are currently providing medical care and logistical assistance to the Ukrainian armed forces.
Haim Hazin, a community representative, said: "We love Ukraine and we will defend it."
"At the beginning of hostilities, we handed over 12 bags with Israeli first aid kits to the army."
He insisted Jews in Uman were "determined to help in any way we can."
He continued: "It hurts us, we fear for Ukraine, this is sacred land for us here in Uman, where Rabbi Nachman is buried."
Hazin added partnered Israel organisations "also sent specialists who conducted a tactical medicine course, sharing Israeli technologies on how to stop a wound from bleeding." 
Since it's inception in the 18th century, Uman has had a thriving Jewish population.
However, in World War 2 – the population was the target of the anti-Jewish attack by the Nazi regime. An estimated 17,000 Jews were killed from Uman during the Holocaust.
Since the dissolution of the Soviet Union in 1991, many Orthodox Jewish families have moved to Uman to live within a community of like mindedness.
Resident's of Podil, a neighbourhood in Kyiv, said that the Jewish community never had any conflicts.
"Never, never have we had any conflicts or misunderstandings, every morning we greet the Jewish children with a smile as they board their school buses." said a local resident.
Tuesday, however, "was a hard day, no one in town had a smile or a greeting" following the attacks.
The same resident ended with a plea to "defend ourselves, defend our Kyiv, defend Podil, and the church, and the synagogue."