Welsh Health Minister Eluned Morgan blames Westminster for NHS pay row and says Welsh Government can't afford more.
THE WELSH Government has blamed Kwasi Kwarteng's September financial statement for the size of a pay increase for NHS staff that Eluned Morgan announced in July.
Ahead of the Autumn Statement, Scottish Health Secretary Humza Yousaf and Welsh Health Minister Eluned Morgan wrote to UK Health Secretary Steve Barclay to ask for additional funding to help avert strike action this winter in the NHS.
MORGAN CLAIMS KWARTENG
TO BLAME FOR PAY ROW
The letter reads: "We wanted to write to you in advance of the Chancellor's Autumn Statement on November 17 to make once again a case for additional funding for our hard-working NHS staff.
"In recent weeks, the Deputy First Minister of Scotland and the Welsh Government Minister for Finance and Local Government have written to His Majesty's Treasury to make clear the need for additional funding for public services.
"The Royal College of Nursing has announced a sweeping legal mandate for industrial action across the UK. In Scotland, they have joined several other unions representing NHS staff in gaining a legal mandate for industrial action, with ballots expected to confirm a mandate in the rest of the UK.
"The risk to the NHS of industrial action this winter is profound. The NHS across the UK continues to feel the effects of the pandemic as it recovers and remobilises. Any action will likely have catastrophic effects in all parts of the UK. We all need to do all we can to avert industrial action.  
"We are experiencing a cost of living crisis, and the anger of NHS staff is entirely understandable. Sky-rocketing Inflation combined with higher interest rates, a direct result of the havoc caused by the UK Government's mini-budget, means that we cannot come close to matching the expectations of NHS staff across the country. While the support provided by the UK Government in areas such as supporting energy bills is welcome, it needs to go further.
"Media reports suggest that the Chancellor is considering reimposing austerity on the people of the UK again, for which there is no mandate, through extensive spending cuts. That would be a disaster for our public services, including the NHS, at a time when they need more investment, not less.
"We would therefore implore you to work with us to make the case to the Chancellor in advance of his Autumn Statement for increased funding for the NHS and the devolved governments as a whole, primarily to pay our hard working NHS staff a fair pay rise in the face of the cost of living crisis this winter, and avoid what could be catastrophic industrial action in the NHS."
Welsh Conservative Shadow Health Minister Russell George MS responded: "Inflation is caused by global energy price increases, the aftermath of Covid, and Russia's brutal war in Ukraine, whilst the independent Bank of England increases relatively rock-bottom interest rates to tackle it.
"But Baroness Morgan is dishonestly neglecting all this to deflect from her Labour Government's ultimate responsibility for the NHS, which it has mismanaged for over two decades.
"Let's not forget that Wales has received the highest financial settlement in the history of devolution at the last budget, not that Drakeford and his team would tell you that.
"If Labour wants to spend more on nurses, it could stop wasting taxpayers' money on vanity projects."
MORGAN ANNOUNCED
NHS PAY IN JULY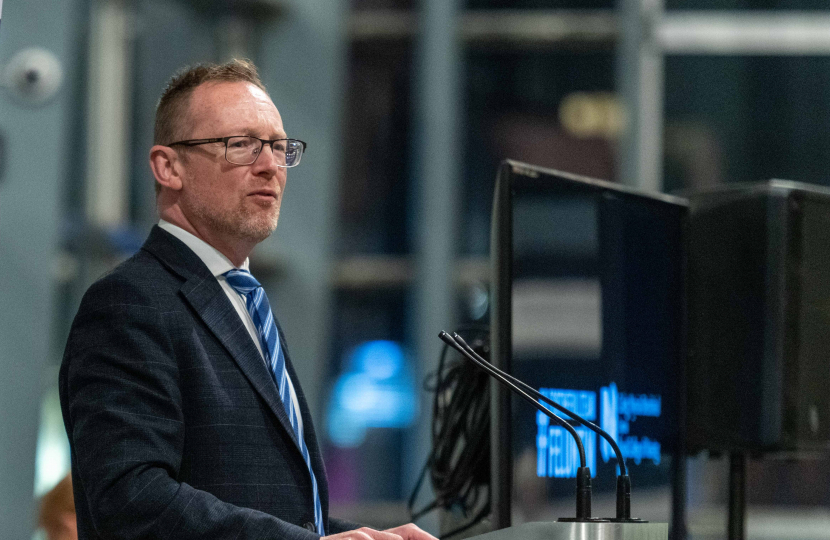 The claim that events in September directly resulted in the Welsh Government making a pay offer in July that was widely criticised by NHS staff unions at the time is remarkable and rewrites very recent history.
The worst that could be said for the former Chancellor's September 23 statement (apart from other economic considerations) is that it worsened an already bad situation. A situation Baroness Morgan highlighted when she announced the below inflation pay rises on Friday, July 22.
Then, the Health Minister said: "I hope this pay award goes some way to recognise their hard work, but without additional funding from the UK Government, there are inevitable limits to how far we can go in Wales. We continue to press them to pass on the full funding necessary for fair pay rises for public sector workers."
The Royal College of Nurses warned of industrial action immediately following the Health Minister's July announcement. The RCN described Eluned Morgan's pay announcement as "pitiful and insulting". It highlighted the Welsh Government's extra funding for the NHS from Westminster in the preceding two years, which did not translate into above-inflation pay increases.
Also in July, BMA Cymru Wales Council Chair Dr David Bailey said: "The shameful decision from Welsh Government not to implement the Doctors and Dentists Review Board's recommendations in full is nothing short of a kick in the teeth for hard-working doctors in Wales."
The Welsh Government's stock response to criticism of decisions it makes about devolved pay issues is that if it paid what it wanted, it would have to make cuts elsewhere in its budget. Those would be the same decisions all governments with tax-raising powers must make. The Welsh Government can address that when it sets its budget in December.