A PETITION created to stop the Welsh Government from reducing the speed limit from 30mph has surpassed 10,000 signatures.
This means that the petition, created by Benjamin James Watkins, will now be considered by the Petitions Committee within the Senedd.
The petition states that the decision to lower the speed limit is "not representative of the broader public opinion and as such, it is not democratic to implement the changes."
The petition will continue to collect signatures on the Senedd website until June 30, 2023. The speed limit changes are expected to take place on September 17. 
An earlier petition from 2022 was signed by only 161 people out of its goal of 10,000. The petition was still considered by the Petitions Committee, however they responded: "The Committee noted that the Welsh Government have clarified the exception process available for local authority to pursue if 20mph is considered inappropriate for a particular road.
"In light of the fact that the exception process provides a route forward for the petitioners to raise their concerns with their local authority who can review the decision, the Committee agreed close the petition and thank the petitioner."
In July 2022, the Senedd passed The Restricted Roads Order 2022 which indicates that restricted roads' speed limits will be reduced form 30mph to 20mph later this year.

Restricted roads include where streetlights are placed no more than 200 yards apart and are usually located in residential and built-up areas with high pedestrian activity.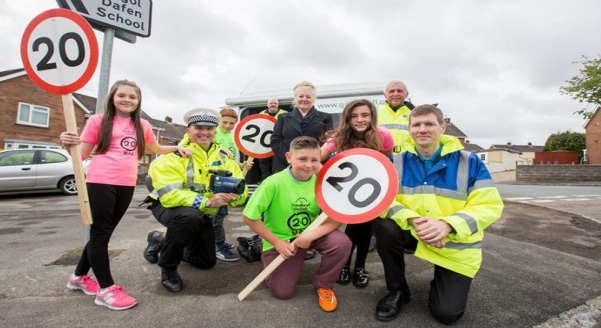 Speaking at the time of the announcement, climate change minister, Julie James, said: "The future of our towns and cities depends on our ability to move around sustainably and on solutions that have a positive impact on the public health environment and communities.
"That is why we will use the principle that walking, cycling and active travel must remain the best options for short urban journeys and a 20mph default speed limit will help achieve this."
However, Welsh Shadow Minister for Transport, Natasha Ashgar MS, said: "The Welsh Conservatives are not against introducing 20mph speed limits outside schools, playgrounds, places of worship and high streets, but a blanket roll-out is quite frankly ludicrous.
"With a price tag of more than £32 million, is this really money well spent at a time when the Labour Government should be focused on tackling the big issues at hand such as the cost-of-living? I don't think it is, and I am sure residents across the country will be thinking the exact same.
"Speed limits like this should be decided by councils in their local areas, not top-down by Labour ministers. Let's give local people the power over their communities, the very people who know their roads best."