HUGELY POPULAR illustrator Millie Marotta her idiosyncratic drawings of the world's wonderful creatures have enthralled millions over the years.
These pocket colouring books feature over 80 wonderful illustrations in a smaller format to add colour to.
In Secrets of the Sea, colourists will discover the wondrous wildlife from the Arctic waters to the balmy Australian coast. Swim with dolphins, narwhals and manatees.
Grab your pens and pencils and bring to life jellyfish, seahorses and polar bears. In Woodland Wild, Millie invites to a calming world of woodland wildlife, from peaceful pine groves to a steamy tropical forest.
Discover intriguing creatures, from foxes, fireflies and fallow deer to lemurs, leaf frogs and ladybugs.
These are essential books for colouring fans who love Millie's patterned illustration style, which allows for the most creative way of colouring.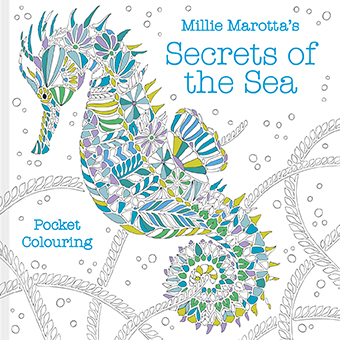 Colourists are invited to indulge their creativity, discover some fascinating creatures, and enjoy the perfect mindful activity while on the go. Millie Marotta is an illustrator working in her studio by the sea in a little corner of West Wales.
A pioneer in the global colouring movement, Millie had been an illustrator long before she inked her first book.
Millie's intricate illustrations are inspired by a love of wildlife and fascination with the natural world. In 2015, Millie's debut title Animal Kingdom spent a record 22 weeks as the official paperback nonfiction No.1.
Since then, she has sold 9 million books around the world and her books have been translated into over 30 languages. Her books include Tropical Wonderland, Wild Savannah, Curious Creatures and Beautiful Birds and Treetop Treasures.
Visit Millie at www.milliemarotta.co.uk and follow her on social media @milliemarotta.