Hollywood actor and Wrexham FC co-owner Ryan Reynolds has been named an "honorary Welsh boyo" by Welsh acting legend, Sir Anthony Hopkins, following Wrexham's promotion to the Football League on Saturday.
Wrexham's win over Boredom Wood brought fans flooding onto the pitch at the Racecourse Ground, and the scenes were shared far and wide across social media as The Red Dragons celebrated a return to the football league for the first time since 2007/08. Reynolds, who was in attendance at the match, said, "Everything I own smells like champagne, beer and grass" after the win.
On Sunday, Reynolds took to Twitter to express his joy at the victory, saying, "I'm still somewhere between giggling and sobbing. This town and this sport is one of the most romantic things on earth. Thank you, Wrexham AFC."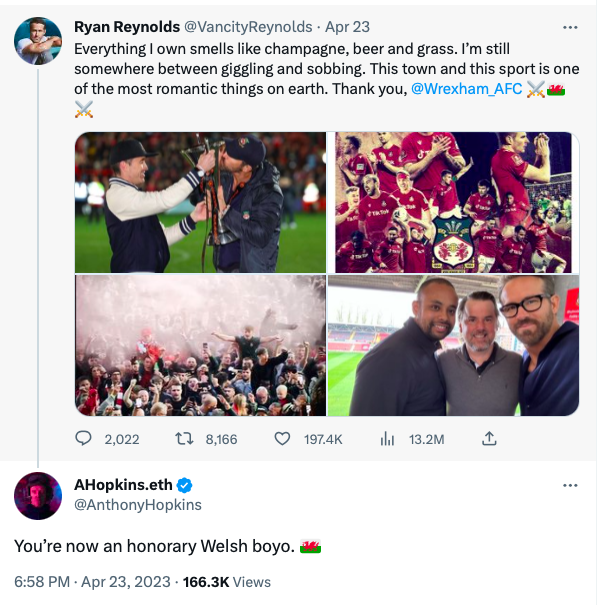 Actor Anthony Hopkins, who was born in Port Talbot, also took to Twitter to congratulate Reynolds and to name him as an honorary Welshman. Hopkins tweeted, "You're now an honorary Welsh boyo" followed by a Welsh flag emoji. Reynolds replied with a shocked face emoji and a heartfelt "Thank you!!! And…"

The news has been met with enthusiasm from fans, with one Twitter commentator noting that being named an "honorary Welsh boyo" was surely better than winning an Oscar.
Reynolds and fellow co-owner Rob McElhenney were first drawn to Wrexham AFC because of the club's loyal fanbase, who continued to show up in their thousands for National League games. With this promotion to the Football League, the future looks bright for Wrexham and its fans.