ON Bank Holiday Monday (May 2), the 39th running of the Carmarthen Mayor's Fun Run Races made a welcome return to the town centre. It gave the opportunity for the whole family to get involved.
Cancelled in 2020 and 2021 because of the pandemic, the first event in three years attracted runners of all ages and abilities from two-year-olds to experienced club seniors.
It was organised by Noelwyn Daniel and Sharon Daniel from Healthy Life Activities and supported by Carmarthen Town Council along with more than twenty local organisations.
The event was established by Councillor Peter Hughes-Griffiths, in partnership with Dr Hedydd Davies, the International athlete who has represented his country many times. In the period 1982-2006 there were 25 Welsh road race championships held in conjunction within the Mayor's Race ranging from 10K up to half marathon and marathon championships.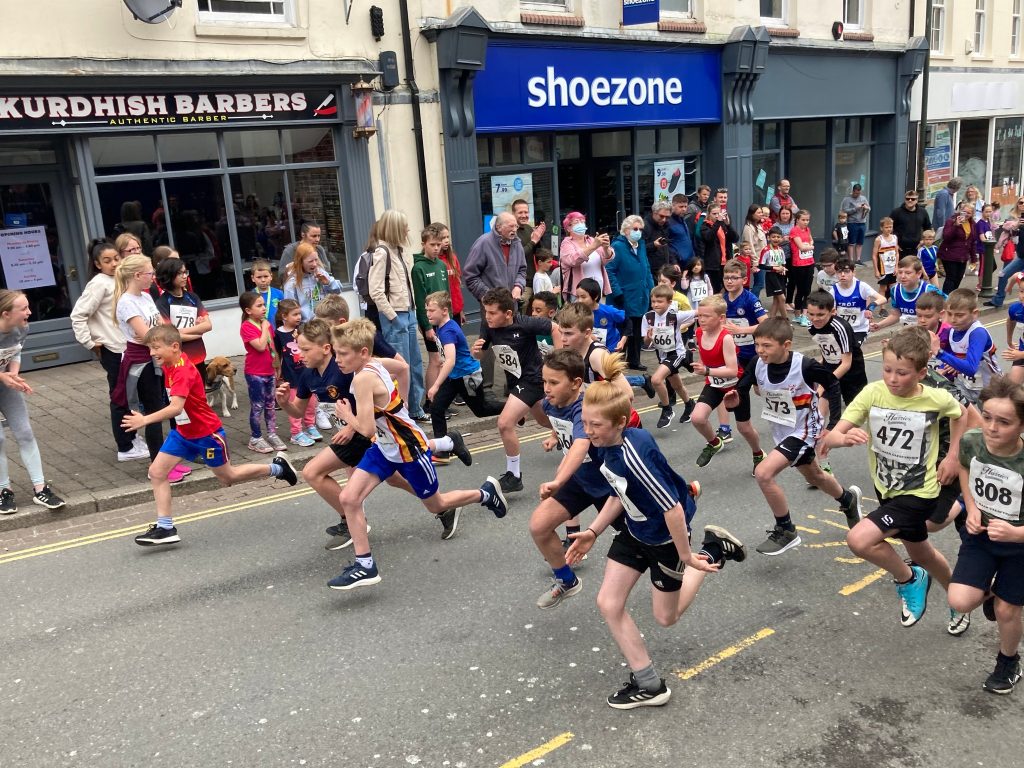 With more than 600 runners entered for the 2022 event, the beauty of the Carmarthen Mayor's Race is that they take place in the heart of the town centre.
The event once again raised thousands of pounds for several charities with many local groups and organisations benefiting. Proceeds in 2022 went to Carmarthen Foodbank, Air Ambulance Wales, Cilgerran Ward – Glangwili Hospital and Salvation Army Charity Shop.
The Mayor, Mayoress and Deputy Mayor of Carmarthen were on hand to start the races and present medals and trophies to all runners taking part.
As in previous years, the day started with the 5K fun run where runners started opposite Carmarthen bus station and ran along the town's main roads a total of three times before the grandstand finish up at Guildhall Square. The 5K used chip timing results, meaning that all athletes were able to get their own individual time.
The overall male winner was Carmarthen Harriers' Isaac Ayres in a time of 17 minutes 11 seconds. Six seconds behind in second was Ifan Bowen (17:17) with Guto Morgans finishing in third (17:20). Carmarthen Harriers trio Jack Tremlett, Jake Lynock and Steffan Davies were next in fourth, fifth and sixth.
Sioned Howells from Swansea Harriers was the overall female champion, followed by Llinos Jones (Swansea Harriers, 20:26), Noami James (Race Against Poverty Team 3, 21:36) and Rachel Allcock (Amman Valley Harriers, 21:56)
This was followed by a series of junior races, featuring club athletes to those making their first steps in running. It began with the boys and girls in years 1 & 2 followed by years 3 & 4 completing two laps of the course. The halfway mark saw years 5 and 6 and then secondary school years 7 & 8 participate.
The final event of the programme was a category for the nursery and reception children over one lap, where the young ones could run alongside their friends and family.
First-placed runners in each of the eight races from years 1 to 8 were Elan Jones (Ysgol Saron), Josiah Tilley Gyado (Johnstown) & Ollie Evans (Nantgaredig) – Joint, Gwenno Jones (Nantgaredig), Jasper Davis (Llangynnwr), Lowri Morgan (Llangadog), Tomos Cai Davies (Y Dderwen), Esme Lynock (Bro Dinefwr) and Sam Griffiths (Bro Myrddin).
5K Results are available at https://triandenter.com/events/carmarthen-mayor-fun-run/
CARMARTHEN MAYOR'S 5K FUN RUN
Overall Male
1st – 1af: Isaac Ayres – Carmarthen Harriers (17:11)
Senior Male
1st – 1af: Guto Morgans – Actif South Team (17:20)
2nd – 2ail: Gareth Wyn Evans – Top Step Triathlon (18:30)
3rd – 3ydd: Dafydd Walters – Carmarthen Triathlon Club (18:39)
Male over 40
1st – 1af: Jack Tremlett – Carmarthen Harriers (17:26)
2nd – 2ail: Matt Yelland – Clwb Run Wales (18:12)
3rd – 3ydd: Wayne Lewis – Amman Valley Harriers (19:05)
Male over 50
1st – 1af: Alec Williams – Pembrokeshire Harriers (18:55)
2nd – 2ail: Stephan Williams (19:10)
3rd – 3ydd: Huw Davies – Carmarthen Harriers (20:26)
Male over 60
1st – 1af: Peter Osborne – Llanelli AC (21:00)
2nd – 2ail: Paul Oughton (23:15)
3rd – 3ydd: Kevin Jenkins – TROTS (23:17)
Overall Female
1st – 1af: Sioned Howells – Swansea Harriers (18:31)
Senior Female
1st – 1af: Noami James – Race Against Poverty Team 3 (21:36)
2nd – 2ail: Lara Griffiths – Actif West Team (22:59)
3rd – 3ydd: Rachel James – Race Against Poverty Team 3 (23:23)
Female over 35
1st – 1af: Llinos Jones – Swansea Harriers (20:26)
2nd – 2ail: Clara Davies – Amman Valley Harriers (23:11)
3rd – 3ydd: Karen Brown – Race Against Poverty Team 3 (23:25)
Female over 45
1st – 1af: Rachel Allcock – Amman Valley Harriers (21:56)
2nd – 2ail: Hannah Golding (22:26)
3rd – 3ydd: Donna Morgan – Amman Valley (23:00)
Female over 55

1st – 1af: Linda Eynon – TROTS (22:04)
2nd – 2ail: Mary Anthony – TROTS (22:22)
3rd – 3ydd: Alison James – TROTS (24:28)
Year 9 to 11 Girls
1st – 1af: Carys Wood – Carmarthen Harriers (22:29)
2nd – 2ail: Martha Morgan – Carmarthen Harriers (23:05)
3rd – 3ydd: Megan Thomas – Carmarthen Harriers (23:05)
Year 9 to 11 Boys
1st – 1af: Ifan Bowen – Carmarthen Harriers (17:17)
2nd – 2ail: Jake Lynock – Carmarthen Harriers (17:36)
3rd – 3ydd: Steffan Davies – Carmarthen Harriers (18:02)
1st Corporate Team
1st – 1af: Actif Sport & Leisure East Team
JUNIOR FUN RUN
Year 1 & 2 Girls
1st – 1af: Elan Jones – Ysgol Saron
2nd – 2ail: Alys Tremlett – Ysgol Nantgaredig
3rd – 3ydd: Farah Bowen – Ysgol Llangynnwr
Year 1 & 2 Boys
1st – 1af: Josiah Tilley Gyado – Johnstown School
1st – 1af: Ollie Evans – Ysgol Nantgaredig
3rd – 3ydd: Harri Morgan Daives – Ysgol Llanddarog
Year 3 & 4 Girls
1st – 1af: Gwenno Jones – Ysgol Nantgaredig
2nd – 2ail: Erin Davies – Ysgol Llangynnwr
3rd – 3ydd: Megan Jones – Ysgol Y Dderwen
Year 3 & 4 Boys
1st – 1af: Jasper Davis – Ysgol Llangynnwr
2nd – 2ail: Iwan Thomas – Ysgol Y Dderwen
3rd – 3ydd: Steffan James – Ysgol Y Dderwen
Year 5 & 6 Girls
1st – 1af: Lowri Morgan – Ysgol Llangadog
2nd – 2ail: Manon Phillips – Ysgol Peniel
3rd – 3ydd: Seren Bowen – Ysgol Y Dderwen
Year 5 & 6 Boys
1st – 1af: Tomos Cai Davies – Ysgol Y Dderwen
2nd – 2ail: Harri Truman – Ysgol Gymraeg Pontardawe
3rd – 3ydd: Noa Jac Thomas – Ysgol Y Dderwen
3rd – 3ydd: Osian Jones – Ysgol Saron
Year 7 & 8 Girls
1st – 1af: Esme Lynock – Ysgol Bro Dinefwr
2nd – 2ail: Annatasia Eggleston-Stoker – Llandovery College
3rd – 3ydd: Nia Seren Thomas – Ysgol Bro Myrddin
Year 7 & 8 Boys
1st – 1af: Sam Griffiths – Ysgol Bro Myrddin
2nd – 2ail: Toby Anthony – QE High School
3rd – 3ydd: Jimmy Davis – Ysgol Bro Myrddin