GIGGS, Rush, Bale and Hughes – four legendary names in football, but which one is the best?
Truthfully, it could never be decided, but let's look at the careers of four of our favourites to see how they stack up.
Ryan Giggs
Giggs was born at St David's Hospital in Canton, Cardiff, to Danny Wilson, a rugby union player for Cardiff RFC, and Lynne Giggs.
Giggs is mixed race – his paternal grandfather is from Sierra Leone – and has spoken of the racism he faced as a child.
On November 29 1987 (his 14th birthday), Alex Ferguson turned up at Giggs' house with United scout Joe Brown and offered him two years on associate schoolboy forms.
Using the name Ryan Wilson, Giggs captained England at schoolboy level, playing at Wembley Stadium against Germany in 1989. He changed his surname to that of his mother at the age of 16, when his mother remarried, two years after his parents' separation.
Giggs made his League debut against Everton at Old Trafford on March 2 1991, as a substitute for the injured full-back Denis Irwin in a 2–0 defeat. In his first full start, Giggs was credited with his first-ever goal in a 1–0 win in the Manchester derby on May 4 1991, though it appeared to be a Colin Hendry own goal.
His emergence and the arrival of Eric Cantona heralded the dominance of United in the Premier League. Ferguson was protective of him, refusing to allow Giggs to be interviewed until he turned 20, eventually granting the first interview to the BBC's Des Lynam for Match of the Day in the 1993–94 season.
Giggs became United's longest-serving player when Denis Irwin left in May 2002, and he became a pivotal part of the club, despite still being in his 20s. Giggs continued to excel in the four years that followed the Treble triumph of 1999.
United were Premier League champions in three of the four seasons following the treble, as well as reaching the UEFA Champions League quarter-finals three times and the semi-finals once. In April 2001, he signed a new five-year contract.
On September 12 2009, Giggs made his 700th start for United. Giggs scored his 150th goal for United, only the ninth player to do so for the club, against Wolfsburg in his first Champions League game of the season.
Giggs was appointed as a player-coach at Manchester United on July 4 2013, as part of the coaching staff under new manager David Moyes.
When Moyes was sacked on April 22 2014, after less than 10 months in the job, Giggs took over as the club's interim player-manager, compiling a record of two wins, a draw and a defeat in the final four games of the 2013–14 season.
As glittering a career as he might have had, his recent off-the-pitch behaviour has made him slip further and further down our list of truly great Welsh footballers.
Ian Rush
Born in St Asaph, Flintshire, Rush's reputation was enhanced by scoring for Chester City in a shock 2–0 FA Cup third round win at Second Division side Newcastle United in January 1980, with Chester City equalling their best run by reaching the last 16 where they narrowly lost to Ipswich Town.
His last game for Chester City was a 2–1 win over Southend United at Sealand Road on April 26 1980 in which he did not score.
Despite interest from Manchester City, and in spite of Rush being a boyhood Everton fan, Liverpool won the race to sign the 18-year-old in April 1980, though he had to remain at Chester until the end of the season as the transfer deadline had passed. Recommended by chief scout Geoff Twentyman, Liverpool paid a record fee for a teenager of £300,000.
Rush made his international début, in May 1980, just before he officially became a Liverpool player. His Reds début came on December 13 that year in a First Division fixture at Portman Road against Ipswich Town. He was standing in for his future strike-partner, Kenny Dalglish (out with an ankle injury but at the time one of the most highly rated strikers in the world), and wore his No 7 shirt.
At this stage, Liverpool were defending the league title and also contending for the European Cup, while Ipswich were emerging as surprise title contenders. Liverpool finished fifth (with Aston Villa winning the title), but they did win the European Cup (for the third time) and the League Cup (for the first time).
He was voted PFA Young Player of the Year in 1983 after helping Liverpool to a second successive First Division/League Cup double, though once again success eluded them in the European Cup. He scored 24 League goals as Liverpool finished 11 points clear of runners-up Watford.
On November 6 1982 Rush scored four goals against Everton in a 5–0 victory, a post-war record for goals by a single player in a Merseyside derby.
After attracting much interest from top European sides, Rush accepted an offer to sign for Italian club Juventus on July 2 1986 for a British record transfer fee of £3.2m.
However, he continued to play at Liverpool for one season on loan before making his début for Juventus.
Rush returned to Liverpool, before he bid farewell to Anfield on 20 May 1996 when he agreed to sign for Leeds United.

Rush spent a season with Leeds and scored three times in 36 Premier League games and was given a free transfer at the end of the 1996–97 campaign.
Gareth Bale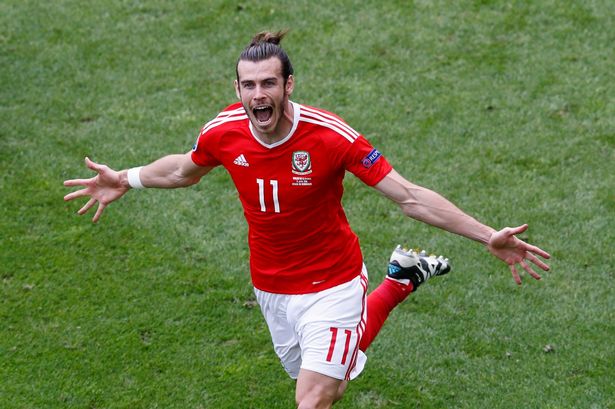 Bale was born in Cardiff, Wales, to parents Frank, a school caretaker, and Debbie Bale, an operations manager. He is the nephew of former Cardiff City footballer Chris Pike.
It was while at this school that he first came to the attention of Southampton at age nine, when he was playing in a six-a-side tournament with his first club, Cardiff Civil Service.
Growing up, his footballing hero was Ryan Giggs.
Despite being only 16 at the time, he helped the school's under-18 team win the Cardiff & Vale Senior Cup. He left school in the summer of 2005 with a Grade A in PE amongst his other GCSE results. In his final year at school, he was awarded the PE department's prize for services to sport.
On April 17 2006, at the age of 16 years and 275 days, Bale became the second youngest player ever to play for Southampton (after Theo Walcott, who was 132 days younger) when he made his debut in the Saints' 2–0 victory against Millwall.
On May 25 2007, Bale signed a four-year deal with Tottenham Hotspur with the club paying an initial £5 million for the player, potentially rising to £10 million based on appearances and success.
On April 28, Bale won both the PFA Players' Player of the Year and Young Player of the Year after his excellent showing in the 2012–13 season.
A week later, on May 2 2013, he added the FWA Footballer of the Year Award from the Football Writers' Association, making Bale one of only two players who have won all three in the same season – the other being Cristiano Ronaldo, who won them in 2007.
Bale scored the winning goal against his former club Southampton on May 4. The goal gave Spurs a 1–0 win as well as being Bale's 20th in the Premier League in his 200th appearance for Spurs.
On May 19, Bale scored a 90th-minute goal from 25 yards out. This goal gave Spurs a 1–0 win over Sunderland, but was not enough to give them Champions League football for the following season.
On September 1 2013, Spanish club Real Madrid announced that they had reached an agreement for the transfer of Bale, signing a six-year deal in a then world record deal.
The Spanish press (and Real Madrid TV) reported that Bale had cost £77 million (€91 million), while the British press reported a world record transfer fee of £85.3 million (€100 million), which would be above Cristiano Ronaldo's transfer record fee of £80 million (€94 million).
However, in January 2016, documents pertaining to the transfer were leaked by Football Leaks which confirmed a world record transfer fee of €100.8 million (£85.1 million).
Mark Hughes
Born in Ruabon, Wrexham, Hughes joined Manchester United after leaving school in the summer of 1980, having been spotted by the team's North Wales talent scout Hugh Roberts.
However, he did not make his first team debut for three years – scoring in a 1–1 draw away to Oxford United in the League Cup, in the 1983–84 season.
When Hughes made his United debut, the club's forward partnership consisted of 27-year-old Irishman Frank Stapleton and 18-year-old Norman Whiteside from Northern Ireland, and breaking up that partnership would not be an easy challenge for Hughes.
But Hughes quickly broke into the first team, partnering Frank Stapleton in attack while Norman Whiteside was switched to midfield to partner Ray Wilkins and stand in for the injury prone Remi Moses.
In the summer of 1986, Hughes was sold to Barcelona for £2 million. United announced on March 21 1986 that Hughes would be heading for Spain at the end of the season, but the transfer had been agreed many weeks earlier.
He was subsequently loaned out to German club Bayern Munich for the 1987–88 season, where he regained his form.
On November 11 1987, he played two competitive matches in one day, first for Wales against Czechoslovakia in Prague in a Euro 1988 qualifier, and second, after being flown across the border into Germany, appearing as a substitute for Bayern in their second round cup replay over Borussia Mönchengladbach.
In May 1988, Hughes returned to Manchester United, managed by Sir Alex Ferguson, for a then club record fee of £1.8 million. As he had done in his first spell at Old Trafford, Hughes proved to be a dynamic goalscorer and was a key player for the club over the next seven years.
__________________________________________________________
Our favourite is, without a doubt, Gareth Bale. His skill, passion and pride all collide when he wears a Wales shirt and his talent would, we reckon, get him into any team in the world.