Oleksandr Usyk vs Anthony Joshua's rematch could be hosted in Saudi Arabia in late June, according to Usyk's promoter Alexander Krassyuk.
Usyk defeated Joshua last September, claiming all of Joshua's heavyweight titles.
The former cruiserweight king won via unanimous decision, and handed Anthony Joshua his second loss of his professional career.
A rematch has been on the cards since the first fight, but had been doubted and delayed after Usyk returned to Ukraine to fight Russian forces.
Matchroom boxing boss and promoter Eddie Hearn insisted the rematch would eventually take place, with Wembley and the Tottenham Hotspur Stadium amongst candidates to host the fight.
However, reports have now revealed that Saudi Arabia are planning a ~£90 million bid to host the match on June 25th.
This would give Anthony Joshua the opportunity to win back his WBA, IBF, WBO and IBO titles in the middle east, after growing confidence it would be held in London.
The $120 million bid (£91.7 million) is a third more than what it cost the Saudis to host Joshua vs Ruiz 2, which cost approximately $80m/£61m back in December 2019.

Both fighters have already claimed a rematch is in preparation, with Usyk stating on Instagram: "I decided to start preparing for a rematch with Anthony Joshua. A large number of my friends support me, all the rest of the good and peace, Thank God for everything."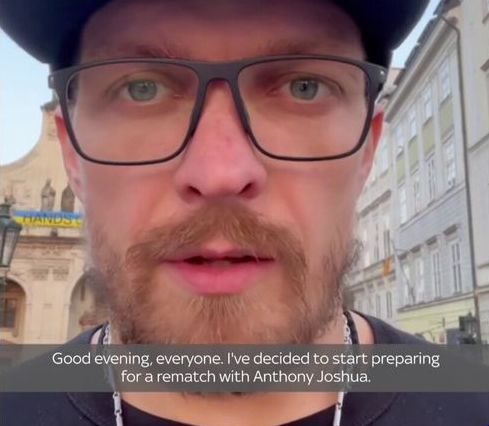 The post came just three weeks after Usyk travelled to his homeland to fight Russian forces following the invasion of Ukraine. At the time, the boxer put a rematch in doubt, saying: "I really don't know when I'm going to be stepping back in the ring. My country and my honour are more important to me than a championship belt."
The rematch is colossal for both fighters, and the winner is set to face the victor of Tyson Fury vs Dillian Whyte – taking place on April 23rd at Wembley.
The super-fight would see either Usyk/Joshua and Fury/Whyte land a massive pay check, as well as making history in potentially one of the biggest fights in recent boxing history.
Fury is heavy favourite to beat Whyte, and preparations are well underway. In the first press conference the fight, Dillian Whyte failed to show – giving the Gyspy King a full platform to talk about his plans, which included claims that Whyte had "shown a white flag".
Fury said: "He's definitely shown the white flag today. He's given me that much more confidence. It's fear, it's terror. I don't blame him for not being here today."
Finally, he added: "He's getting the biggest pay day of his life. How many £250,000 can you fit into £8million – 32 times his biggest payday. He should be here today kissing my feet and washing my feet. He's very lucky that he's in my era. He's very lucky to be receiving this amount of money."