IT'S important to point out that there are four positives to take away from Saturday's Six Nations start.
Firstly, Wales didn't get beaten to nil, and things could've been a lot worse.
Secondly, Taine Basham had one hell of a game, racking up the most yards made and the most tackles by any Welsh player.
Thirdly, the front five held firm (although they began to buckle as the second half wore on).
Fourthly, England lost.
But when we all stop laughing about the last of those, we have to reflect on Wales's performance against Ireland.
Or rather, Ireland's performance against Wales.
Because in terms of grit, fitness, flair, intelligent use of the ball and discipline, Ireland were so much better than Wales that it was, at times, embarrassing.
Scoreline flatters Wales
There used to be a saying that you were lucky to score nil if you got royally hammered. On that measure, Wales had more than their fair share of luck, getting seven.
While Wayne Pivac can point to the number of caps missing, you can't ignore that Wales's starting XV had more caps than Ireland's, and 106 of the Irish were Jonny Sexton's.
Ireland dominated the kicking game, the contact area, the Welsh lineout was a shambles (again).
Wales had so little ball in the first half that the only wonder at half-time was the Irish weren't further ahead.
As it was, the Irish team was out of sight and accelerating while Wales tried to kick-start their game as the second half began.
It's always good to see a player committed to playing no matter what but coaching common sense should have kept Louis Rees-Zammit off the pitch. The flying winger started the game with a heavily strapped ankle and was clearly restricted.
106 caps to his name, Irish skipper Jonny Sexton wouldn't miss that fact. The clearly unfit winger was targeted by direct running and smart kicking.
Irish runners targeted the outside channel. His position wasn't helped by the unfortunate choice of Josh Adams at outside centre. An out of position Adams and injured Rees-Zammit were not up to it.
Crocked Rees-Zammit targeted
What on earth Wayne Pivac was thinking sending a crocked player off to start the match is as big a question as the failure years ago to substitute a badly concussed Arwel Thomas while the Irish back row and midfield ran over and through him at will.
That's not down to the player; it's crappy player management by people paid enough to know better.
Rees-Zammit may a well have gone on the pitch with a big bullseye on his shirt.
Why on earth Adams, a try machine on the wing, couldn't have switched out, and one of the subs gone to centre can't be easily answered.
Crackers.

One way traffic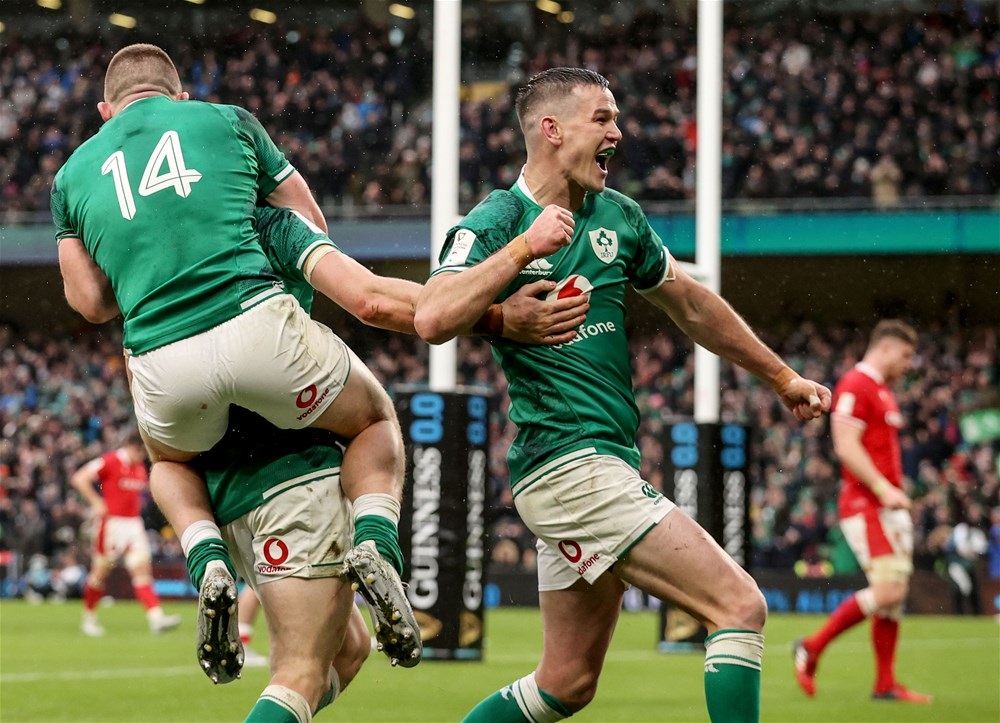 The Welsh regions have been dismal in all competitions this year, and Wales did not improve on the production line's output.
Wales have been badly beaten in Dublin before, but this was one-way traffic.
The Irish team that beat the All Blacks were not about to lose in its own backyard against game but outclassed opponents.
The first quarter was abysmal.
Ireland started at high speed, and their running with the ball was direct and calculated.
They were first to the breakdown, slowed Wales's ball down, and quickly got their own ball out to their backs.
And, if two Jonny Sexton penalties had been blown wide in the blustery wind at the Aviva Stadium, Wales might well have been down a cricket score.
To Wales's credit, they rallied in the second quarter. It took Wales half an hour to string a decent attack together through the work of Johnny McNicholl and a couple of lineout steals. But points came there none.
Wales fail to consolidate

After an encouraging end to the first half, and unbelievably only ten-nil down, Wales should have at least been able to console themselves, pick themselves up, and play with intensity.
Instead, a couple of sloppy penalties conceded led to Conway crossing for Ireland's second try and a mountain to climb.
The team's task wasn't made any easier by the binning of Josh Adams for a crude shoulder barge on Sexton. He was lucky. It would've been a straight red if contact had been a few inches higher.
Ireland were more than worth their win. They rightly went away with a bonus point after tries from midfield pair Aki and Ringrose and a brace from wing Andrew Conway.
Shapeless Wales must improve
In truth, it's a game from which it's hard to take many positives.
Wales looked laboured, shapeless, and lacked any discernible pattern of play.
Even Wales's try from the tireless Basham was a pickoff from a poor pass rather than a result of a surging attack.
Fans will look to Wales's next three games with trepidation: first Scotland at home, then England and Twickenham, then France at home.
None of those nations' coaches will be too worried about what they saw in Dublin on today's performance.
It's a big ask for Wayne Pivac to lift this team in the time available but lift it he must and at least provide a shape to suit the players at his disposal.
If he can't, his head will be on the chopping block.