RENEWABLE energy could be a goldmine on the coast of Wales.
Lord Peter Hain, who served under Tony Blair in 2001, said there was "massive untapped potential" around the Welsh coast recently. 
He urged a mix of Welsh government and private investment to drive it forward.
A new industry report has identified 16 marine energy developers, with the hope of 3,000 jobs over the next 10 years.
Accelerated cost reduction in recent years has established offshore wind as a competitive and mainstream source of renewable power in the UK and several European countries, with growth in international markets expected over the next decade. 
The technology has matured largely as a result of supportive policies in key lead markets, notably the UK, that have attracted inward investment and provided the economic signals to foster industry development. 
With almost 8 GW of operational installed capacity, the UK is the world's leading market for offshore wind. 
However, development has been concentrated in a handful of regions, most notably in the North Sea basin off the east coast of the UK.
At present, approximately 9% of UK offshore wind capacity is grid connected in Wales, from three projects located in the Irish Sea. Expanding on this capacity has been set back by project cancellations, with no large-scale offshore wind farms under active development.
However, upcoming site extensions and leasing rounds in the UK could present an opportunity to build a pipeline of projects in Wales that could help to meet ambitious decarbonisation targets, stimulate economic and industrial development, and make a material contribution to national well-being goals.
In addition to conventional fixed-bottom offshore wind, the emergence of floating technology could create opportunities for offshore wind development in deep water locations.
However, evaluating the future potential for offshore wind in Wales requires a robust and realistic assessment of the technical and economic viability of future projects to ensure that government policies maximise their efficacy and impact.
Wales has introduced policies influencing its own domestic energy and decarbonisation targets:
Well-being of Future Generations Act (2015): The Act set well-being goals and ways of working, and required public bodies to carry out sustainable development. Namely, section 4 of the Act set a clear direction for Wales to become a low carbon prosperous society that uses its resources efficiently and proportionately.
Environment Act (2016): The Act set the need for Wales to achieve a minimum of 80% reduction in Welsh CO2 emissions by 2050, monitored through phased carbon budgets, in alignment with the UK Climate Change Act 2008. A decarbonisation programme has been established to implement the requirements of the act, namely to set interim targets for 2020, 2030 and 2040 and to set out a delivery plan.
Renewables Energy targets (2017): The Welsh Government announced its key energy targets following a wide engagement with stakeholders from the energy industry. This includes a target to generate 70% of its electricity consumption from renewables by 2030. Another is to ensure all renewable projects are partly or fully owned locally by 2020 and to have 1 GW of renewables owned locally by 2030.

Meeting these ambitious targets will require a major shift in the way in which electricity is generated and consumed. Namely, policymakers in the UK and Wales have set clear ambitions to rapidly decarbonise the power sector, with renewables at the core of its electricity generation mix.
Electricity consumption in Wales has mirrored the rest of the UK, with a 12% reduction observed between 2006 and 2016. However, generation trends have differed considerably, increasing 19% over the same period as Wales established itself as a key exporter of electricity to the GB grid. For example, in 2016 Wales transferred 43% of its generation to England whilst importing just 2% from the Republic of Ireland.
At 22% of total electricity generation, renewables account for 48% of Wales' electricity consumption . This is markedly below the 70% target by 2030, as well as being lower than counterparts in England, Scotland, and Northern Ireland.
With 2,120km of coastline and a marine area of 32,000km2, offshore wind could also play an important role in meeting energy generation and decarbonisation targets in Wales.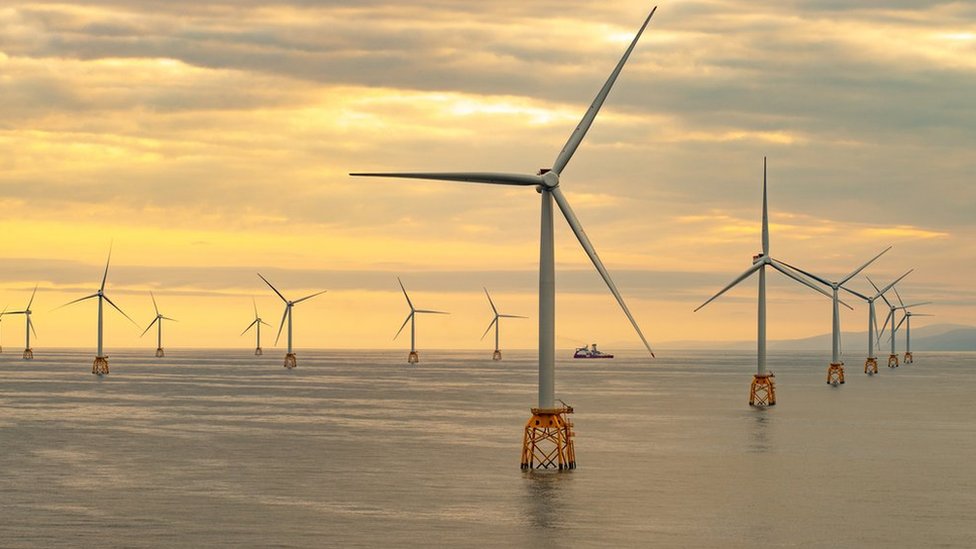 Wales is expected to require at least an additional ~1.6-1.8 GW of renewable energy capacity installed by 2030 in order to meet its 2030 renewable energy target. Particularly given the current lack of a route to market for onshore wind and solar power in the UK, as well as the immaturity of wave and tidal power, offshore wind could present a vital and much-needed opportunity to generate high volumes of clean renewable power in Wales.
With modern offshore wind developments ranging from 0.5-1.5 GW per project, Wales' 2030 target could be met by just a handful of projects, if new sites can be attracted to Wales and realised within the period to 2030. Extending the lifetime of existing operational wind farms will also make a sizeable contribution to meeting the target.
Offshore wind has matured as an industry over the last 3-5 years, as evidenced by accelerated deployment and marked cost reduction both within and outside Europe that has taken global installed capacity to over 22 GW in 2018.
The rate of deployment has increased steadily over the past ten years, with almost 17 GW installed worldwide from 2007 to 2017, including a doubling of capacity between 2014 and 2017, and accelerated growth expected over the coming decade. The UK is the world's leading offshore wind market with 7.8 GW installed, followed by Germany (5.7 GW) and China (3.0 GW).
Over 85% of offshore wind capacity installed worldwide is concentrated in the neighbouring European countries of the UK, Germany, the Netherlands, Denmark and Belgium. Despite being largely dominated by these leading European markets, offshore wind is rapidly expanding internationally, with sizeable project pipelines and deployment targets in several new markets, particularly in Asia and North America.
Steadily increasing deployment has seen considerable cost reduction, particularly in the last 2-3 years. In the UK, the levelised cost of energy of offshore wind projects reaching final investment decision decreased 32% from 2010 to 2016, to £97/MWh, meaning that the industry surpassed its 2020 cost target of £100/MWh four years ahead of schedule.
In order to capitalise on the benefits offshore wind power could bring to Wales, policy makers must consider two inter-related goals:

1. Increase offshore wind energy generation in Wales

Grid-connected offshore wind power in Wales can play an important role in meeting energy generation and decarbonisation targets.

Offshore wind is a scalable energy technology that can deliver high volumes of low carbon electricity to Welsh consumers, making a material contribution to Wales' target of generating 70% of its electricity from renewables by 2030 and achieving an 80% reduction in CO2 emissions by 2050.

However, assessing the potential for offshore wind in Wales requires a realistic and evidence based evaluation. Current UK energy policy means that commercial projects will need to compete in auctions in order to secure government contracts.
As such, prospective sites and projects in Welsh waters will need to be both technically viable and commercially competitive in the context of the UK development pipeline.

2. Maximise local economic benefits to Welsh businesses and communities

Early developments in Welsh waters have supported several Welsh businesses and brought economic benefits to local communities.
However, there has been some criticism that the value captured in Wales has been lower than in other parts of the UK.
Policymakers will need to find a suitable means of increasing local content without compromising the competitiveness of Welsh projects.
Even in the absence of high volumes of new capacity in Wales, support can be targeted to help Welsh businesses to secure contracts in projects outside of Wales, both in the UK and internationally. Several active companies are well-positioned to capture further benefits from future projects within and outside Wales.