International water consultant Dr David Lloyd Owen has celebrated one of the most momentous wedding anniversaries imaginable after his daughter, Bethan, announced that she and her partner Arko Banerjee would be getting married in India.
As a result, three generations of the same family celebrated their respective wedding ceremonies in three very different ways.
The first celebration took place on February 3 when Bethan and Arko were pronounced man and wife at a beautiful secular wedding ceremony in Kolkata.
Two days earlier, Bethan discovered that she had been accepted as a student for the prestigious medical research doctoral training programme at Cambridge University, having been chosen as one of just nine successful candidates from a shortlist of 70.
"Bethan's original idea was to have a civil ceremony, but a few months ago, she and Arko decided to have a full wedding in Kolkata," explained Dr Owen from the family home in Newcastle Emlyn which he shares with his wife Polly.
"We've known Arko for many years as he and Bethan had met during her first term as an undergraduate in bio-medical sciences, but naturally we've never the opportunity to meet his family."
And so the week before the wedding, David and Polly flew out to India and stayed with Arko's aunt, enabling them to get to know the family and prepare for their children's big day.
"Polly and I were kitted out in traditional dress, as was Bethan, and both the mother and daughter had their hands decorated with henna," explains David who is the managing director of the global data-based water company, Envisager.

"The night before the wedding I hosted a dinner for our future-in-laws as a well as the members of our family who had flown out for the wedding and it was wonderful to have the opportunity to spend some time with them and celebrate the wedding in such a beautiful way."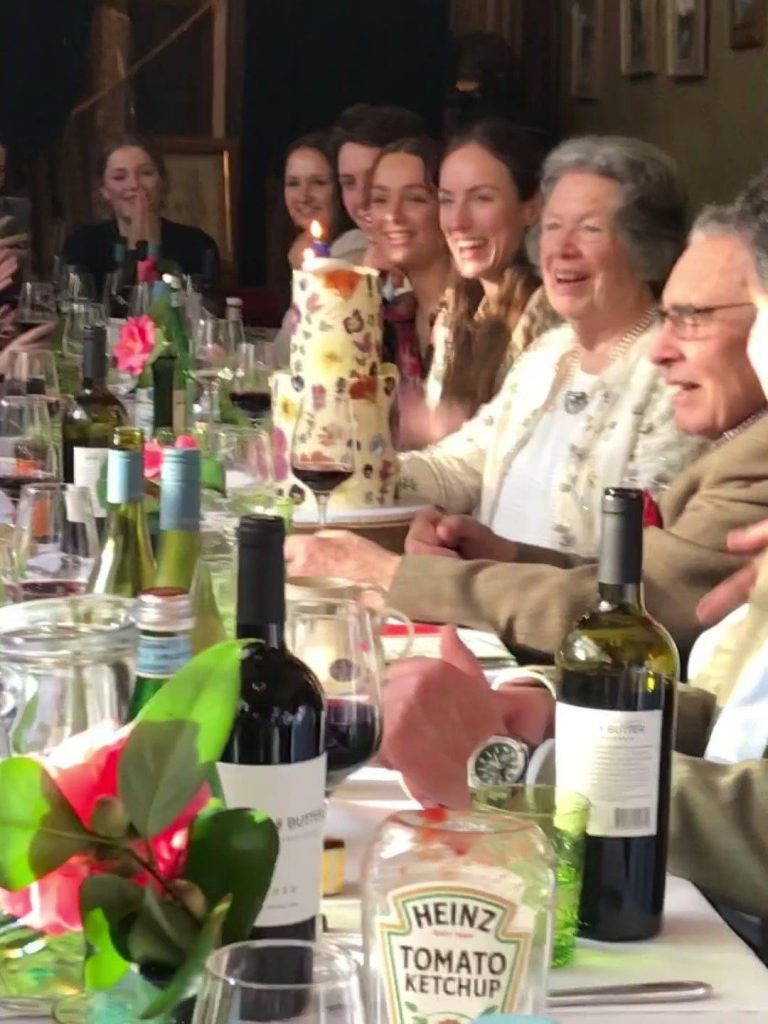 The pre-wedding celebratory dinner
During the wedding ceremony, a registrar was required to take thumb prints and signatures from the bride, her groom and their witnesses.
"Bethan and Arko had chosen a secular wedding, as a traditional religious wedding would have taken on a significant number of other elements, not least the fact that they can last for up to two days," explained David.
"Attending a wedding such as this was in many ways very similar to a western wedding but at the same time, also very different. British weddings, be they civic or religious, are very formulaic, however the wedding between Bethan and Arko was very fluid with people dropping in and out for various parts of the evening's formalities."
Eleven days later, Polly and David celebrated their Silver wedding anniversary (25 years) in Calcutta, joined by the newlyweds and their parents.
And then on February 21, Polly's parents – Paul and Mandy Gunn – celebrated their Diamond Wedding Anniversary (60 years) at the family home in Ramster in Surrey with drinks and canapes for old friends followed by a family lunch and not forgetting a congratulatory telegram from HRH King Charles III.
Meanwhile Bethan and Arko are enjoying their honeymoon in India. They will return to the UK later in the year when Bethan will commence her four-year training and research programme while Arko will continue his career with a Belgian-based company that analyses worldwide risk.