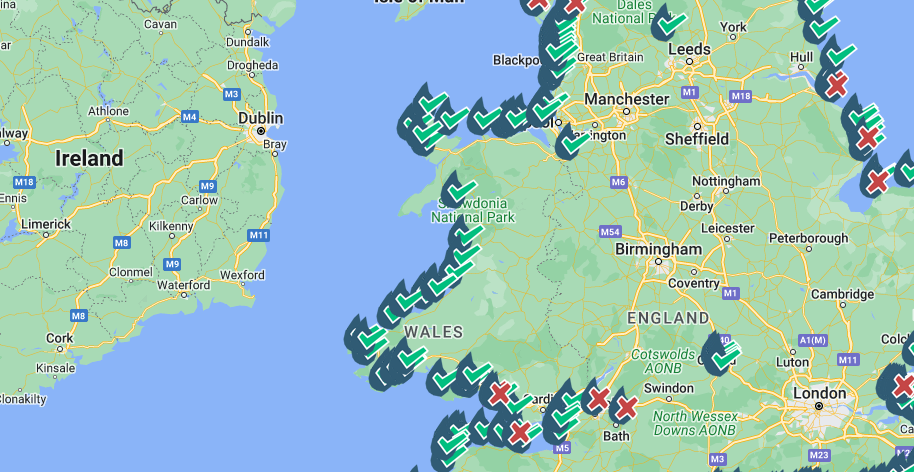 POLLUTION alerts are currently in place at two Welsh beaches after the latest heatwave. Safer Seas & River Service is looking into water quality at over 400 locations around the UK coastline and rivers.
Warnings are in place for over 50 seaside beaches across the UK including popular tourist destinations such as Cornwall, Devon and Cumbria.
Rest Bay and Sandy Bay in Porthcawl also have warnings in place. In both locations, the warning claims storm sewage has been discharged from a sewer overflow in the past 48 hours.
Following the UK's most recent heatwave, heavy rain in the last 48 hours has caused sewer overflows, which have been alleviated by emptying into UK waters after they struggled to cope with the high volumes of water putting pressure on drainage systems.
Southend-on-Sea and Newquay have been badly affected, both with four beaches closed for today at least.
Last week, the UK Government's water minister threatened to fine companies after it was revealed that, in addition to sewage releases, billions of gallons of water are lost daily due to leaks.
Steve Double insisted that water companies do more to prepare for future droughts.
"Water companies must continue to invest more, including to prevent leakage and work faster to fix leaks," he told The Mail on Sunday.
"We are losing somewhere between 15 to 20% annually through leakage, which is not acceptable. Progress has been made but my message to water companies is they need to prioritise customers, not shareholder returns. If we don't see the progress we expect, we won't hesitate to take further action. The public and Government rightly expect more from our water companies."
Related posts